Graduate Success Story – Elisha Firmin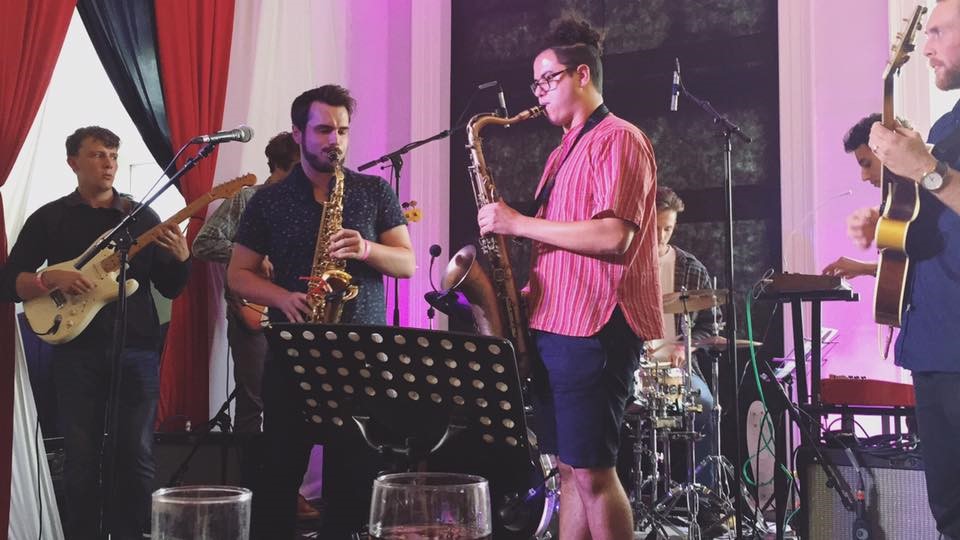 From our Canterbury Music programme…
Our next graduate success story comes from 2016 graduate Elisha Firmin, who kindly agreed to an interview regarding his time at Canterbury Christ Church University within the School of Music and Performing Arts.
Elisha studied with us for a full time Music Bachelor's Degree (BMus) on our Canterbury Campus, with the culmination of his degree in September this year. A talented saxophonist, bassist and composer of contemporary jazz and classical music, Elisha was one of the first students on the programme to choose to specialise in composition and performance, where he excelled. In his final year he wrote music for instruments mixed with electronics and a substantial piece for the University Big Band, of which he was a key ensemble member. He produced analyses of Scandinavian folk metal music and also worked on solo saxophone performance. His work has regularly featured in the Canterbury Festival Composers Competition and this year two pieces of his were chosen. In addition to all of this, while at university, Elisha also sustained successful participation in two external bands, jazz fusion collective The Thirteen Club – members of which include other Christ Church graduates – and reggae group Ben Russell and the Charmers, which are still going strong and gaining popularity currently.
Here is what Elisha had to say about his university experience…
Elisha, tell us about your current role – what does it entail?
I work part-time at MidKent College in Gillingham as a Technician in the Music and Performing Arts departmental where I'm either working with students, teaching Music Theory, Piano skills, Music Tech skills and live sound design or I'm fixing equipment and maintaining the upkeep of the music department. I also teach Woodwind two days a week at many schools and music centres across Medway and Maidstone. All of this serves to fund my true passion of being a professional musician, so amongst all the work I'm also practicing and playing many gigs with a Kent based Reggae band, or my London based Jazz Fusion band.
What excites you most about your work?
I'm excited by many aspects of my work. I enjoy seeing progress made in the lessons with my woodwind students and enjoy teaching and fixing equipment at MidKent College. What I most enjoy is performing, especially performing my own music with my Jazz Fusion band. The adrenaline as well as the audience reciprocation is a massive boost and drives me to continue.
Tell us about your journey from graduate to achieving the position you aspired toward. Was it always smooth sailing or did you have to work your way up?
When I graduated I was still living at home in Suffolk and was looking for any part-time work. The plan at that point was to live at home for a year or two, continue to practice and earn my keep from teaching and a part-time job. The only problem was there was no teaching opportunities there and really uninspiring part-time work. I applied to a lot of agencies and none came back with anything that really fitted with my main goals. I was losing hope pretty quickly in my plans to be a self-sufficient musician, especially as my bands were all pretty far away from home. I started looking at work back in Kent and came across the MidKent job. I interviewed and was initially declined, however a week later they emailed me in a turn of events and offered me the position! While I was in the process of moving to Gillingham I was asked to sub for a friend for some woodwind teaching work which happened to start the day I moved there! Once again that kind of snowballed and my friend put me in contact with a music teaching business that took me on and gave me yet more work, and the company I was working for whilst subbing for my friend also took me on separately too. So in conclusion it was a mix of a lot of hard work getting to where I am now with also a bit good luck. I would say things are fairly smooth-sailing now, it's just maintaining a rather stressful timetable!
What advice would you give students trying to get into your profession?
Though in the music business luck does play a big part in getting the jobs and the work, there's lots of things you can do to shape your future. A big one is to always say yes to things until you have to say no. Even if the work isn't your end goal taking on as much music work as you can take in any and all areas is good experience and may help getting something closer to your goals in the future. Being able to work with stress and working well under pressure is a must with music work too, it's very much work that seems easy on the surface but there's a lot to maintain under the surface.
In what ways did studying at CCCU prepare you for your current role?
CCCU afforded many opportunities to play in a range of different style bands, ensembles and orchestras which in turn gave me chances to perform and hone my skills on Saxophone and Bass Guitar. Through these ensembles I gained contacts which in turn gave me more opportunities to not just play but also teach. The modular consistency of the course also meant that I was able to choose the modules that applied most to me and have been able to use the skills from all those modules since leaving CCCU.
Do you have a favourite memory of your time at CCCU and/or did you gain anything additionally positive from your time with us that you did not expect to?
A favourite moment for me was playing the first gig with my Jazz Fusion band The Thirteen Club in second year. Four friends from the music course and I started the band in January 2015 and did the performance in the first week of February. We had 2 songs just about written at that point and performed them at an open mic jazz jam. We got a really good response and it lead to some great paid gigs with the band. I also met future band mates at that jazz jam, joining a band based on my performance of that gig. That first gig really snowballed, and all future bands I either joined or formed pretty much all can be linked to people I played with that night, or people I met or saw me play in that performance.
A big thank you to Elisha for taking the time to answer this interview and wishing him the best of luck in his career!
If you are interested in the Music BMus course that Elisha studied, visit our website here for information on how to apply.