Graduate Success Story – Dan Tomkinson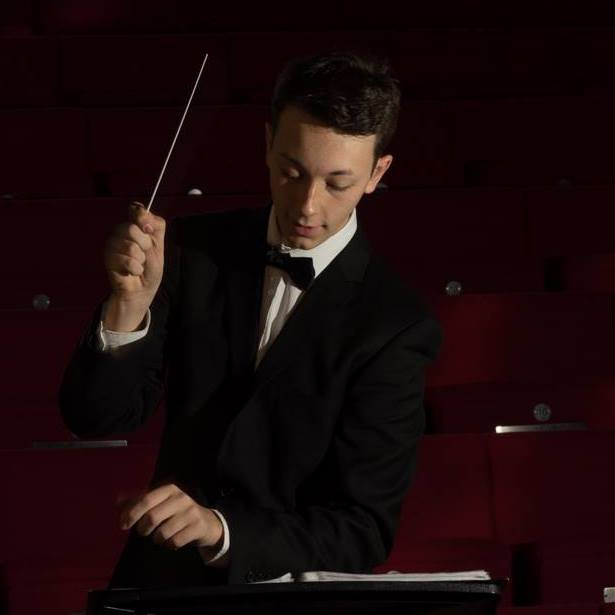 Our alumni series returns for 2017!
Our first Graduate Success Story of the New Year comes from Dan Tomkinson, who kindly agreed to an interview regarding his time at Canterbury Christ Church University within the School of Music and Performing Arts.
Dan studied on the Canterbury Campus for a Music BMus, with the culmination of his degree in September of 2016 achieving a First Class Honours. Dan was an exceptional example of a student who made the most of his university experience. Alongside working hard in his studies, Dan was heavily involved in many extracurricular music activities, including a stint as the President of the Music Society with the many responsibilities the time consuming position entails. In addition, Dan found himself the leader of musical undertakings, building two standout opportunities for himself and others while learning. He created the Pops Orchestra, an ensemble which he sites as a favourite memory, that he conducted, acted as musical director for and played keyboard in. As an advocate for promoting music in schools, he solely shaped the premise for the Big Sing, a brain child of his that has become a huge success and is about to be rolled out across the UK. Now located in Wolverhampton, Dan is in demand, working across Kent and London on a regular basis as a keyboard player and as an important deputy in musical director roles for both local and West End shows. He has most recently returned to Canterbury as a musician in this season's festive pantomime 'Dick Whittington' at the Marlowe Theatre.
Here is what Dan had to say about his University experience:
Tell us about your current role – what does it entail?
Currently I am a self-employed freelance pianist/MD/Vocal Coach specialising in Musical Theatre.
I currently work at the Midlands Academy of Musical Theatre. I am lucky enough to work as a Musical Director for a number of local companies both amateur and professional. I work as a keyboard player for lots of productions again both amateur and professional.
I also run a project called the Big Sing that I started whilst at CCCU. The project entails delivering vocal workshops to hundreds of primary school children which results in a big vocal concert with guest stars and a professional orchestra. The project is now in its second year at the Marlowe Theatre and is about to roll out to three other large theatres across the UK.
What excites you most about your work?
I love being able to perform regularly to large audiences and that I am able to earn a living doing what I really enjoy. It's a great path to have taken because no two days are ever the same, which keeps it fresh.
Tell us about your journey from graduate to achieving the position you aspired toward. Was it always smooth sailing or did you have to work your way up?
There aren't many jobs in this field of music that you can apply for, it really is a case of who you know and being in the right place at the right time. I spent the majority of my time at CCCU trying to make as many connections as possible both in Canterbury and across the rest of the UK. It is a tough industry to break into but every job is an important one as you never know who you are going to meet.
What advice would you give students trying to get into your profession?
I would say do as much music as you possibly can! It is great to be performing at CCCU but Canterbury has a great music scene and really good links to London, get out there and experience it as both a performer and an audience member. If you really want to work in Musical Theatre, I would suggest contacting some of the local Amateur Dramatic societies to see if they need instrumentalists for upcoming shows or even an MD. It's at these types of gigs where you will start to meet people working in that field.
Also make the most of the Marlowe Theatre. They have fantastic productions coming into Canterbury with incredible orchestras. Try and approach the productions musical director and arrange a sit in with the orchestra, it is a great way to meet professional musicians.
In what ways did studying at CCCU prepare you for your current role?
My time at CCCU is something I will always treasure. I came to university with huge gaps in my musical knowledge and playing ability. The course helped me to work on the weaker areas and expand further than I could have imagined at the end of my A-levels. My one to one instrumental lessons provided as part of the course were invaluable I was very lucky to have Sam Bailey as my teacher over the duration of the course. Just being surrounded by other musicians who also shared my passion for the subject helped me experience the world I would be working in with like-minded people.
Do you have a favourite memory of your time at CCCU and/or did you gain anything additionally positive from your time with us that you did not expect to?
I have a number of great memories from my time at CCCU but my favourite has to be starting my own student orchestra. It started as a small band for a concert to accompany the musical theatre society but soon grew to an orchestra of around 50 musicians focusing on film music and performing numerous concerts each year.
The School of Music and Performing Arts would like to thank Dan for taking the time to be interviewed and wish him the best of luck in his career!

Has this graduate story inspired you to study with us at Christ Church? Read about the BMus Music programme on which Dan studied and how to apply on our website here.