Dr Kene Igweonu elected President of the African Theatre Association (AfTA)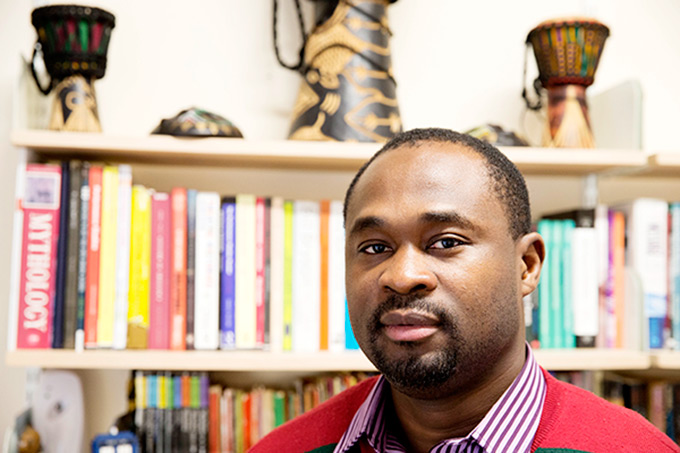 Dr Kene Igweonu, Principal Lecturer and Director of Knowledge Exchange and Enterprise for the Faculty of Arts and Humanities, has been elected President of the African Theatre Association (AfTA).
Established in 2006, AfTA is the foremost international association for researchers and practitioners of African theatre and performance. Since its founding the association has served as a bridge between African theatre research and practices in Africa and the African Diaspora, by bringing together scholars, theatre-makers and creative practitioners in mutual dialogue.
A founding member of AfTA, Dr Igweonu's election follows other previous roles in the Association: serving as Webmaster from 2006-18, Treasurer from 2014-17 and as General Secretary from 2017 to present. Dr Igweonu's involvement with AfTA runs deep. He co-convened the first international conference of the Association in 2007 with the then President, Professor Osita Okagbue. Dr Igweonu also convened the conference in 2011 in Swansea and more recently at Canterbury Christ Church University in July 2018. Dr Igweonu's term as President starts at the conclusion of the 2019 annual international conference which will take place in the Angolan capital, Luanda.
On his election, Dr Igweonu said: "I am honoured to have been elected by my peers to serve a truly international community of dedicated scholars and practitioners as President. I have seen the Association grow from a small group of enthusiastic research collaborators who had the vision for such an organisation into a well-respected Association that is at the forefront of theatre and performance research in/and about Africa and its many Diasporas. My aspirations are to expand opportunities for students and early career researchers to engage with the Association, and to extend the international reach of the Association by working more closely with other organisations to help shape African theatre and performance scholarship and pedagogy. A major aim of my presidency will be the inauguration of AfTA Annual Lecture Series to further advance the association's mission of initiating and leading discussions on African performance theory and practice."
Dr Igweonu is a leading scholar of international theatre and somatic practices; a highly engaged and established senior academic leader with a strong record of publications, innovation and management. He retains an on-going interest in actor and performance training, directing, Black British theatre, theatre and performance in Africa and its Diaspora, as well as issues of identity in performance and performance theory. Dr Igweonu's research and practice interests also extend to the Feldenkrais Method in health and performance practices.