Composition Competition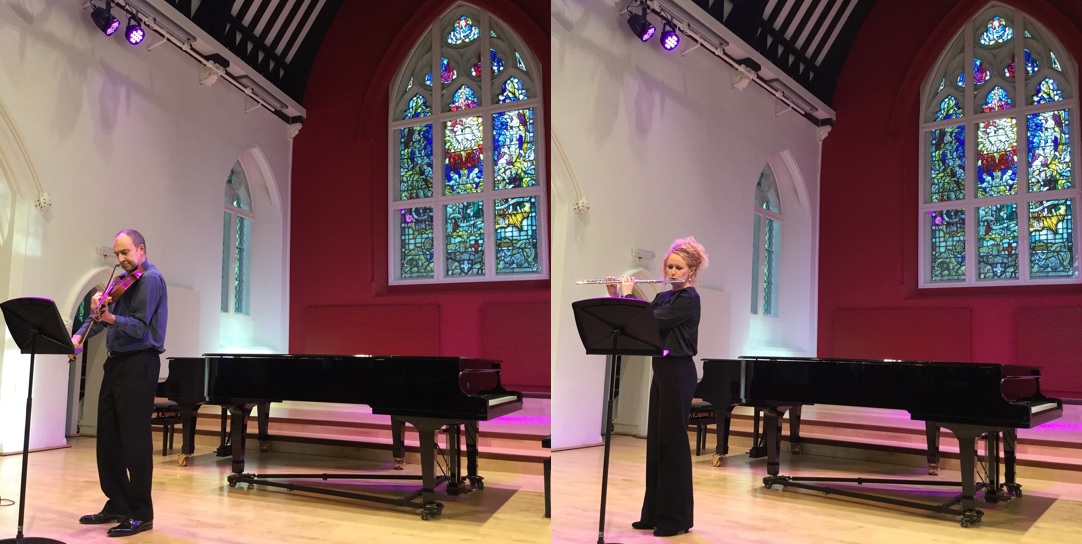 Part of the programme for our Canterbury Festival Fortnight
On the 31st October, St Gregory's hosted this year's Canterbury Festival Composition Competition, featuring pieces chosen by performers and Canterbury Christ Church instrumental staff members Martin Outram and Heledd Frances Wright, both of whom worked with the undergraduate composers during the last academic year. The selected composers developed their pieces in workshops with their performers and teachers, creating music specifically for them. After the concert a jury of music lecturers, Dr Panos Ghikas, Dr Vanessa Hawes and Neil Thomas Smith deliberated on the result, with Director of the Canterbury Festival, Rosie Turner, present to award the monetary prize.
Martin Outram is a member of the internationally renowned Maggini Quartet. He has recorded over fifty discs with the quartet and other chamber music ensembles and has been the recipient of the Gramophone Award, the Diapason d'Or, a Cannes Classical Award, three Grammy nominations and the Royal Philharmonic Society Award for chamber music. His solo discs have been widely acclaimed, including five star reviews in BBC Music Magazine, Gramophone and The Strad. He has appeared widely as a concerto soloist both abroad and in the UK including at the Royal Festival and Queen Elizabeth halls and has given recitals at many international viola competitions and congresses. He has given masterclasses in China, Germany, Sweden, Norway, Poland and the USA and is a Fellow of the Royal Academy of Music and Senior Lecturer at Canterbury Christ Church University. He plays on a fine viola by Henricus Catenar (Turin, 1680).
Heledd Francis Wright's work encompasses solo, chamber, theatre and orchestral appearances alongside sessions for film and television, and has taken her to France, Belgium, Germany and the Netherlands. She works extensively in the field of new music, collaborating with composers, DJs, choreographers and visual artists. Heledd's performances have been broadcast on Channel 4, and she has recorded for Universal, UMP and Boosey & Hawkes. In her work as a flute teacher and workshop leader Heledd works with all ages and abilities; she has led workshops in a range of settings including businesses, special needs schools and community groups. As well as her roster of private pupils, Heledd currently teaches flautists here at Christ Church University and at the two Simon Langton grammar schools in Canterbury.
With a warm introduction by Director of Music, David Allinson, he described this concert as a double pleasure, both watching his colleagues perform and hearing the students work live. Six students in total, some current, some graduates had nine pieces of their work presented by Martin playing the viola and Heledd playing the flute. These were Luke Madams, Elisha Firmin, Jason Hodgson, Hannah Firmin, Trixie Collins and Samuel Healy. Three of these students, Luke, Hannah and Elisha, were lucky enough to have two of their works selected by Martin and Heledd, one piece each for flute and viola.
First in the programme was the Luke's composition Edo, performed by Heledd for the flute, which he explained was built around an extension on an opening theme for a Japanese lullaby. Alternating next to the viola, Martin performed Miniature for Viola and Electronic Loop Delay by Elisha, who was the only student to join the performers on stage during the compositions. In the first of his two pieces, he too was performing using a Loop Pedal: a piece of electronic equipment with a click to use repeating interface – once for recording, twice to pause and again to overdub. Elisha freely admits he had not used electronics in his compositions before and wanted to explore the possibilities in this piece. Returning to the flute, with some added percussion provided by the motion of marching on the stage, Heledd performed Jason Hodgson's Hope Dashed. A technical piece intended to explore extended techniques for the instrument to evoke a feeling of determination but ultimate hopelessness, symbolised by Heledd's drop to the floor at the end of the performance. The first of Hannah's pieces came next in the programme; Spirit of the Viola performed by Martin. An open notation score, Hannah incorporates eight different motifs in the piece each of which explores glissandi – continuous slides upwards or downwards between notes. Performed fifth, Elisha's second and final piece, this time for Heledd on flute, Pulses. The piece explores microtones with different frequencies that exist extremely close together, caused by a delay. These frequencies appear as pulses and Elisha was again visible on stage in order to harness these electronic delayed effects to convey broadness in the structure. Another lone student's composition followed, Trixie Collins Time Passing performed by Martin on the viola, probably the most recognisable piece as stereotypically 'musical' in the programme. Thereafter, Hannah's second of two pieces, The Howling, for flute was performed – a space time notation that explores the rhythmic ideas behind interference beats. Tones are played in such close intervals they collide with each other creating a beat. The penultimate piece in the programme was also the longest, proven by Martin's necessity for a third music stand for the viola notation, Luke's second composition Spinning Gears. A piece intending to explore the notion of transforming one thing into another, it was the most evidently connected musically to its title – swift and repetitive at times evoking the feeling of a mechanism constantly revolving. The final piece, slowing proceedings down to a leisurely pace again, was Samuel's Hirajoshi an oriental, spiritual composition, meaning tranquil tuning in Japanese.
At the end of the concert to a round of applause for the efforts of our students and the wonderful performances of their professional players, the three judges dispersed to discuss the pieces and decide upon a winner.
On reconvening in front of the audience a few minutes later, with Rosie alongside them ready with the prize, Panos described the process by which they had come to a decision. The judges had chosen to take into consideration three areas of composition – the structure of the piece as whole, the exploration of sound undertaken and the individual voice present. With these conditions in mind they admitted that they had narrowed the competition down to three pieces; Elisha's Pulses (flute), Hannah's The Howling (flute) and Luke's Spinning Gears (viola) – incidentally a piece from each of the students who had a two compositions chosen, for both viola and flute. It was a difficult decision for the judges thereafter, but they ultimately congratulated Hannah Firmin – who seemed absolutely astonished – on her winning composition The Howling.
The School of Music and Performing Arts would like to commend Hannah on her victory and to thank Heledd and Martin for their outstanding performances and Elisha, Luke, Trixie, Jason and Samuel who took part by providing their compositions and support for each other. It was lovely to each of the students sportingly praising Hannah when the winner was announced.