CISA Research Unit: Cut & Splice Festival 2017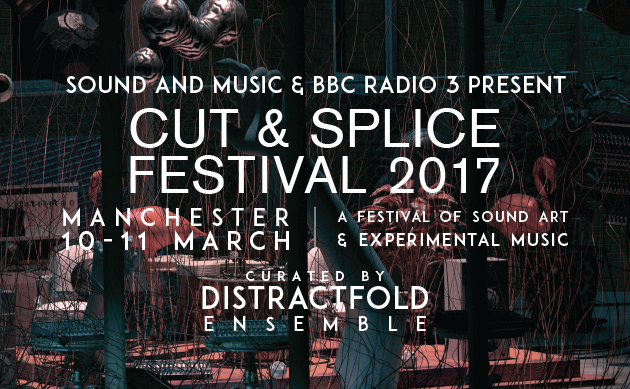 Curated this year by lecturer Sam Salem's ensemble, Distractfold
Fantastic senior lecturer in music at CCCU, Sam Salem, is an electroacoustic composer, who primarily works with field-recorded sound. His work is focussed upon the sounds of urban environments: each of his pieces focuses upon a specific geographical location. He is the co-director of the Distractfold Ensemble, a new music group based in Manchester, UK, who specialise in performing instrumental, electro-acoustic and mixed chamber music of the 21st century. In 2014 Distractfold became the first ever UK ensemble to be awarded the Kranichstein Prize for Interpretation at the 47th International Summer Course for New Music in Darmstadt. In 2016 it returned to Darmstadt, presenting two programmes of music at the Centralstation and curating a CD featuring remixes and reworkings of the festival's 70-year archives.
It is this brilliant ensemble who are to curate this year's Cut & Splice Festival – an acclaimed international festival of ground breaking sound art and experimental music presented by Sound and Music and BBC Radio 3. Composers are invited to lead on the curation and production of the festival, as part of Sound and Music's wider Composer-Curator touring programme. Performances and artist interviews are broadcast on Radio 3's flagship contemporary music show, Hear and Now.
For this year's festival, Distractfold invite us to join them for two days of musical and sonic exploration, focused on ideas of digital presence, omnipresence and ambiguity. This celebration of new music and experiences will be based in their home city of Manchester, and the ensemble are tremendously excited to host and perform at the first edition of the festival to take place outside of London.
Distractfold will be taking over Hallé St Peter's and Hallé St Michael's in Ancoats, Manchester for two days with an exciting and groundbreaking programme of music that explores technology as an unreliable narrator – a witty, distracted, vague, at times misleading ally.  In the UK premiere of Steven Takasugi's work The man who couldn't stop laughing, it remains deliberately unclear which sounds are "real" and which are doppelgängers or shadows. In Hanna Hartman's new work, a Cut & Splice Festival 2017 commission, listeners are presented with the hidden sonorities of instruments and objects, unlocked and amplified. In Christina Kubisch's work Electrical Walks, participants hear real locations in impossible ways, using technological "ears". In Lee Patterson's installation, listeners can observe his unfolding exploration of tiny, amplified sonic phenomena in intimate detail. There will also be works from artists such as Helena Gough, Sabrina Schroeder, Lee Fraser, Sivan Cohen Elias, Mauricio Pauly, Katherine Young, Murat Colak, Adam Basanta and many more – visit the Distractfold Soundcloud to have a listen to the tracks available.
Tickets are available NOW!
£20 for a 2-night Festival Pass (advance, limited availability)
£12 advance
£14 door
£8 student and concs (under 14s; over 65s; job seekers. Please bring student ID, proof of age or proof of receipt of JSA. Under 14s must be accompanied by an adult)