Case Study: Witness for the Prosecution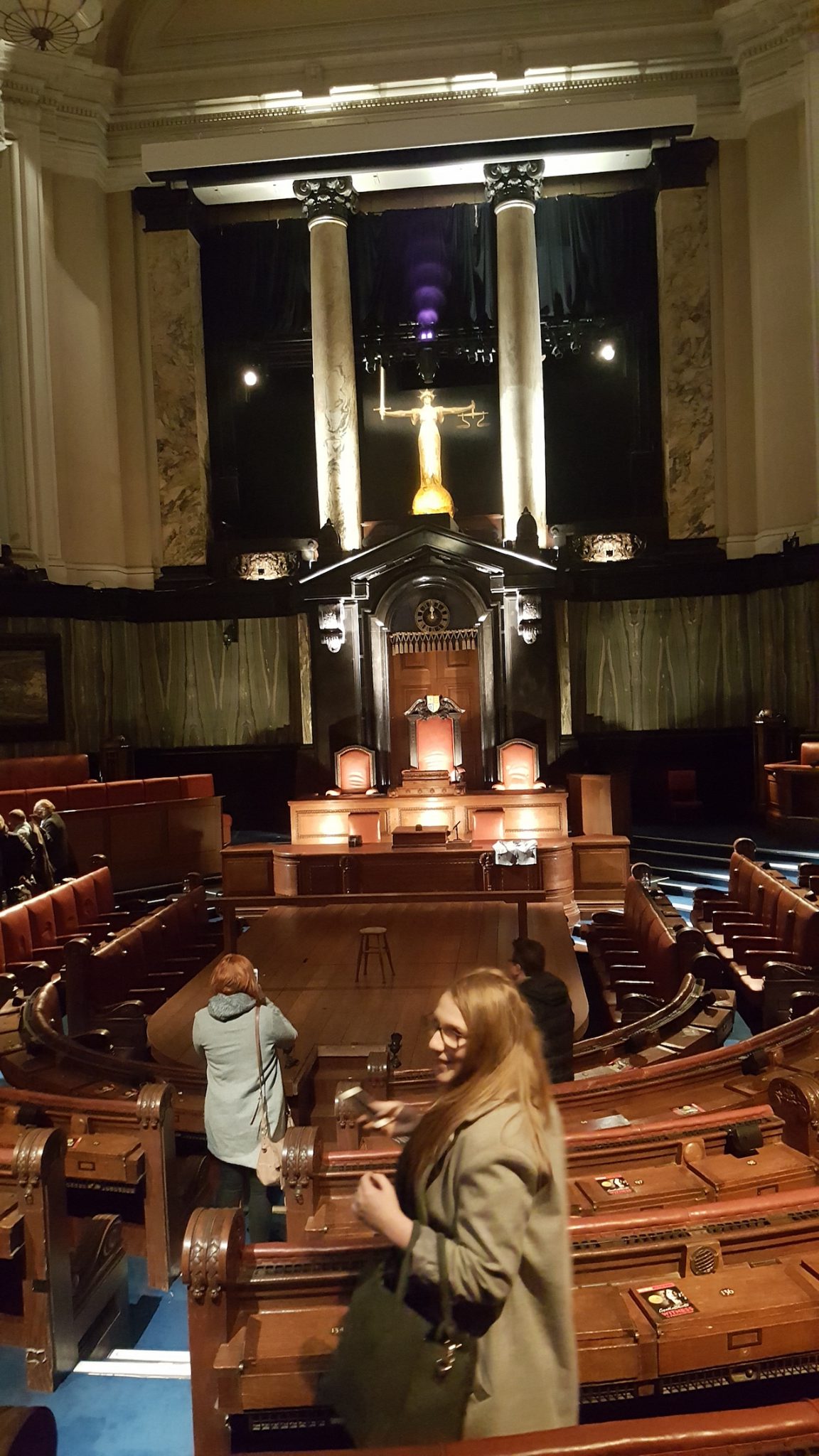 Level 6: Stage Management London Visit
Every year, Level 6 Performing Arts and Drama students studying Stage Management take a trip to London for a Case Study in Company Stage Management. Previous visits have included the National Theatre and the West End, but this year the destination was London County Hall on the South Bank.
The main event of the day was to watch a performance of Witness for the Prosecution a site-specific production of the Agatha Christie play, set in the magnificent former headquarters of the Greater London Council. The courtroom drama was perfectly suited to the venue, which had been specially adapted for the production, with the audience filling the public gallery, councillors' seats and even a purpose-built jury area, positioned next to the judge and therefore immersed in the action of the play. The drama kept us all on the edge of our seats through the many twists of the plot, including the shock ending!
After the show we listened to the Company Stage Manager, Simon Sinfield, give a fascination account of the process of converting the space to a working theatre, and the challenges of mounting a site-specific play. This was followed by a Q&A session where the students were able to learn more about their particular areas of interest; for example, lighting, sound, cueing the show and the fight sequence. We also heard about the logistics of putting understudies on stage at short notice –  the lead actor was off sick that day, and several people were covering roles for the first time.
We also had time to visit the Backstage High Level Walkway at the National Theatre, where we were able to see the props and set workshops, and watch technicians, set painters and props makers at work.
– Stage Management lecturer, Christina Papaspyrou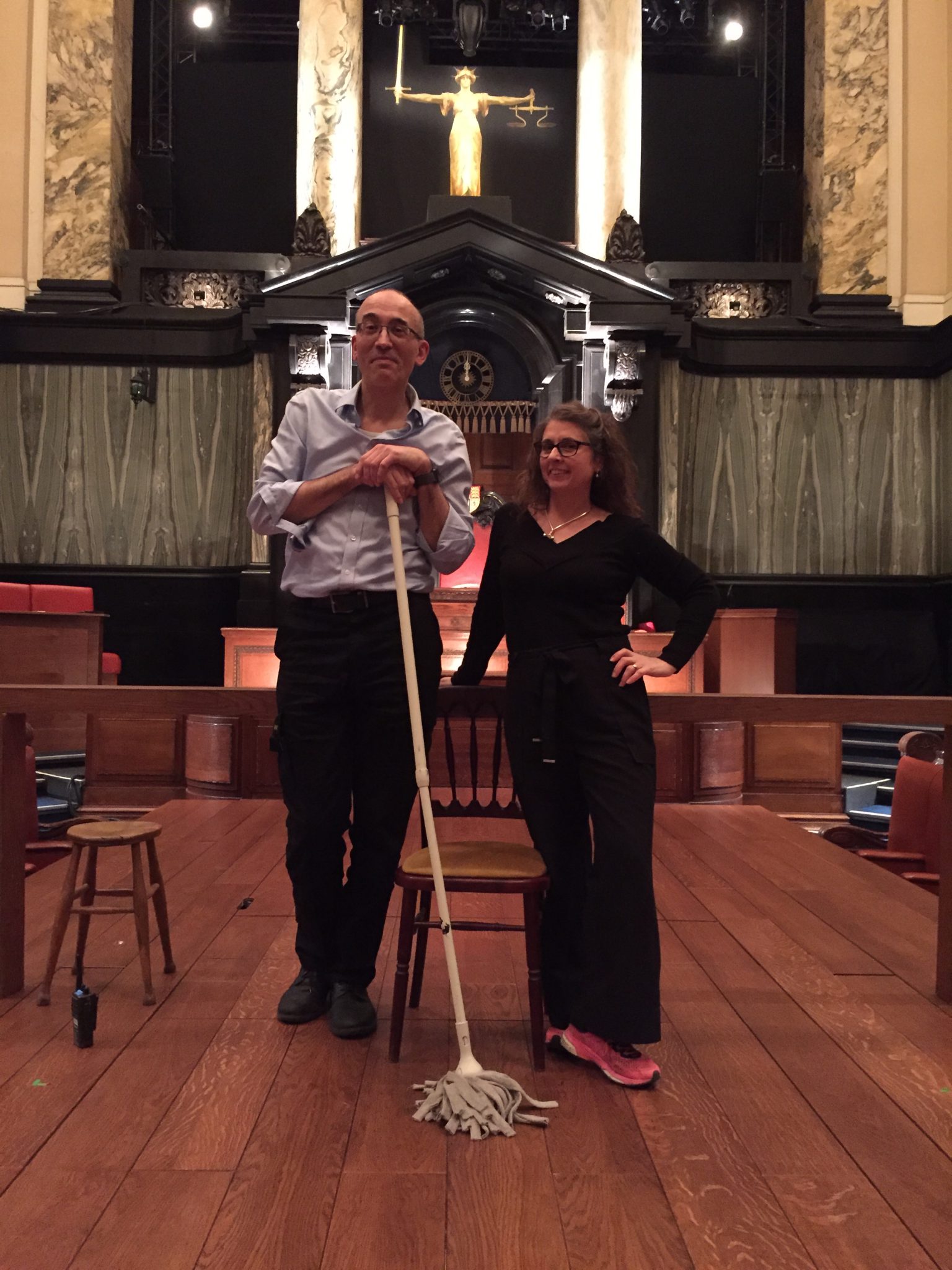 ---
 Student Feedback
 "Going to London to watch Witness for the Prosecution was a great experience. One of the main thing that stood out for me was the fact that it was site-specific, this made it a very effective piece of performance." – Charlotte Williams
 "A riveting experience kept me on the edge of my seat and constantly second-guessing. An amazing opportunity to see a piece of engaging drama that will leave you breathless and wanting more." – Shanice Jones
"The show was incredible and it was good to see how well the cast coped with changing roles. All of the details were precise and well executed. Even the set was massively detailed." – Jody Reid 
 "Being in an actual 'court room' made the atmosphere 100% more real. Also the contribution from the audience members who actually became the jury, made the performance more believable and almost made it feel like was not a performance but an actual prosecution." – Danielle Hallett
"The most useful piece of information I gained from the trip was during the talk with Simon. I asked the question of 'what is the most challenging part of being a CSM in this space?' He replied that the most challenging was 'to work with all the people who share this building and be nice to all as they will help out in the future." – Jack Varney
"One of the most memorable moments was first walking into the performance area and taking in the beautiful architecture! The meeting with Simon after was very insightful and allowed me to see exactly how many job roles a Company Stage Manager has to undertake, and one of the most important things to maintain is a good relationship with your team! " – Megan Wallond
"From the case study, I learnt how a production can be adapted to a performance space. The most important information gathered from the CSM was to be able to flexible and hands-on, and this is a skill I hope to develop to become a more successful stage manager in the future." – Fran Manktelow
"I liked how much technical stage management was used, and how they all needed to know and use tech for that particular show." – Clarisse Guirau
 "One piece of advice I will take from the visit is that as a stage manager you have to be open to working in all environments. You must be adaptable and a good problem-solver in order to make a production successful in a site-specific environment." – Alicia Blake
"After watching the performance and listening to Simon (CSM), the best piece of advice that I have learned was that we should not expect ourselves to know everything after we have finished our degrees. He also mentioned that there is always something else to learn and we are not guaranteed a secure foundation of knowledge about all of Stage Management." – George Ephgrave
"The one memorable piece of advice I got from the visit and watching the show was that stage management is all about communicating with the cast and the stage management team! The show kept me interested all the way through and I really wasn't expecting the plot twist at the end." – Sophie Shipton
 "I have discovered the accompanying elements contributing to a performance need to be handled with a creative and practical mindset. It is important to be able to adjust to your surroundings in any role you are given. Being part of a company means being able to communicate with everyone regardless of what role or interaction you have with them." – Kimberleigh Mitchell
 "It helped me to understand how important it is that you are polite and smile to everyone in this industry, because you never know when you might need their assistance." – Jade Moss
"I really enjoyed spending the day with the whole group, visiting the National and watching Witness for the Prosecution. It was very interesting to learn about how they made the show work and what challenges they faced." – Carly Pullen
My highlights were: the viewing of the gallery for National Theatre; feeling like being in a proper courtroom; seeing how well the SM team work together, not to mention the ending of the performance!" – Paige Simpson