CISA Research Unit: Birds and Other Stories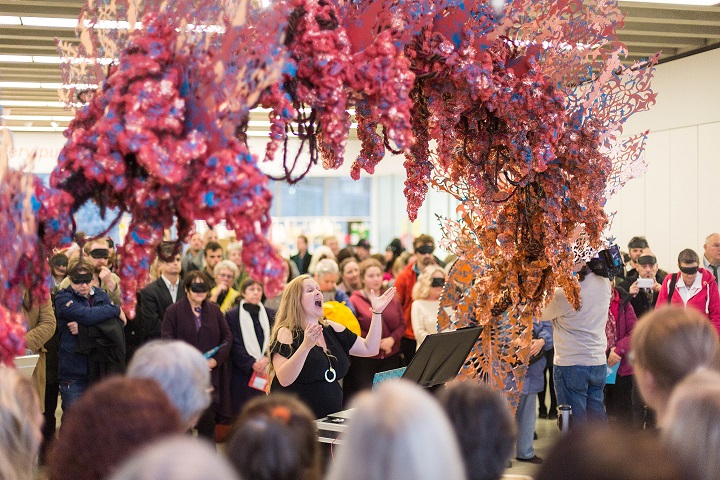 New work by postgraduate student, Emily Peasgood
Are birds simply animals? Or are they sophisticated, delicate creatures? Or perhaps they are merely pests that steal dentures and packets of crisps? And what about women? Are they sophisticated and delicate, too? These are just some of the sentiments brought to the foreground in artist Emily Peasgood's new creation: Birds and Other Stories. In this new piece, Ramsgate-based composer and sound artist Emily Peasgood has tackled the age-old argument of women being referred to, treated like and sometimes pet-named as 'birds'.
Peasgood is a composer and sound artist who aims to challenge our perception of music from the venue it is performed in to the people who perform it. Her research-led work is created for galleries and public spaces and ranges from large-scale community-based performances to intimate sound installations. Her work explores the value and perception of music, connecting people with environments that are taken for granted, and is often rooted in current political realities. Her work is multi-disciplinary and she has worked with writers, visual artists and sign language interpreters with the aim to creating accessible and inclusive experiences that engage people in more ways that through the medium of sound alone. Recent works by Emily in 2016 include: Crossing Over and LIFTED (Turner Contemporary, 2016).
Created for POW! Thanet 2017, Birds and Other Stories will premiere at 2pm on Saturday 11 March 2017 at Turner Contemporary in Margate. POW! Thanet is a festival of arts and culture celebrating and exploring issues around feminism, women and girls, as part of the wider celebrations around International Women's Day. From 8-11 March 2017 fifty events will take place across the three main towns in Thanet. POW!  Thanet aim to challenge, inspire and excite audiences with a wide variety of events to become involved with.
 Birds and Other Stories features a live performance by 50 singers, spoken voices and megaphones, and a day-long exhibition of stories submitted by local residents, against the backdrop of a piece of art created by Emily and illustrator Joe Inkpen. Through working with Inkpen, people from the local community, and the singers who will perform the work, Peasgood aims to challenge and expand the arguments surrounding bird-related references and how women are viewed today. The performance will last approximately 15-20 minutes and the accompanying stories and artwork will be exhibited for one day only.
Peasgood says "My initial inspiration for this piece was a lewd comment a group of men made to me in a bar. I found it interesting how women are often compared to birds in writing and media but that this is rarely explored. This piece brings many viewpoints into perspective, not just women but also men. I want to look at how women are viewed in society today, not only from their own experience but from the viewpoint of the men that love and admire them".
Birds and Other Stories is sure to ruffle at least a few feathers, but it remains to be seen whether these will be the feather of discouragement or the feathers of inspiration.