BFE/RMA Research Students' Conference 2018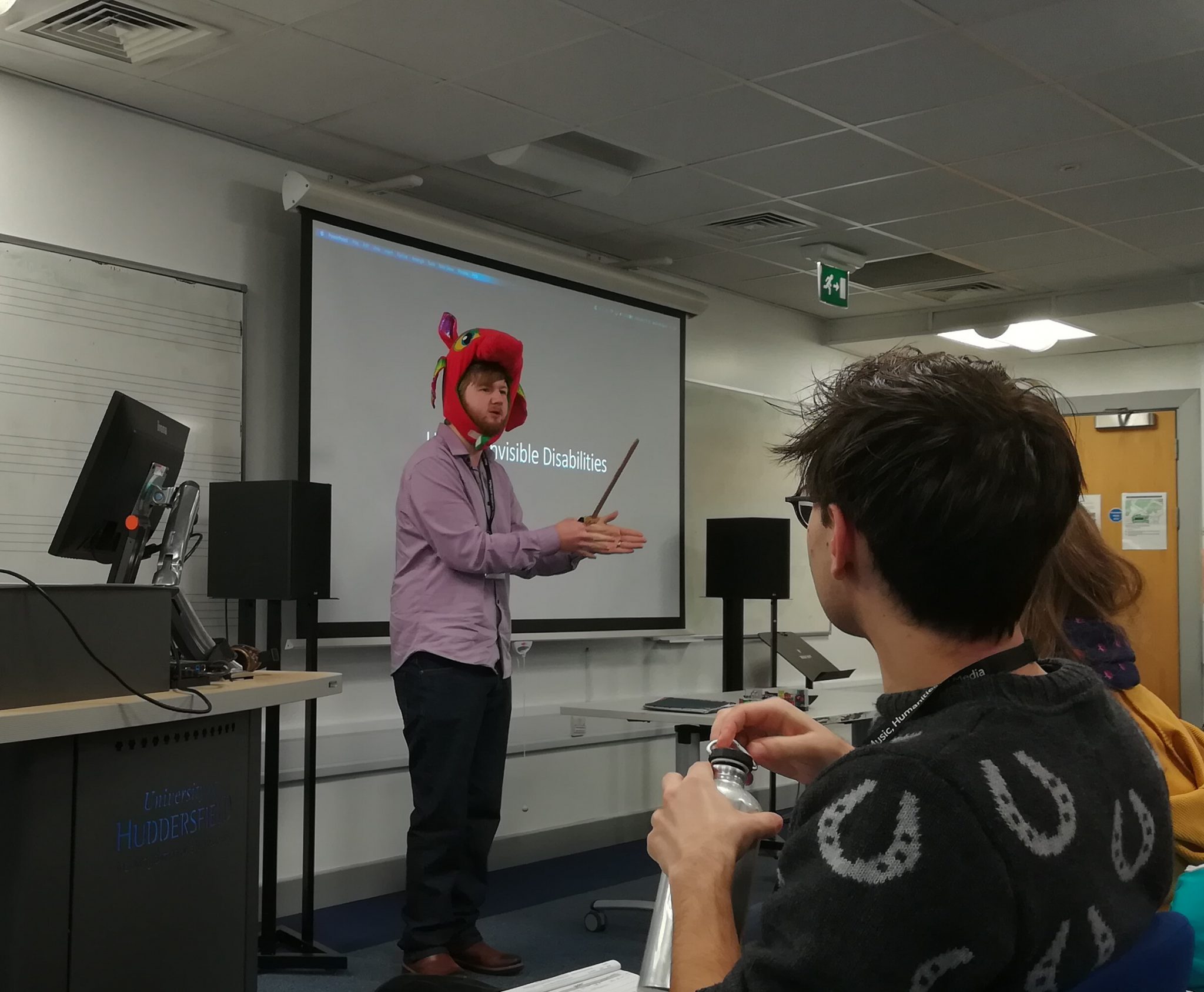 Three MPA postgraduate students attend and present work
Sophie Stone, John Shanks and Jason Hodgson, attended and presented at the British Forum for Ethnomusicology and Royal Musical Association Research Students' Conference 2018 at the University of Huddersfield on the 4th-6th January.
Jason Hodgson presented an entertaining and thought-provoking paper on 'Neuro Diversity as a Compositional Tool'. He discussed how his Asperger's Syndrome and other disabilities are the driving force in his investigations of sound and music. In this paper, Jason explained his use of play as a creative catalyst and demonstrated this with a performance of it takes all sorts, an exploration of hyper-sensitivity.
Sophie Stone presented a paper on her series "As Sure as Time…" (2016-) alongside a performance using 8-channel fixed media and a live performer using the Huddersfield Immersive Sound System. Sophie discussed the experience of sound, silence and duration within the series, with a focus on the work's temporal processes.
John Shanks' paper was titled 'Can Memory and Nostalgia Help us Understand Historically-informed Performance?'. John explained that practitioners in many different arts face the challenge of how best to present today's audience with an historic work. He proposed that elements of imaginative reconstruction and retrospective attribution to the past can help explain the evolution of historically-informed performance between 1950 and 2017, with examples of the Monteverdi Vespers, Handel's Messiah and Bach's B Minor Mass.
As well as papers and performances, there were numerous training sessions for postgraduate students. Sophie attended a training session, held by Elizabeth Fairweather (University of Huddersfield), on conference presentations and making research accessible for your audience. Elizabeth explained that there's nothing wrong with using notes when presenting, as long as you still engage with your audience, and she advised using a stand. She also explained the benefits of talking more slowly, the importance of pausing to breathe, and using short complete sentences to aid the listener's understanding.
Jason attended a masterclass on piano improvisation to silent films, given by Jonathan Best (University of Huddersfield). They discussed how an improvising pianist reads a film to translate it into sound, silence as a dramatic tool, and second guessing what's going on without putting too much of your own personality or opinions into the improvisation.
Some of the highlights were papers by CCCU alumni Hannah Firmin (University of Leeds), Colin Frank (University of Huddersfield), and Agata Kubiak and Bartosz Szafranksi (University of West London). In Hannah's paper she discussed Mathias Spahlinger's 128 erfülte augenblicke (1975), micro-dramaturgy, and her composition Rock Formation (2017). Colin's research aims to create new performance practices through solving problems unique instruments pose by drawing on embodied traditions not typically associated with contemporary music practice. His lecture-recital included a performance of Bekah Simm's Ochre Dust for ugly stick and vocalisations. Agata and Bartosz, a performer and composer duo, presented an interesting paper on the advantages and disadvantages of using technologically-enhanced scrolling scores in both rehearsals and performance.
The annual BFE/RMA Research Students' Conference is a fun, friendly and supportive conference to attend, present and meet fellow postgraduate music researchers. Next year's conference is provisionally scheduled to be hosted at the University of Sheffield, and you can find out more information here.