Annual Cathedral Concert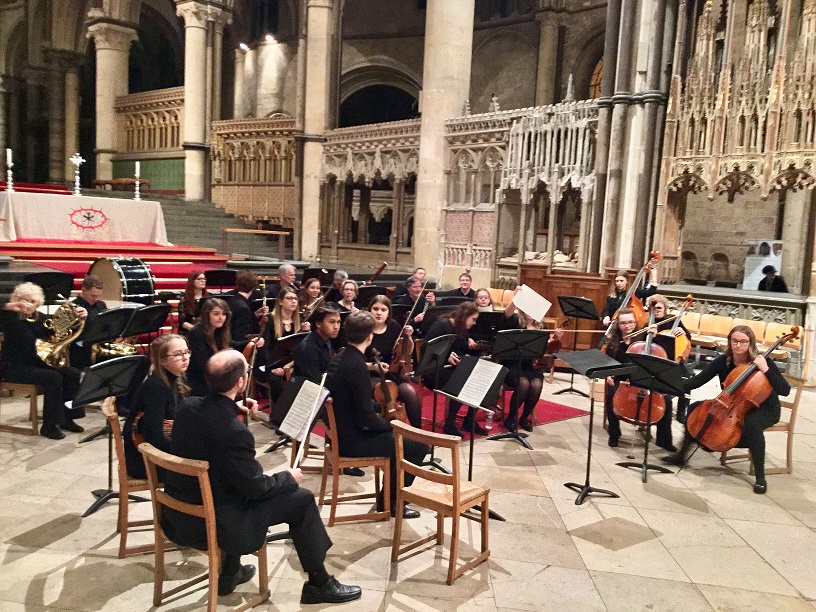 Presented by the School of Music and Performing Arts
On the evening of Saturday 11th March, our School delivered its yearly concert in the historic and beautiful Canterbury Cathedral, offering a varied programme of music for the community as over two hundred audience member filled the halls of the 12th century quire. The School was proud and privileged to showcase a selection of our very best, hardworking and talented student performers from both auditioned and non-auditioned University ensembles.
The two-hour programme featured the University Symphony and String Orchestras – directed by Martin Outram – performing Mikhail Glinka's grand Kamarinskaya and Hubert and Parry's Lady Radnor's Suite, the University Wind Ensemble – directed by Tony Castro – performing a sweet selection of British folksong, including Percy Grainger's Molly on the Shore, Ralph Vaughan Williams English Folk Song Suite and Tony's own piece Song for UWE, the University Chamber Choir performing the ethereal Libera nos, salva nos by John Sheppard and a joyous and dramatic finale of Joseph Haydn's Harmoniemesse (Mass No.14 in B Flat)demonstrating the skill and stamina of all the night's musicians and vocalists, triumphantly conducted by Director of Music, David Allinson, alongside organist Benjamin Scott.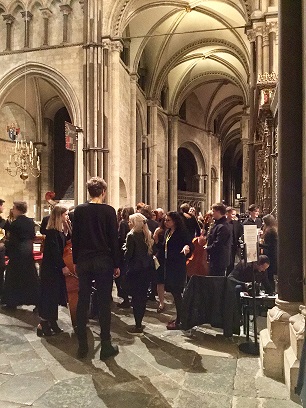 At the culmination of what was an astounding evening of music, we spoke to some of the students involved to discover how they felt about the concert.
Students Hannah Jacobi and Emily Prest, who both performed alto and soprano vocal solos respectively in the amazing Harmoniemesse said of the experience;
"We have been involved in the Cathedral Concert three years running and we look forward to it every time as it is great performance experience and the audience is so varied; its nice to see both children, parents and grandparents enjoying the music. It is also a challenging experience for us as it can sometimes be difficult to perform in a space such as this. The sound travels very differently to other spaces due to things like the ceiling pitch and other factors so making sure you learn to project correctly is really important."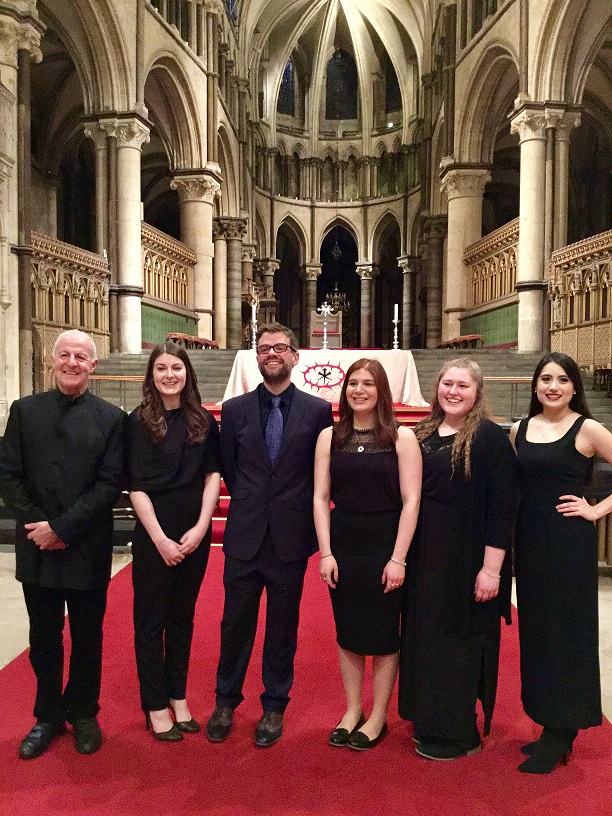 Violinist and clarinettist, Matt Swainsbury and Aaron Mather echoed the girl's sentiments of a performance experience in a place as special as the Cathedral;
"We are so lucky to have the opportunity to perform here, year after year, whilst we study. This is our second year in a row. It always presents new challenges for us and we have both taken on more prominent roles in the orchestra this year as opposed to last – these opportunities to show leadership are really important and it can only improve our CV's in that regard aswell. Sometimes, in other performance spaces, its easy to get complacent just sitting in the orchestra playing along with the score and maybe not practicing as much as you should, but for this concert everyone always ups their game and strives to improve as they really want to do the place justice."
The concert as a whole and the wonderful performances of so many students like Hannah, Emily, Matt and Aaron would not have been possible without the excellent student stage management team (Jack Brown, Alice O'Donnell, Fran Manktelow, Charlotte Williams, Luke Madams and Jessica Gilbert) led by lecturer Christina Papaspyrou who were on hand all day to assist with the event proceedings. The hardworking group said of the concert;
"It will have been said so many times but there is so much to gain out of working in an environment like the Cathedral, being able to manage huge concerts like this is an invaluable experience and means we are well then equipped when it comes to running other smaller events and concerts as we do on a weekly basis in St Gregs and Anselm on campus. We have had to learn to work well as a team, make quick but good decisions, organise ourselves effectively and problem solve in what has been a twelve hour day. Some of us have worked in the Cathedral previously (e.g Jack and Alice for Carols by Candlelight last term) however that was more in a front of house capacity – this concert has been much more hands on in terms of dealing with backstage issues, such as dealing with entrances and exits of performers and ensuring the musicians have the correct and working equipment. That kind of experience and on this scale is essential for our CV's when looking to get into a career in stage management."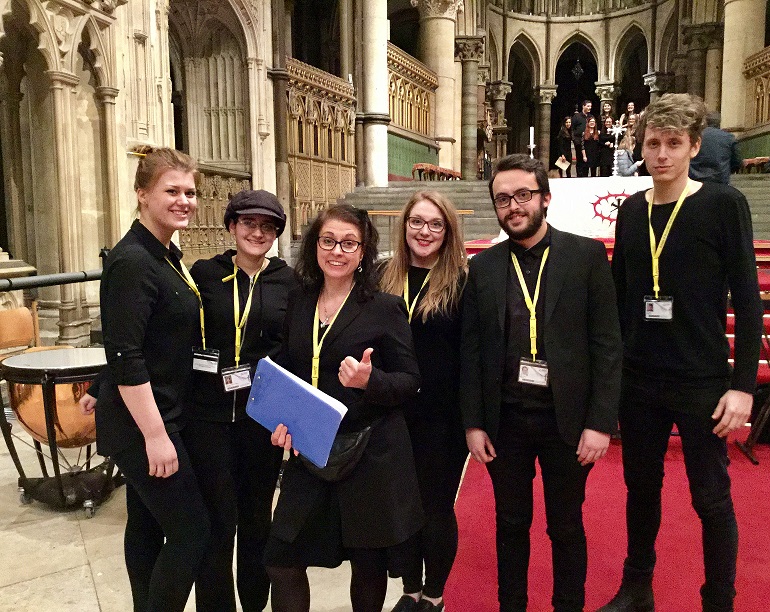 A huge well done to all of the staff and students who made the Annual Cathedral Concert such a great success! And many thanks to professional photographer Jason Dodd for the brilliant photographs taken of the event – find a link to them here.