EI Research Unit: Andy Hurst – Inhabiting the Meta Visual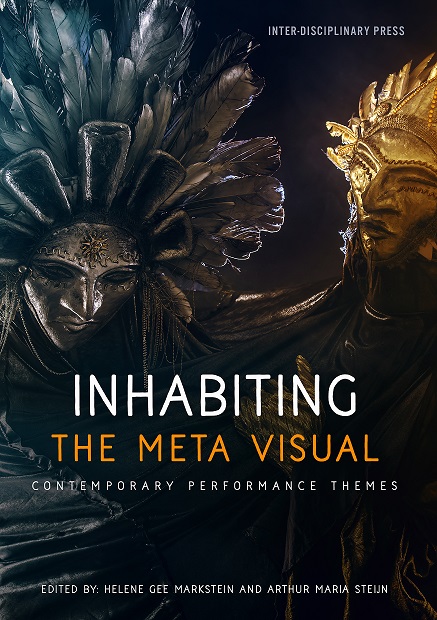 CCCU MPA lecturer provides chapter for new book
Published this year by Interdisciplinary Press, the novel – Inhabiting the Meta Visual: Contemporary Performance Themes – includes work, chapter by chapter, from twenty authors and academics, edited by Helene Gee Markstein and Arthur Maria Steijn, who also contribute to the content.
Helene Gee Markstein received in 2015 her PhD from Western Australian Academy of Performing Arts (WAAPA), Edith Cowan University, Perth, Western Australia. Her doctoral thesis was on generating stimulus from scenography and proposed 'De-sign' as a tool for choreographic invention. Helene now lives in Gozo, Malta, where she practices as an artist and researcher of varying disciplines.
Arthur Maria Steijn is an artist (MFA), lecturer and PhD-fellow at KADK, School of Design in Copenhagen, Denmark. His ongoing research project aims at developing terminology and design methods relevant for designing and involving motion graphics in spatial contexts.
Theatre and the many varied expressions of performance practice in live and mediated performance forms, are by their nature inter-disciplinary. The goal of this volume is to develop discussion with a focus on the visual aspects of performance brought up by artists and researchers in various performance disciplines and practices. The volume facilitates inter-personal communication and the exchange of global perspectives, to engage a community in meaningful dialogue. Scenography describes the discipline of performing arts, which include all elements of theatrical presentation. As a definition here it is useful for this volume, because it outlines the understanding of scenographic practice as a combination of numerous theatre-practices that collaborate and include: architecture, lighting, costume, make-up, sound, settings and stage properties, movement, as well as audience participation.
Andy Hurst is a senior lecturer who oversees the Technical Theatre modules at the School of Music and Performing Arts. His chapter within the book is entitled iPad Svoboda: The Physical Theater of Projected Light. It came about as a result of a paper that he presented at a conference in Prague in 2014. Performance 5: Visual Aspects of Performance Practice was organized by the Inter-Disciplinary.Net organization and brought together a whole host of practitioners and researchers to discuss those elements of production and presentation that relate to the visual; design to realization, visual literacy, design as performative action, design authorship, experience and perceptions of the performer/ of the creative team/ of the audience etc. The eBook is an edited collection of the papers presented at the conference.
I was particularly interested in this area of discussion, as at the time I had just presented a performance piece called Etched which used light as a scenographic medium and which explored the technologies enabling me to manipulate light structures together with a live body in a space. It was a particularly visual performance piece that relied on the physical interplay of live performer and light structure to create a meaningful scene. The paper is a reflection on the developmental process of building Etched and explores the viewpoint of both the technician and the performer. It presents ideas on how the dynamic light scenography can be seen as an extension of the technician and how the performer developed a visceral relationship with the (in)tangible scenography as part of the production process – Andy Hurst
Inhabiting the Meta Visual: Contemporary Performance Themes is available now in ebook format from Interdisciplinary Press' official website here.