Advice for musicians by James Turnbull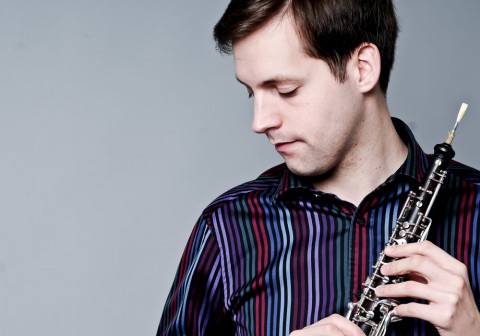 As part of Academic Development Week
James Turnbull is an accomplished oboist highly sought after for solo and chamber music concerts. Gramophone magazine described his first recital disc, Fierce Tears, as 'a notable debut' and Classical Music selected it as their Editor's Choice recording. As a featured artist of the Concert Promoters Network and the Countess of Munster Recital Scheme, James has performed frequently throughout the UK and Europe. He has visited Canterbury Christ Church University multiple times for concerts both alone and with professional partner and pianist Libby Burgess and we were delighted to welcome him back to give a seminar as part of our selection of employability workshops in Academic Development Week.
Here is some of the key pieces of advice he gave on becoming a professional musician:
Writing your CV
Make sure it looks smart! Use a clear header. Look at templates to find a good way to present yourself to ensure you stand out.
Include name, address, Education including GCSEs (either the number or specific grades if they are relevant to the job). Next, break it down into sections, e.g. Teaching, solo playing, chamber playing, workshops, outreach relevant to the job.
Document ALL your experiences, even if you don't use all of them every time, so you have a record when you apply for different jobs.
Don't undervalue any experiences! Something you don't think is relevant might give you an edge.
When you put your phone number on your CV, consider your voicemail message. Don't have one that isn't professional! This could be the first impression employers have of you.
Online Present
Create your own website. A good website and good photos is important if you are going to look for freelance work. This is part of your professional presentation.
Find an angle. James made a website with advice for learning the oboe. This caused people to know his reputation more widely, extending his networks.
Be careful of social media. Employers may look at your Facebook profile. Look at your settings so you aren't sharing things you don't want. Social media is a great avenue for looking for work though. Look for community pages and opportunities to share you work.
Flyering needs a lot of people and a lot of work. Facebook advertising can be a good way to advertise a one off event and can be better. However, be aware that while sometimes your core audience might all be on social media, not everyone will be on it and you may need other avenues.
Create Work for Yourself
Organising concerts is a great way to show your organisational skills and abilities.
As few as 80 discs can be enough to get a classical number 1! Think about ways to record examples of your work and get it out there.
At university you are surrounded by creative people. Don't miss the opportunity to work with them and form connections while you are here! It may open up new avenues for work that you did not expect. Try these things out while you have the opportunity and the support.
Crowdfunding is not the easiest way to raise money. But it also gives you opportunities for networking or PR. This can help create new ideas.
Crowdfunding and social media go hand in hand. Thunderclap is a way to get the word out much further and help you.
Crowdfunding has a cost of around 10% so you need to overestimate what you need. Websites will not help you to promote the idea either.
If you are trying to fund something, try to find a variety of funding opportunities, e.g. Trusts and Foundations, local organisations, ACE.
Matching funding can be in kind but still has a financial value to funding applications. Approaching local businesses is also a way forward.
You will find you may need to do different jobs to support yourself while you develop your career. Many musicians do this. Some employment may not be in the area you set out in. But keep sticking to your plan and goals that you have decided.
Make time in your week to send emails and funding applications so that you can keep on top of this and keep things moving. Expect low return. Don't be put off by rejection. It happens a lot! Aim for 100 rejections as this may mean 10-20 successes too!
A blend of email, phone and mail is important when approaching a festival or concert series. Be upfront about your work and send a video.
Lots of people want a video recording of you performing now. Try to make one while you have the facilities.
Be proactive! Make a plan for each semester: work out 5 things you want to achieve. Have an idea of what you're aiming for and mark progression. Create a timeline for what you do achieve and when. Think about what the basic minimum to make you happy will be too.
As a freelance musician you need to balance the artistic and business sides of you life so you find the right opportunities and do them well.
Networking: concerts, events and festivals are all places to make contacts. Look for opportunities to meet and chat with people in your area.


---