A Creed of Spies – Stage Management Opportunity at the Marlowe Theatre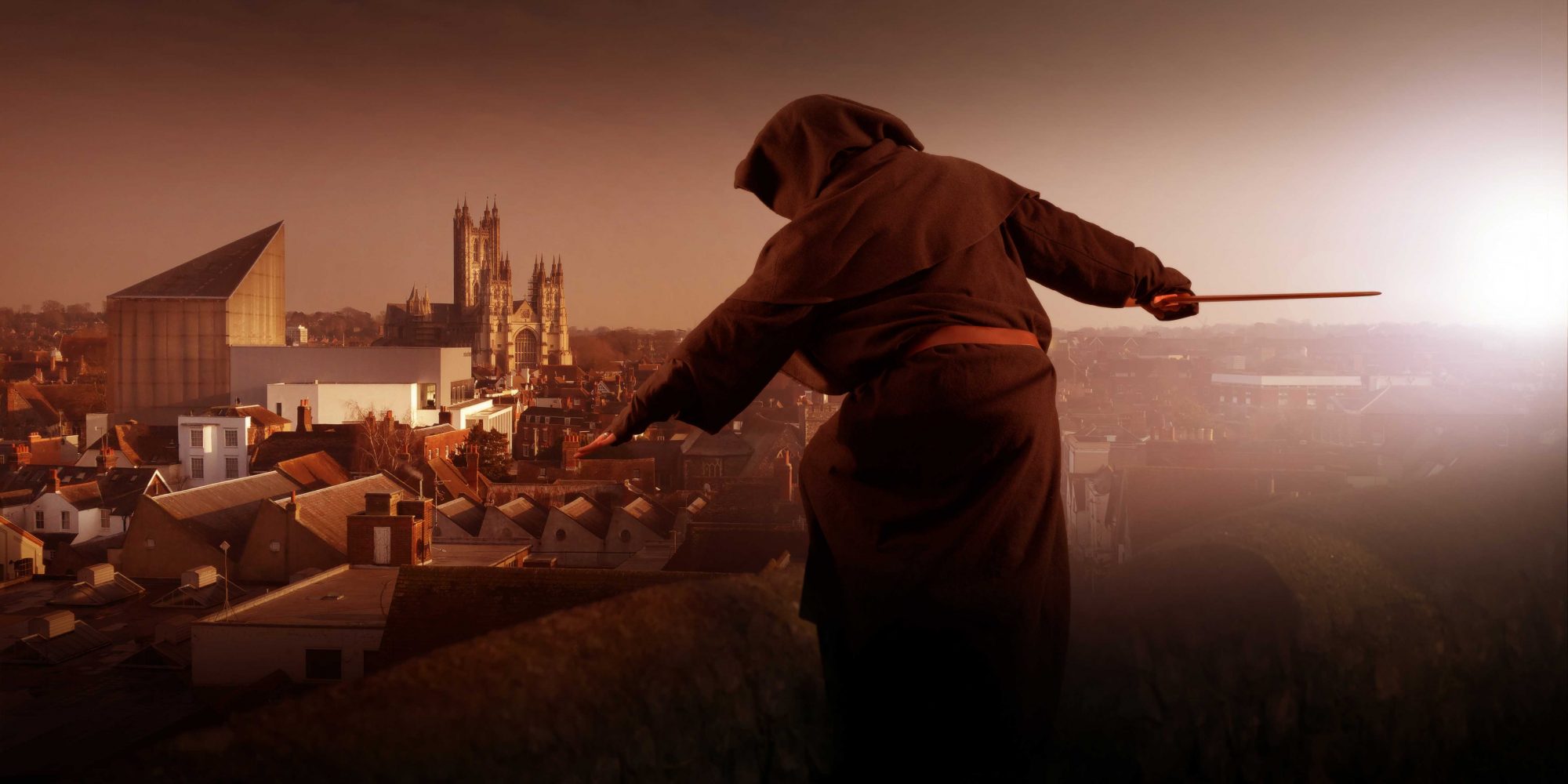 Blog written by graduating student, Suzi Kelly
Creed Of Spies is an exciting and innovative heritage project that culminated in performance in the summer of 2017 from the 12th – 20th July, working with performers from the Marlowe's Youth Theatre programme. The piece is a newly written play, merging first person narrative gaming with the dark underbelly of Christopher Marlowe's 16th Century Canterbury. This site responsive production was performed across the streets and spaces of Renaissance Canterbury. Following our close connection with the Marlowe Theatre, the School of Music and Performing Arts posted an advertisement on our social media pages for Assistant Stage Managers to work on Creed of Spies, who would be responsible for the heritage sites in the production, while working with professional staff from all areas of the theatre. An experience that would provide valuable educational and practical skills for any Performing Arts CV and an important reference for future positions. We were very proud to learn that not one but two of our students, Suzi Kelly and Georgina Bishop were proactive enough to apply for these positions for Creed of Spies and were chosen.
Here is what Suzi had to say about the experience…
I was a student at Canterbury Christ Church University from 2014 – 2017 where I studied Drama and then transferred to Performing Arts for third year (to continue my stage management studies). I wanted to study at Christ Church because it was in Canterbury, near to my hometown, and because in second year you could choose your own modules and the course provided me with the module on Directing (which was my focus at the time). During second year, I was introduced to Stage Management and I discovered I loved it and wanted to pursue it further. Since studying Stage Management, I have been able to get involved and experience many opportunities, which included working at the Spiegeltent at the Canterbury Festival. I did shifts there for two years in a row. I became one of the Assistant Stage Managers for the MPA Annual musical in 2016 which was Thoroughly Modern Millie and then the Company Stage Manager for Chess in 2017. Furthermore, since my time at university came to an end, I have been lucky enough to be employed as an Assistant Stage Manager for The Marlowe Youth Theatre's site specific and promenade performance of Creed Of Spies.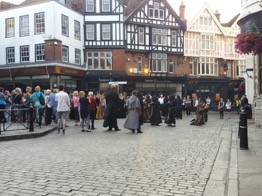 I loved studying Stage Management at university because the lecturer's enthusiasm and passion for it filtered through and I found it deeply motivating. Additionally, studying at CCCU means one day you are learning about cueing the show and writing the prompt copy and the next you are experiencing it first-hand, "in the field" so to speak. The opportunities CCCU have given me have been invaluable and each experience is never the same which is exciting, refreshing and it really does bring its rewards. I am very lucky that I have been able to find something which has and continues to challenge me to do my absolute best and I love the environment and the different people you get to work with on each show you work on. After being the Company Stage Manager of Chess this year, I decided that yes, I did in fact want to be a stage manager and I am grateful to CCCU and my lecturer for helping me discover and realise this.
Being a part of the company for Creed of Spies meant that I got the chance to work with professionals within the industry, from the Stage Manager, directors, to the technicians and the costume department. I dipped my toes into as many aspects as I possibly could to gain as much experience as possible. Due to the nature of this performance being site specific and promenade, it gave me the chance to experience rehearsals in selected locations across Canterbury and learn about the story of Christopher Marlowe and history of Canterbury as well as exploring the city in such depth. During the first two days, I assisted the director and assistant director in two of the locations, St Georges Tower, where I was on hand to prompt the actors and cue the music, and Westgate Towers where I stepped in to help one of the directors block the scene due to a cast member being unavailable. Because of the location, I took this time, to take some photos of the views – to store as memories and of my time working on this show.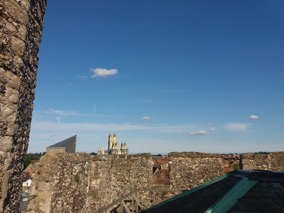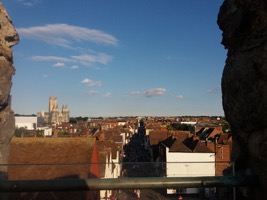 From the first day, till the last day, one of my main responsibilities included keeping an eye on the audience and public, to ensure their safety, the safety of the actors and a smooth run of the performance. Another vital factor of my role was to ensure props were put back after each show; one of the props was a wheel barrow and for the first two nights, my first job was to take it to the bridge next to Old Weavers Cottage so it was ready and in place for when the actors arrived after the prologue. At the end of each night, I took charge of collecting it and after the performance, take it back to the props corner in the studio.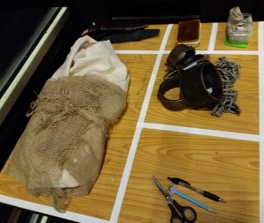 Because I was the only ASM there for each day, I was given an important responsibility and that was to manage the radios and headsets for the remaining days. This meant that I was to hand out the radios and headsets to members of the company who required them and retrieve them at the end of the night, and to put on them on charge ready for the following day. It was a fantastic feeling to be given additional responsibilities, especially this one which I knew was vital to a smooth run of the show week. I felt that I was used in an effective and efficient way and that made me feel great and pleased.
I learned from this experience that I could not think of anything else that would make me happier to work in this industry as a stage manager. There were some personal challenges I faced but I was able to overcome them and this opportunity came with its rewards.
With each experience, you are fortunate enough to be a part of, you learn different things and from this one, I will take a few things away:
To double check everything
It's okay to want to ask for reassurance
To believe in yourself
Just be you
No questions are silly. Ask those questions.
Talking to all, or as many of the company members as possible has its pros and I would recommend it.
Get to know the company as best as you can as you would be surprised what you can learn, discover and you can receive some great tips and advice.
My next steps include taking the advice and tips I received from this experience and approaching my next adventure with them in mind, applying wherever appropriate and possible.The next stage management opportunity I have coming up is as an Assistant Stage Manager for Broadstairs Folk Week Festival, which I am extremely excited about! The opportunity to work on Creed of Spies was an incredible experience and a wonderful addition to my CV. I had a brilliant time working with some very talented individuals, from professionals to amateurs. I have thoroughly enjoyed being a part of this production and company, even though it was only for a short amount of time. The people I have met from this have been so welcoming and accommodating. I know if an opportunity like this were to arise again, I would not hesitate to apply and neither should any other students. The experience really was invaluable and it should not be taken for granted.
Photo credits: Suzi Kelly