48 Hours in Canterbury: Returning to CCCU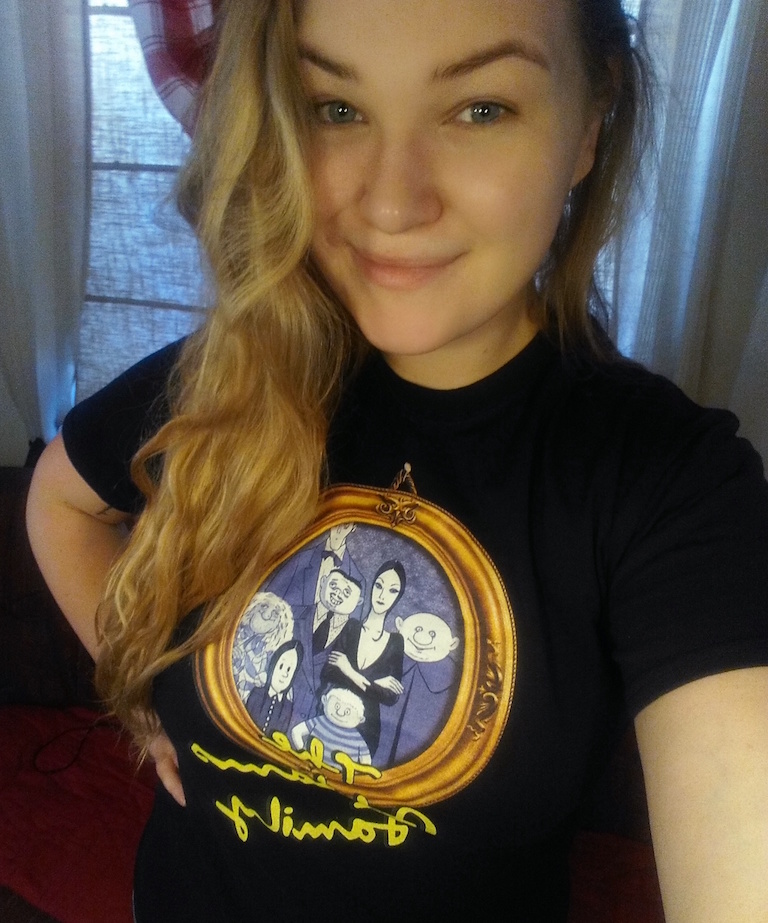 Written by Music Alumni: Ugne Dailidonyte
When you graduate from University all the stress and anxiety connected with all the deadlines and assignments fades away with time, but all the great memories linger for years and years. Some of these memories leave such an imprint on you that you cannot put it aside and move on with your life. For me, now an alumni of BA Music at CCCU, these special memories happen to involve a lot of people who made this experience magical and who still reside in Canterbury. As some readers might know, I am a very proud international student, originally from Lithuania and now living in Sweden, so popping by Canterbury is rarely an option and not being an impulsive person I tend to have to think about things longer than others. Why am I telling you this? Well, I am here to write about my very impulsive trip to Canterbury and the 48 hours spent there. 
My main goal of the trip was to see University's annual musical, a production of The Addams Family. Being part of Chess last year, I got close with the cast and crew of the production and there were quite a few of them who were participating in The Addams Family, so despite not being able to be part of the event I felt the need to come and cheer them on. My logical thinking was telling me that I don't have the opportunity to go – I am studying Swedish language at the moment and we were not on holiday and cannot just leave for days…Or could I? My next excuse was ticket prices – usually in the summer flight prices sky rocket. However, prices were low and I thought I could escape my lessons for a few days all of a sudden I started to get excited because I might actually be able to do this! So that is what I did. I bought the tickets and on June 13th I was on my way.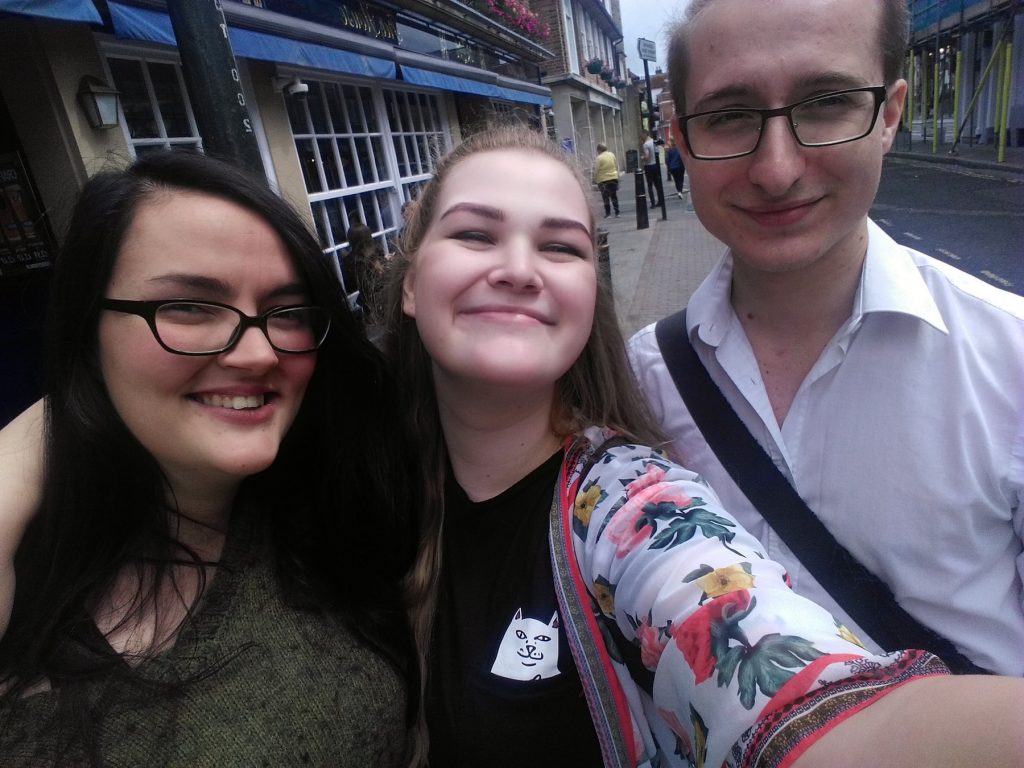 On the late morning of June 14th my best friend (and fellow Music graduate) Anna and I met up with James, who was also on the CCCU Music course, my housemate for two years, a fellow member of the University Chamber Choir and a dear dear friend for brunch and a nice catch up. Besides him only a few people knew I was visiting, I only told those who I wanted to make sure were there during the days of my visit. However, the entire cast, crew and musicians were unaware of my visit. I was nervous, incase they were not excited to see me? What if, after a full day's travel across countries they just smile and continue on getting ready… Oh, how wrong I was! As I came in to the preparation room and I am announced as 'someone who is visiting all the way from Sweden' I get tackled by a group of familiar people. Now that I think back to that moment, the rest of the cast who did not know me must have thought it was a little strange, people screaming and jumping and crying. But I felt like my heart was going to explode – I was so happy. They hugged me so hard they gave me a stitch in my side!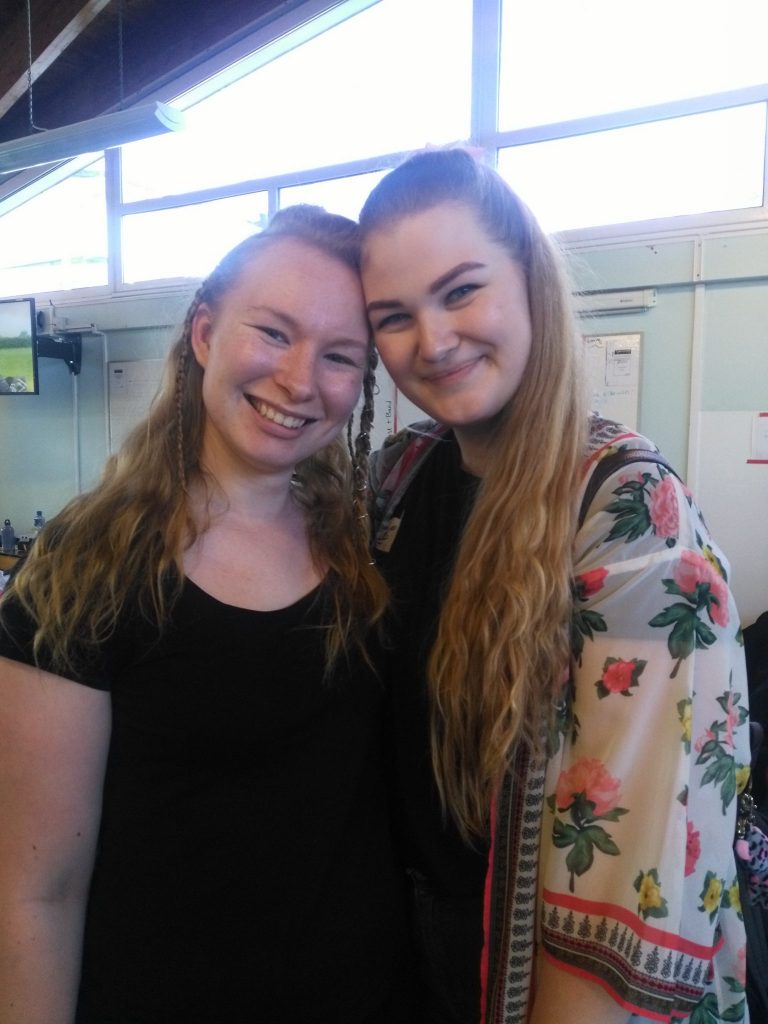 After all the hugs and hellos and them finding out I was coming to the show that night, I left them to get ready and went on a tea date with my friend Natasha, who graduated BA Music (now studying on the MMus programme) with me and we had the most lovely catch up. We talked for hours, were joined by Anna and eventually ended up going shopping together so we could spend more time together. Afternoons like that always make me feel like I'm missing something by not being around that much but also they give meeting people more magic.
In the evening, Anna and I returned to university to visit the crew and the musicians before the show and wish them luck. Amongst the musicians were a lot of friends from BA Music, including a couple of Alumni, which made me really happy. It was lovely to see people I had not seen for a year and look at the stage, which exactly a year ago was decorated for Chess and now was looking amazing with an elevated ramp, really impressive prop, light and design work.
Once we were seated in the Anselm Studios we happened to be lucky enough to sit next to Dr. David Allinson, the Director of Music at CCCU. It was lovely to have a chat before and after the show, share our excitement and general catch up about life at university, life after it and of course, music.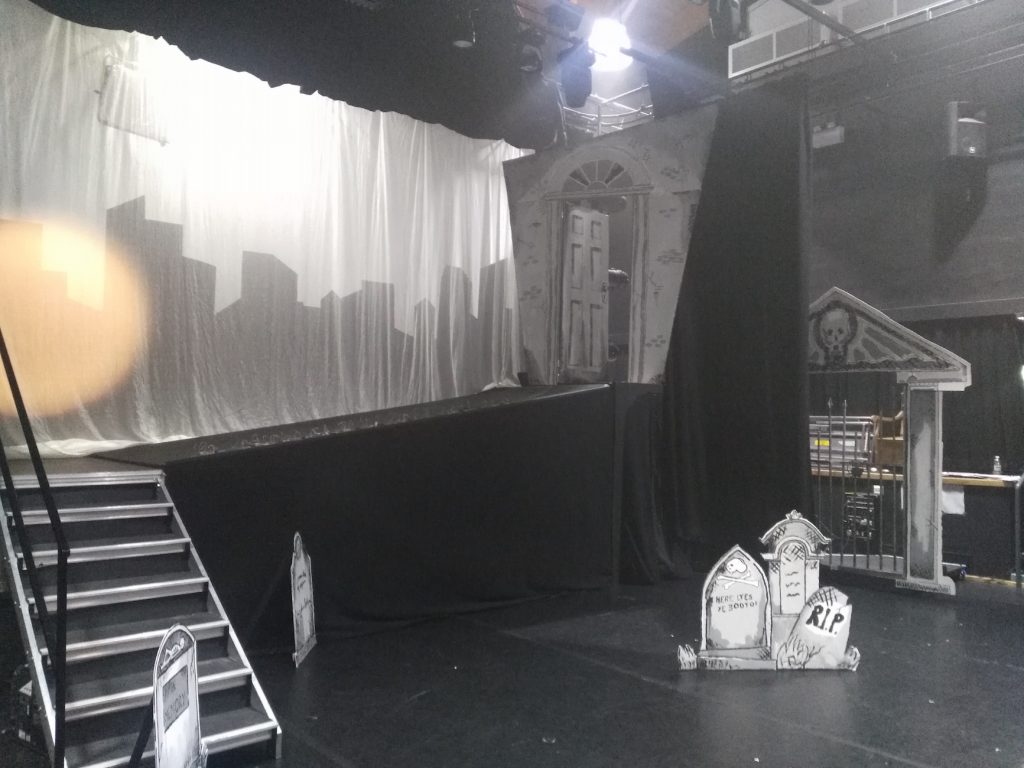 It was the time for the show to begin and my feelings were all over the place – I was  excited and nervous; nostalgic and even a little bit sad. Most of all I just wanted to be amazed by the incredibly talented friends I had on that stage and behind the curtains. Two hours later all I could say was – WOW. Maybe I am biased, since I know how much work, effort, literal blood, sweat and tears it takes to build a show, but that was actually mind blowing. It was funny, well-timed, sweet, greatly performed, the characters were vibrant and very, VERY relatable . The story had an arc, it built and had a great climax both at the end of the first and the second acts. The timing of the music with the actors was spot on and though the music seemed complex the musicians showed great skill and played with ease. I was so proud! Fun fact: Anna and I kept repeating how much we enjoyed the show until the day I left – the well of compliments was inexhaustible.
The next day was filled with tea dates, a master's recital, more catch ups and a little bit of Canterbury nightlife. I was out early in the morning to meet Mollie who played Alice Beineke in The Addams Family. The meet-up was mainly me trying to express how much I was in awe of her and her amazing talents. Afterwards we walked back to university together so I could give my final hugs and say my final goodbyes before their matinee show that afternoon. Not going to lie, as I left them there was a little tear in my eye because I was sad to leave but also I was a little envious that they get to go through the craziness and chaos, and all I wanted was to be part of it too.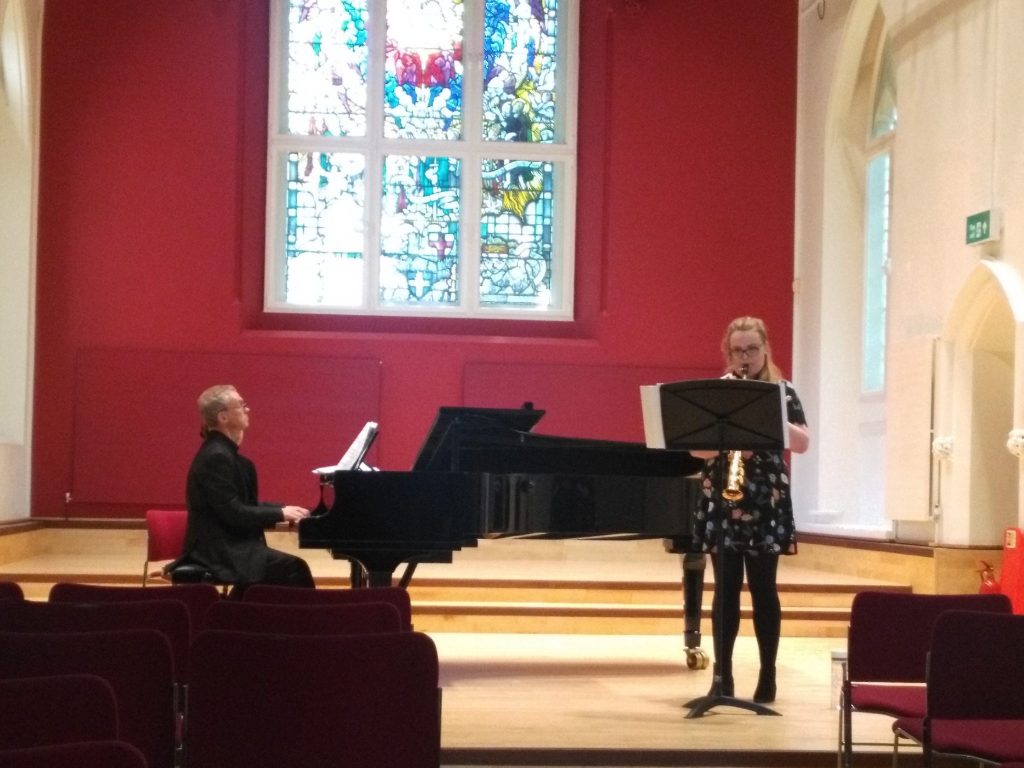 After saying my farewells I headed down to St. Gregory's Centre for Music where Natasha Conley, who I saw the day before, was having her Master's recital. When I was booking my tickets to come to Canterbury I had no idea that her recital was happening on the day I was still there and it made me incredibly happy that this perfect coincidence happened. Natasha, a saxophonist,  was without a doubt of of the greatest musicians in our year so I was not surprised how amazing her Master's recital was. It was precise, exciting, diverse. A couple of pieces she played were so intricate in the time signatures and the pace it was truly blowing my mind. Again, I was so proud, I just wanted to cry happy tears!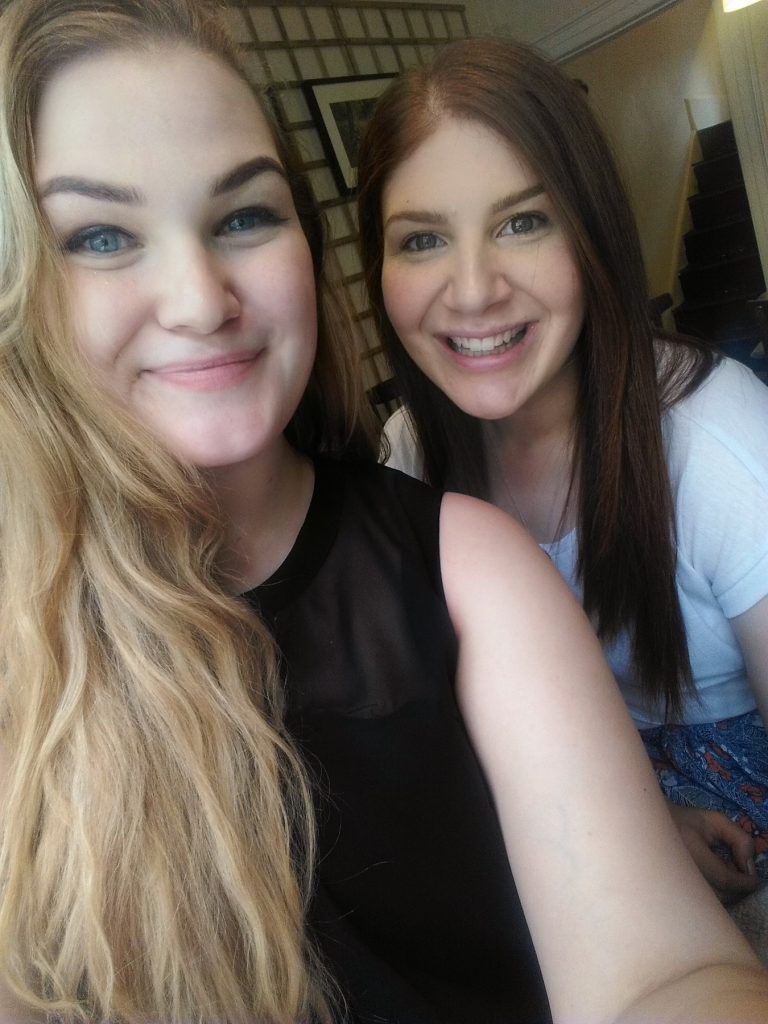 My next tea date was with Hannah Jacobi, who had a concert with the Canterbury Voices that evening and managed to come down early so we could meet. Hannah is another music alumni of CCCU, with both bachelor and master's degrees, graduating at the same time I did last September. It was a truly lovely afternoon with a little bit of shopping and then tea, food and great conversations. She is one of the most supportive people I have met, helping me out through university and just generally radiating kindness and wisdom as long as I have known her. It is wonderful to realise how many diverse and interesting people you meet during the three or four years you spend in university and how much they help shape the person that comes out the other end with the scroll and the robe.
As my 48 hours of being in Canterbury were running out, the last thing to do was to enjoy a nice night out with friends. I saw most of my favourite people again, Anna, James, Natasha as well as someone I did not see before but I was so happy I got the chance to – Lee. We were in the same course as well and he made the time in university so much nicer. He was always supportive and kind and always cared for us. We talked about our time at the course, the ups and downs of the three years and what it was like being out of university and back in the 'real world'. Being able to see him and have a chat was the crowning of my stay in Canterbury. 
So there, my 48 hour stay in Canterbury story has been told. It breaks my heart a little bit that I will not be seeing most of these people or the magical place that is Canterbury anytime soon, but I know that they will be doing great things with their lives soon and I will be there cheering them on every step of the way.. As cliche as that sounds. Lastly, I wanted to thank everyone for the warmest welcome, every single one of you made the time special and unforgettable and you hold a special place in my heart. Okay, soppy post over. Until next time!