Alan Meades and Karen Shepherdson of CCCU's Centre for Research on Communities & Cultures will be discussing an photographic archive of seaside arcades recently acquired by SEAS Photography.
A Centre for Research on Communities and Cultures Seminar:
Arcades, Archives and our Coastal Communities
Speakers: Alan Meades & Karen Shepherdson (CCCU / Centre for Research on Communities & Cultures)
WHEN: Wednesday 16 November 2016
TIME: 4.15pm-5.30pm
WHERE: Cg09, CCCU, Broadstairs Campus
This presentation explores how the recent George Wilson photographic acquisition to the South East Archive of Seaside (SEAS) Photography has acted as potent catalyst for two strands of coastal community research, engagement and dialogue.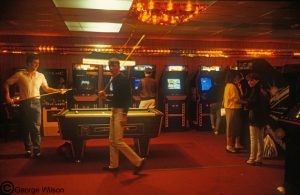 The research undertaken by Meades and Shepherdson focuses specifically upon the UK's South East seaside amusement arcades and the personal memories/narrative histories of those who have inhabited these social spaces at the waters' edge. The findings to date highlight the rich heritage and cultural importance that seaside amusement arcades have had upon coastal communities, particularly youth culture from the 1960s to the present day.
The richly illustrated presentation will examine two inter-related strands of research:
1. the archiving, cataloguing and making public a rare, authored photographic collection of the south east's seaside arcades. A collection that excitingly denotes the play and complex social interactions which take place in these often marginalised public spaces right on the coastline
and
2. the locating, collating and transforming into graphic-comic form the overlooked oral narrative histories of those who have used and occupied our seaside amusement arcades.
The presentation will feature previously unseen and rare images of our coastal arcade spaces and examine how vital these are in the understanding of the history, culture and aesthetics of our seaside towns.
Carey Building – Cg09
Canterbury Christ Church University
Northwood Road
Broadstairs
CT10 2WA
For further details contact Karen Shepherdson