James Frost has devised a mummers play for the Sandwich Folk & Ale Festival.
Wanted: The Outlaw Robin Hood
8th-9th July 2017
2.30pm and 4.00pm
St Peter's Gardens, Sandwich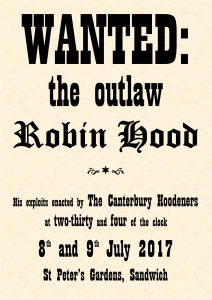 James Frost devised the play and made the props, including the "hooden" stag. Sonia Overall (Creative and Professional Writing) adapted the script has been adapted by from the 16th century ballad "The Gest of Robin Hood" and 19th century Robin Hood mumming plays. Some of the actors are Canterbury Christ Church University employees and others met round the corner at the New Inn in Havelock Street in the "Folk at the Inn" sessions.
James Frost is Senior Lecturer in the theory and practice of art at Canterbury Christ Church University. For around 12 years he worked as a puppet maker, puppeteer and street performer with his company the Theatre of the Small. He continues to do street theatre with the Canterbury Hoodeners and Tonbridge Mummers. James is founder and Chair of the community arts groups Small Beginnings and Bringing Alive Sandwich Heritage (BASH), which specialises in heritage events management. His longstanding interest in the tarot, which formed the subject of his MA thesis. His academic paper 'Towards a Hermeneutic Understanding of the Tarot' was published in the International Journal of the Image in 2016. As an artist, he has exhibited in East Kent, London, and Barcelona.
Sonia Overall writes fiction and poetry and explores experimental creative forms. She is an avid psychogeographer and draws on walking practices, psychogeography and place-based methods in her writing and research. She is the founder of Peregrinations: Walking and Landscape Research Group in the School of Humanities, and of an international network of walking creatives and academics, Women Who Walk.