Senior Lecturer Tim Long will be exhibiting some of his work at the Pie Factory, Margate, with three other artists.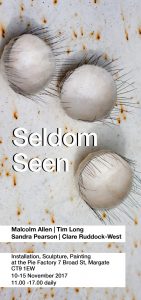 Seldom Seen: Malcolm Allen | Tim Long | Sandra Pearson | Clare Ruddock-West
Pie Factory
7 Broad Street
Margate
CT9 1EW
10 November 2017-15 November 2017
11.00-17.00 daily (early closing Wednesday 15th)
Phone: 07870 320479
Meet the Artists on Saturday 11 November 12.00 – 5.00pm
Contact telephone number for inquiries about the exhibition: 07870 320479
This is an exhibition bringing together an engaging array of installation, paintings, and sculptures, revealing surprising and exciting contrasts between the diverse productions.
An artist who trained in Fine Art painting, Tim's work embraces film, hybrid processes that integrate digital media into physical objects. He uses his works in multimedia and collaborative performances at live events, and also in public gallery settings. In his capacity as programme director for Digital Media, Tim has worked as an external examiner for the Open University's revalidation of the MA Creative Design for Digital Cultures programme at the Utrecht School of the Arts, Netherlands. Tim's images and sculptural work has been exhibited at the Royal Academy in London and at the Newcastles International Print Biennale.