Tree Radio Installation (Yorkshire Sculpture Park, West Bretton, Wakefield WF4 4LG)
Radio Arts researcher and artist Magz Hall has recently finished a summer residency at the Yorkshire Sculpture Park (YSP) where she has produced a new sound installation, Tree Radio.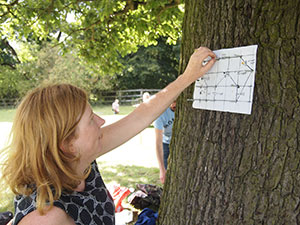 Tree Radio has transformed an oak tree at the Sculpture Park into a micro radio station. A transmitter embedded into the tree relays as fluctuating sound the tree's reactions to light, via sensors on the tree and probes in the tree, which also relay its water levels as electronic tones. Visitors at YSP can pick up the tree's transmissions on their personal FM devices, such as their phones, if they are standing next to or near the tree.