Senior Lecturer Tim Jones has launched a new blog, Canterbury Amateur Film Archive, to share the fruits of his research.
Tim Jones will be presenting the world premiere of his documentary about Peter Watkins, director of The War Game and Punishment Park.
Tim Jones, Senior Lecturer in Film, has won a Hollywood International independent Documentary Award for his documentary short, Seeking Sydney.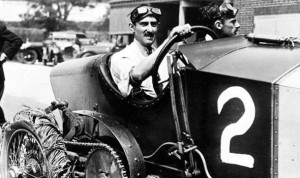 The documentary explores the life and work of Sydney Bligh, who made newsreels of Canterbury. His films include footage of the multimillionaire Count Zborowski whose racing cars were the inspiration for Ian Flemings' Chitty Chitty Bang Bang. Zborowski built his own private mile-long 15" gauge railway around his estate and Bligh's film is the only surviving visual record of it. Bligh also filmed T.S. Eliot at the first performances of Murder in the Cathedral and Dorothy L Sayers with her first performances of The Zeal of Thy House and The Devil To Pay.
Seeking Sydney provides an insight into the scope, ambition and technical level of an early amateur filmmaker. Tim says "This is the first award that I've won abroad and so it was particularly exciting that this should be in Hollywood." It will receive a festival screening at the Award Ceremony at The Raleigh Studios Hollywood on 10 September 2016.
An excerpt can be seen at https://vimeo.com/172122338
To improve your experience, this website uses cookies. Click accept to proceed or read more to view details about the cookies we use.Accept Read More
Privacy Overview
This website uses cookies to improve your experience while you navigate through the website. Out of these, the cookies that are categorized as necessary are stored on your browser as they are essential for the working of basic functionalities of the website. We also use third-party cookies that help us analyze and understand how you use this website. These cookies will be stored in your browser only with your consent. You also have the option to opt-out of these cookies. But opting out of some of these cookies may affect your browsing experience.
Necessary cookies are absolutely essential for the website to function properly. This category only includes cookies that ensures basic functionalities and security features of the website. These cookies do not store any personal information.
Any cookies that may not be particularly necessary for the website to function and is used specifically to collect user personal data via analytics, ads, other embedded contents are termed as non-necessary cookies. It is mandatory to procure user consent prior to running these cookies on your website.