The School of MAD Research Seminars resume in 2019 on 20 February, with Kate McLean presenting her research on the intersection of smell and landscapes from around the world.
Research Seminars 2018-2019
School of Media Art and Design
Laud Building – Lg48
North Holmes Road Campus
Canterbury Christ Church University
Canterbury
CT1 1QU
20 February 2019
4.15pm-5.30pm
Nose-first: A smelltalk
Speaker: Kate McLean, CCCU
From historical smell maps of industrial New York to contemporary whiffs of Paris, from Kyiv's animated smellscape to Singapore's volumetric odour clouds. This talk examines the practices and theories of mapping the eye-invisible smellscape. Based on my recently submitted PhD, I examine qualitatively-perceived spatial and temporal characteristics of the olfactory landscape through mapping practices.
Human olfactory perception contributes to our understanding of the world; people delight in localised scents. Slight whiffs can enable pre-visualisation of a forthcoming activity, serve as a summary synthesis of previously-witnessed events and have the capacity to evoke situated memories. However, the smellscape is in constant flux and ephemeral, volatile smells are easy to ignore when experienced by ordinary people in everyday, urban environments. The apparent invisibility of smell as a physical entity, and as a social construct, in the prevailing sensory order has led scholars to call for further studies in how smellscapes may be detected, recorded and shared.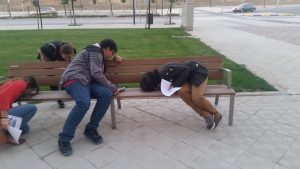 Kate McLean is a British artist and designer and mapper of urban smellscapes and founder of Sensory Maps. She is Programme Director of Graphic Design at Canterbury Christ Church University, UK and recently submitted her PhD to examiners for the Royal College of Art, UK. Her research interests include the fine-grained, human-centred olfactory perceptions of cities worldwide and the methods by which this information can be rendered eye-visible. She runs smellscape mapping workshops and leads smellwalks around the world and co-edited a book, "Designing with Smell: Practices, Techniques and Challenges" (2017). Kate's design and theoretical work features in broadcast, print and electronic media as well as academic journals including The Guardian, BBC Radio 4, Wired, Discovery Channel, Australian Broadcasting Corporation, The Independent, Sky TV, The New York Times, The New Yorker, Leonardo Journal and Communication Design, among others.
Smellmap visualisations of the smellscape designed by Kate include: Paris, France, NYC (USA), Edinburgh (UK), Singapore, Kyiv (Ukraine), Amsterdam (Netherlands), Paris (France), Milan (Italy) and Newport, RI (USA). These can be seen on her website: http://sensorymaps.com
Social media: Twitter: @katemclean Hashtags: #smellwalk #smellscape
Laud Building – Lg48
North Holmes Road Campus
Canterbury Christ Church University
Canterbury
CT1 1QU
Email Dr Andrew Butler – Andrew.Butler@canterbury.ac.uk – for further details
— All welcome —