James Frost, Senior Lecturer in the School of Media Art and Design will be performing the puppets in a production at the Gulbenkian Theatre.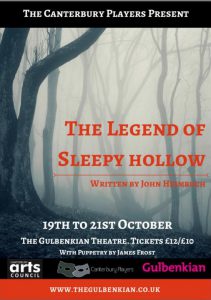 Based on the classic story by Sleepy Hollow Washington Irving, this is an amateur production by Canterbury Players. It was written by John Heimbuch in collaboration with Jon Ferguson.
The blood curdling tale of the Headless Hessian is a favourite of the residents of Sleepy Hollow but it isn't until the arrival of the new schoolmaster that things take a spooky turn.
Can Ichabod find contentment or will the forces of darkness lead him down a very different path?
The puppetry, including sequences with a hooden horse, derives from James Frost's research for his PhD.
Performances are 19 October-21 October 2017 at 7.30 and the performance lasts approximately two hours.
To buy tickets, contact the Gulbenkian Box Office on 01227 769075, in person, by email or online.