Salute to Vinyl
Dr Andy Birtwistle has launched the Start Here audio cassette label to bring listeners the finest in magnetic tape-based media archaeological art.
The cassettes released on the Start Here label attempt to work with the form and materiality of the cassette tape as a medium, foregrounding and celebrating its unique qualities. Start Here is all about clearing away, stripping back and emptying out, so that these qualities can be perceived and appreciated more clearly.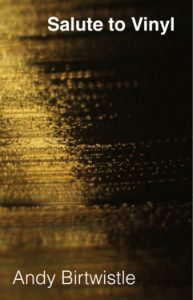 The label's first release is Salute to Vinyl, which features the surface noise recorded from both sides of a blank long-playing vinyl disc. This sound is generated by physical contact between the turntable stylus and the moving surface of a vinyl record. The continuous sound that results from the friction between these two surfaces is interspersed with intermittent sounds produced when the stylus encounters the damaged wall of a recording groove or particles of dirt. This is the sound of vinyl, brought to you through the medium of magnetic tape.
Copies of Salute to Vinyl are available from Chimpsonic and will make ideal summer listening on your Walkman.
Andy is Reader in Film and Sound in the School of Media, Art and Design at Canterbury Christ Church University and is the author of Cinesonica: Sounding Film and Video (Manchester University Press, 2010).