Dr James Newton offers an appreciation of the American director, George Romero (1949-2017)
You won't have to search very far to read multiple career retrospectives of director George A. Romero, who died on July 16th aged 77. His socially and politically conscious zombie series, consisting of Night of the Living Dead (1968), Dawn of the Dead (1978), and Day of the Dead (1985) (plus three later 21st century entries in the series – Land of, Diary of and Survival of) are not only considered ground-breaking examples of the horror genre, but also created the core tropes and iconography for the recent wave of zombie culture; consisting of comic books, video games, TV series, films, and real life "zombie walk" gatherings.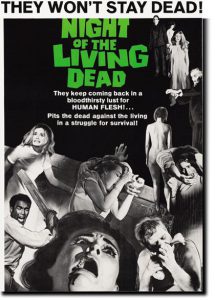 Kim Newman positions Night of the Living Dead as the film that ushered in the modern era of horror cinema, thanks to its usefulness as a political allegory, and for the levels of serious violence and gore (1988). It is also a perfect lesson in successful low/no budget filmmaking; a genre film, shot primarily in one location to keep costs down, with a script that could easily work as a stage play. It is a format that has proved fruitful for many famous directors in the early part of their careers, including John Carpenter in Assault on Precinct 13 (1976), Quentin Tarantino in Reservoir Dogs (1992), and James Wan in Saw (2004).
Romero's films also contain an often unmentioned vein of humour which runs through his Dead sequels and notably in non-zombie films like Creepshow (1982) and Two Evil Eyes (1990). His filmmaking style is functional, but the narratives are elegantly crafted to set up scenarios which then pay off later in the film, and they all retain a comic book quality with slanted angles and colourful mise en scène.
My two personal favourites are Day of the Dead (1985) and Land of the Dead (2005). The former is almost entirely located in an underground military silo, is totally apocalyptic in tone, and contains a genuinely affecting performance from Sherman Howard as a zombie being coached back towards consciousness. The latter film follows this development and depicts zombies moving towards a collective class consciousness as they organise to fight back against the privileged living.
To end this short appreciation of Romero's career, I want to draw attention to a contemporary review of Night of the Living Dead in Variety which proclaimed that "Until the Supreme Court establishes clear-cut guidelines for the pornography of violence, [the film] will serve nicely as an outer-limit definition by example. In a mere 90 minutes this horror film casts serious aspersions on the integrity and social responsibility of its Pittsburgh-based makers" (in Russell 2014: 62). What a wonderful testimony to a terrific filmmaker.
References:
Newman, K. (1988) Nightmare Movies: A Critical History of the Horror Film 1968-1988 (Bloomsbury).
Russell, J. (2014) Book of the Dead: The Complete History of Zombie Cinema (Titan Books).
Dr James Newton is Senior Lecturer in Digital Media Theory and his research interests include anarchism in popular culture, radical communities (and the role of digital media in shaping them), political cinema, horror and exploitation, westerns, and documentary. James is also a filmmaker and his work incorporates both narrative and experimental forms.