Tree Radio Installation (Yorkshire Sculpture Park, West Bretton, Wakefield WF4 4LG)
Radio Arts researcher and artist Magz Hall has recently finished a summer residency at the Yorkshire Sculpture Park (YSP) where she has produced a new sound installation, Tree Radio.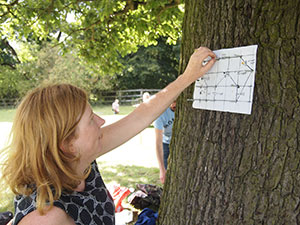 Tree Radio has transformed an oak tree at the Sculpture Park into a micro radio station. A transmitter embedded into the tree relays as fluctuating sound the tree's reactions to light, via sensors on the tree and probes in the tree, which also relay its water levels as electronic tones. Visitors at YSP can pick up the tree's transmissions on their personal FM devices, such as their phones, if they are standing next to or near the tree.
Dr Magz Hall, Senior Lecturer in the School of Media, Arts and Design at Canterbury Christ Church University, said: "This work addresses issues surrounding the rate that new digital technology often becomes out-of-date, as it uses 100 year old tried and tested wireless technology. I have been working at the intersection between art and technology and this project takes forward my current interests."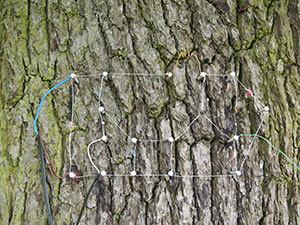 "I wanted to make people think about trees and the root of all wireless technology: radio, and how simple and green it can be to use. Wireless, free and solar powered. The tree transmitter reveals the hidden facets of organic tree life using simple FM wireless technology."
"New digital wireless communication today is often disguised as trees and this is a playful way of getting people to think about trees as transmitters and radios early military history. The other aim of the project was to connect people with radio technology and simple electronics."
The project was kick started by an Art for the Environment residency awarded by University of the Arts London, where Magz completed her PhD in Radio Art. The work is solar powered, which was an important consideration "as I wanted to make a new sound work which was self-efficient once installed. This is work is about the tree environment and is powered by it."
Tree Radio is currently exhibited at YSP and will run until next year.
Magz has been sharing her radio art research practice via Radio Arts workshops such as Reclaim the Waves earlier this year at the Tate Britain, a project exploring the changes to the lives of London residents over several decades, and Dream Vessels at the Turner Contemporary, where ceramic pots were used to transmit participants' dreams.
Yorkshire Sculpture Park is a short drive from Wakefield or a mile from Junction 38 of the M1, about 35 minutes on the 96 bus from Wakefield Bus Station or 33 minutes from Barnsley on the 96.
For more details on the project see Dr Hall's blog.