Senior Lecturer James Frost will be co-hosting a workshop exploring the tarot through movement.
The Living Tarot – Explorative Movement Workshop
with Movement Director Viola Bruni and Art Lecturer James Frost

Join us for a playful exploration of the world of tarot!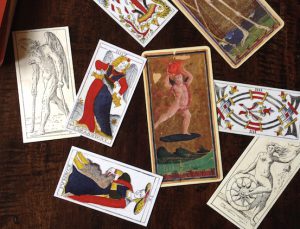 This practical workshop is a union of both interpretative and physical approaches to the tarot imagery. It is based on a shared research between movement director Viola Bruni and art lecturer James Frost.
Historically, the tarot has been used as a game, as well as a divination device. Through the ages, the tarot has continued to fascinate and has been endlessly reinvented and renewed in different decks. Our research takes into account different perspectives and approaches to access its complexity.
With this workshop, we aim to arrive at a physical understanding of the tarot characters. The movement will be recorded in a series of drawings which will document the research process. The workshop is free of charge and open to movers of any background: dancers, actors, circus performers, curious explorers.
WHEN: 10th June 2017 – from 10 am till 13 pm
WHERE: Forgotten Circus School
Unit 7C, High Cross Centre, Fountayne Rd, London N15 4QN
COST: free
To participate, please send your expression of interest to violabruni.md@gmail.com along with a brief description of your movement experience.
—
More about us:
Viola Bruni is an Italian movement director with a background as dancer and circus performer. Recently graduated from Royal Central School of Speech and Drama in MA Movement: Direction & Teaching, she is currently researching how the imagery of the tarot cards can provoke movement creation. She is a teacher at the Forgotten Circus School in Movement for Circus Performers and independently teaches acrobatics and movement to actors.
Viola Bruni's Linked In Profile
James Frost is Senior Lecturer in the theory and practice of art at Canterbury Christ Church University. He has a longstanding interest in the tarot, which formed the subject of his MA thesis. His academic paper 'Towards a Hermeneutic Understanding of the Tarot' was published in the International Journal of the Image in 2016. As an artist, he has exhibited in East Kent, London, and Barcelona.