Ken Fox and The Fighting Prince of Donegal
Dr Ken Fox is delighted to be going back to his hometown to speak at the Allingham Arts Festival in Ballyshannon, Co. Donegal, Republic of Ireland, on Saturday 5 November 2016 in the Abbey Arts Centre where he spent many, many nights attending the cinema during the 1970s. "It's like going back to the source" says Ken.
Ken is givin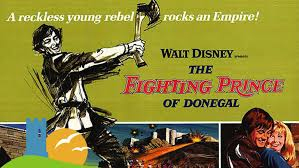 g a talk on The Fighting Prince of Donegal (O'Herlihy, 1966) following the free screening of the film at 10.30-12.20 — his talk is at 12.45-1.45.
Ken is really looking forward to seeing old friends and hopefully some members of the audience who, like him, saw the film when it first came out in 1966.
The Festival is a wonderful four days of events, talks, workshops, lectures, screenings with the highlight of hearing the brilliant Irish novelist Anne Enright speak about her writing.
http://www.allinghamfestival.com/saturday-3.
http://www.allinghamfestival.com
Dr Ken Fox is Principal Lecturer in the School of Media, Art and Design. Ken teaches modules on American Cinema in the Film, Radio and Television Programme and in the American Studies Programme. In Year 2 he teaches a module on American Independent Cinema introducing students to a range of films that reflect the relationship between mainstream and independent films. His Year 3 Cinematic City module; in particular, reflects his current research interests, as Ken's PhD focused on Cinematic Visions of Los Angeles. Ken has been a Fellow of the Higher Education Academy since 2007. His chapter, "In praise of the inauthentic: the cinematic landscape of The Fighting Prince of Donegal" appeared in Graeme Harper and Jonathan Rayner's Film Landscapes: Cinema, Environment and Visual Culture (Cambridge Scholars Press, 2013).