A one day symposium, Exploitation Cinema in the 21st Century, takes place in the Powell Lecture Theatre, Canterbury Christ Church University, on June 9th 2017.
Exploitation Cinema in the 21st Century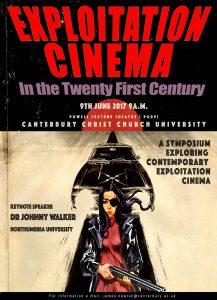 The symposium will shed new light on the embodiments of exploitation cinema since 2000; with a particular emphasis on waves, cycles, and genres, changes in consumption (such as online rather than in theatres), and which particular exploitation filmmakers stand out as being important in contemporary times.
The event is free for all CCCU staff, but anyone wishing to attend MUST register first. Email james.newton@canterbury.ac.uk to book your place.
If you wish to attend but are not CCCU staff or student please register at: http://shop.canterbury.ac.uk/product-catalogue/media-art-and-design/media-art-and-design/exploitation-cinema-in-the-21st-century-symposium.
For details of how to get to the North Holmes Road Campus in Canterbury see here.