Dr Chris Pallant delivered a sold-out talk on the history of the storyboard at the British Film Institute in London, 3 October 2016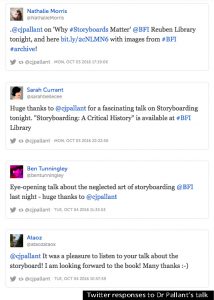 Having recently published the monograph Storyboarding: A Critical History (Palgrave, 2015), on the 3rd October 2016 Dr Chris Pallant was invited to share his research findings as part of the British Film Institute's guest lecture series. The event, which was open to the public and took place at the BFI's Southbank site, proved extremely popular with tickets quickly selling out.
Dr Pallant's book, which he co-authored with Dr Steve Price (Bangor University), represents the first scholarly attempt to establish a comprehensive history of a pre-production art form that has been largely overlooked within Film Studies. While impossible to include all of the insights of the book in the BFI talk, audiences were treated to discussions of: how print cartoons served as rough-and-ready proto-storyboards, Walt Disney's contributions to the development of the storyboard form, and several revelations based on the authors' original archival research, including the origin story of Ray Harryhausen's stop frame animation for the film The Valley of Gwangi; unrealised practical effects ideas for Star Wars: The Empire Strikes Back; the importance of the storyboard to the success of Jurassic Park; and how storyboarding has changed at studios such as Pixar and DreamWorks.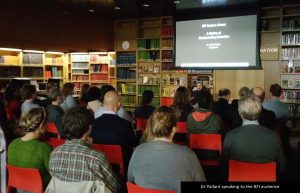 To complement his talk, Dr Pallant also produced a web article "From Star Wars to George Orwell: Why Storyboarding Matters", for those wishing to delve a little deeper into his research.