Now in its 9th year, Canterbury Anifest was delivered for the first time by School of Media, Art and Design staff members Chris Pallant (Festival Director), Jo Samuel (Co-Organiser) and Craig Smith (Co-Organiser). The festival ran over three days and provided attendees with multiple ways to engage with the subject of animation: hands on workshops, awards screenings, guest talks, and a full day symposium.
The programme over the three days looked like this:
Friday 30th September 2016
The day was mostly given over to a symposium showcasing comic book and animation research, at which Professor Paul Wells provided the Keynote Lecture. In the evening we hosted the Anifest Awards Gala.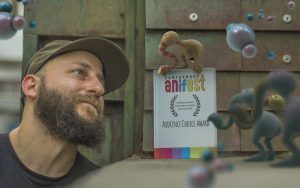 An incredible 177 films were submitted to the 2016 short film competition. Of these, a quarter were from the UK, and the rest were international entrants. Multiple entrants from France, Poland, Spain, America, China, Canada, and Singapore. Plus, entrants across the world from Israel, Philippines, Argentina, Serbia, Romania, Brazil, Iran, Tukey, Timor-Leste and Cyprus.
The films had to be less than ten minutes in length and had to be completed between 8th August 2015 and the deadline of 8th August 2016.
A combination of students, studios and individuals submitted films, the standard of which was incredibly high. There was a good selection of stop motion, 3D and 2D forms of animation, as well as a couple of films which used paint on glass techniques.
A shortlist of 22 films were chosen by the Anifest team, which were then sent to four judges to help select the winners of the awards. This year's judges were: Voice over actress, Teresa Gallagher; Animation Director at Blue Zoo, Simon Taylor; Creative Director of Pixel Circus, Jonathan Yallop and Voice Director of Peacock Sound, Dave Peacock.
The shortlist films were screened at an awards gala during the Canterbury Anifest weekend, where the winners were announced.
The winning films were:
Best British Film Winner: Naughty Princess, Runner Up: Rum
Best International Film: Winner: Au Revoir Balthazar, Runner Up: Light Sight
Best Student Film Winner: Charlie et Ses Grandes Dents, Runner Up: Light Sight
Best Animation Winner: Light Sight, Runner Up: Bloom
Best Art Design Winner: Nino and Felix, Runner Up: Les Courgettes de la Resistance
Best Sound Winner: Light Sight, Runner Up: Au Revoir Balthazar
Audience Choice Winner: Little Thing
Saturday 1st October 2016
We featured four talks over the day:
Peter Firmin and Dan Postgate in conversation about the history of Smallfilms studio, which included plenty of discussion of shows such as Bagpuss, The Clangers, Noggin the Nog, and Ivor the Engine. . . and just a few never-before-seen clips too. Then Festival Director Chris Pallant presented a free illustrated talk about his recent research on storyboard history, covering some of the more interesting and unusual developments in the form throughout the history of US/UK animation. Eamonn Butler from the Visual Effects Studio, Cinesite, discussed his recent work on the films: Independence Day: Resurgence, Captain America: Civil War, Ant-Man, Spectre, and Jurassic World. Then we concluded with a talk from Steve Segal, who worked as an animator on Toy Story at Pixar, and who has since worked on Sesame Street and Disney World attractions, amongst other exciting projects.
Sunday 2nd October 2016
We featured three talks over the day:
Voice actor Teresa Gallagher, in conversation with Voice Director Dave Peacock, discused their work on shows such as Thunderbirds Are Go, Octonauts, Jungle Book, Mr Men, and many more. Ray Harryhausen Foundation Head Trustee, John Walsh, presented some never before seen images from the late Ray Harryhausen's personal archive. John knew Ray for many years, and shared his stories about the great animator. Finally, LAIKA's Lead CG Modeller, Ty Johnson, discussed the revolutionary digital processes used at LAIKA over the past seven years to produce their well-loved feature films (such as Coraline, ParaNorman, The Boxtrolls, and most recently Kubo and the Two Strings).
The 2016 festival could not have been possible without the generous support of David Bradshaw, Head of the School of Media, Art and Design, Keith McLay, Dean of the Faculty of Arts and Humanities, and Marco Keir, Director of Marketing and Communications.
A press review of Canterbury Anifest 2016 can be found here.
We look forward to seeing you at the festival in 2017!