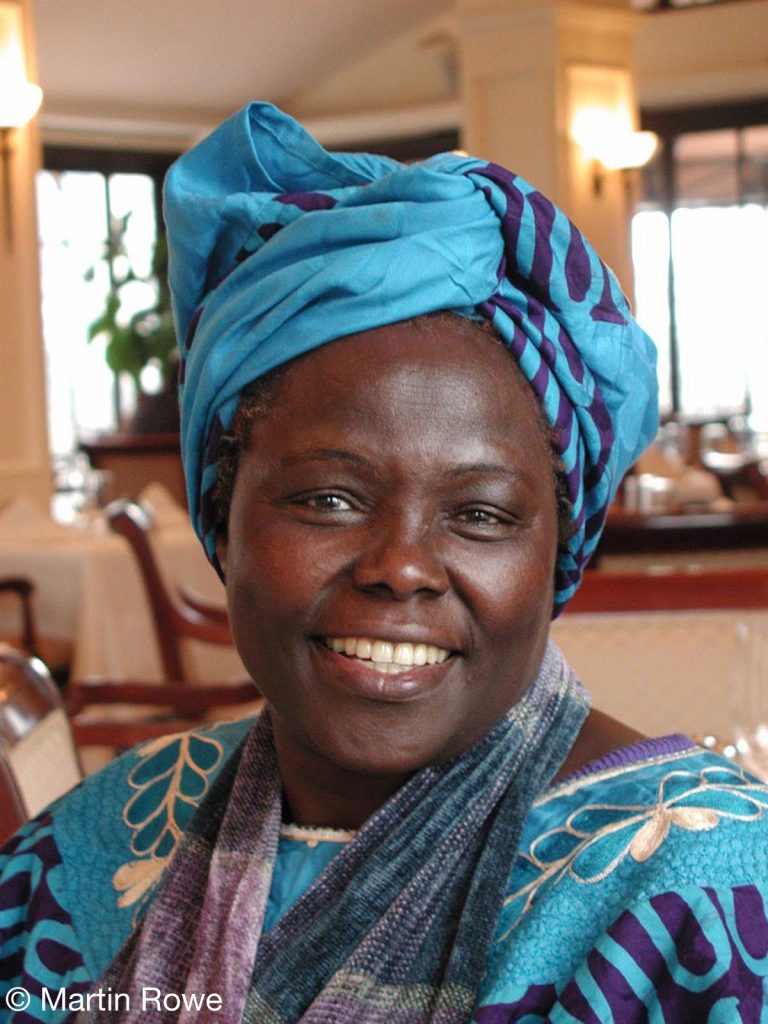 The name Wangari Maathai is not one that is known to many people in Britain, but deserves to be. Affectionately known as Africa's Forest Goddess, her life was an extraordinary and inspiring journey from very humble beginnings in a traditional, Kenyan mud-walled hut to becoming the first African woman to be awarded the Nobel Peace Prize. She inspired and empowered women across Africa to plant swathes of trees to reverse the environmental destruction begun in colonial times, and to provide themselves with desperately needed resources. Wangari was also a trailblazing female African academic, an environmental and human rights activist and a campaigner for democracy. She was arrested and imprisoned on many occasions for her activism.
Growing up in the mountains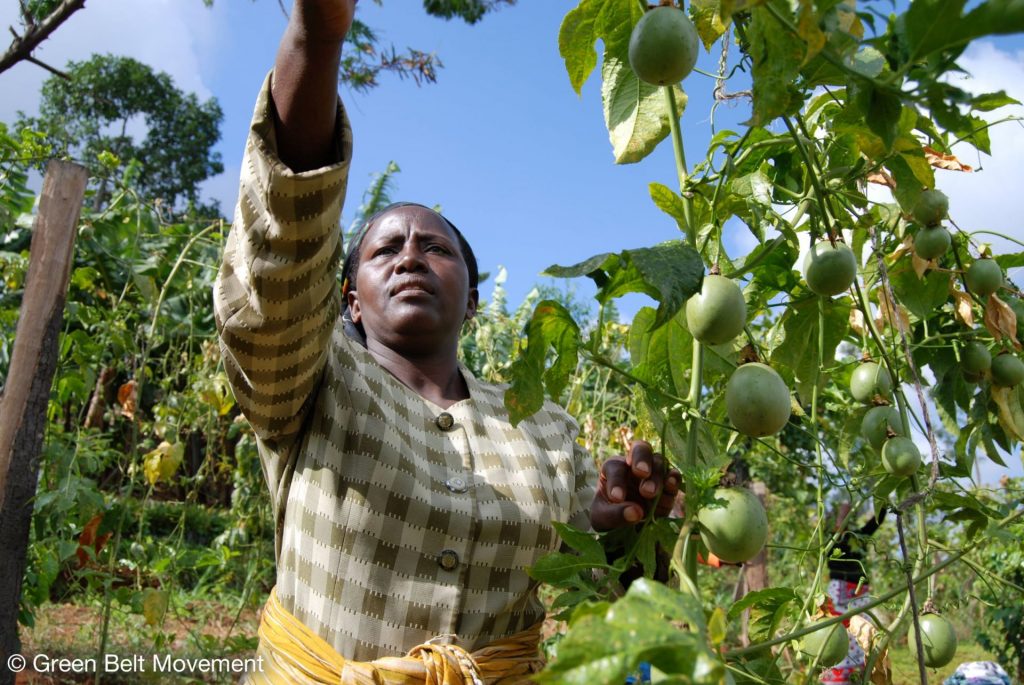 Wangari Maathai was born on 1st April 1940 into a farming family in the beautiful central highlands of Kenya. Whilst poor, her family were nevertheless able to live off land which, at that time, was still fertile. As a child, Wangari was fascinated by nature. She played in the pristine verdant forests and clear rivers of the highlands and learnt about the importance of the land and the trees from her mother. However, she was growing up against a backdrop of growing environmental degradation, a legacy of British Colonial rule in Kenya which was causing devastating over-cultivation and deforestation. Native Kenyan trees were being removed and replaced with non-native varieties, such as pine and eucalyptus. The image of the forests burning in the distance stayed with her and was to have a profound influence on the course of her life.
"I want to do the right things – I want to plant trees, I want to make sure that the indigenous forests are protected because I know, whatever happens, these are the forests that contain biodiversity, these are the forests that help us retain water when it rains and keep our rivers flowing, these are the forests that many future generations will need."
University in America and trailblazing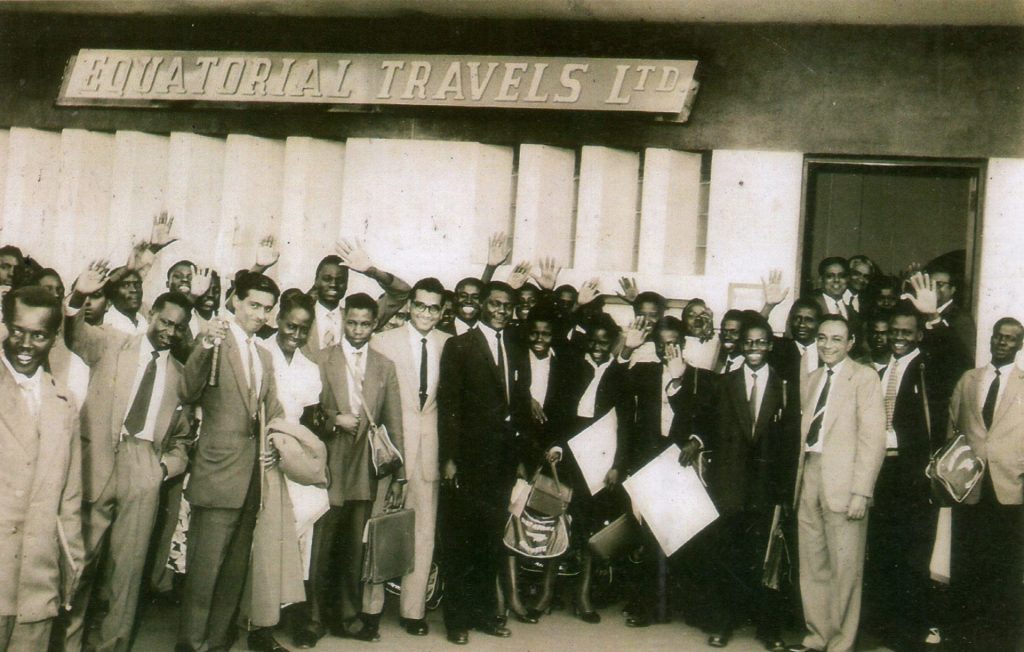 Thanks to her mother, Wangari was extremely fortunate to be allowed to go to school, at a time when most girls couldn't. Then, in 1960, she was one of a group of top Kenyan students selected to study in the United States under a scheme known as the Kennedy Airlift. She completed a Bachelor of Science degree, then a Masters in Biology at the University of Pittsburgh.
Back home in Kenya, when she received her doctorate at the University of Nairobi in 1971 she made history as the first woman in East or Central Africa to do so. More breakthroughs followed as she became the first female professor and first chair of department at the University of Nairobi.
"Once people see that you improve your life if you are educated, then education becomes a valuable tool and people want it."
A ravaged landscape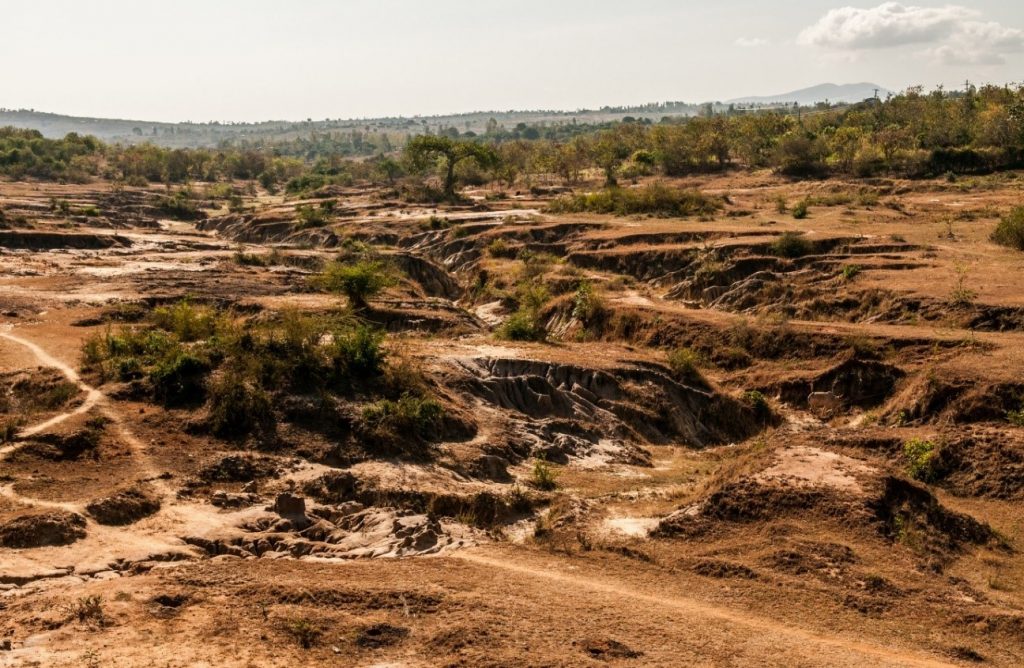 Whilst teaching at the University, Wangari became more deeply aware of the massive impact that farming practices, de-forestation and population growth were having on rural Kenya. Children were suffering from malnutrition, as land which had formerly been used to grow food was now producing tea and coffee cash crops. Deforestation meant a shortage of firewood for cooking, and clean drinking water was scarce as soil erosion was filling the rivers with mud.
"In Kenya women are the first victims of environmental degradation, because they are the ones who walk for hours looking for water, who fetch firewood, who provide food for their families."
Sowing the seeds of change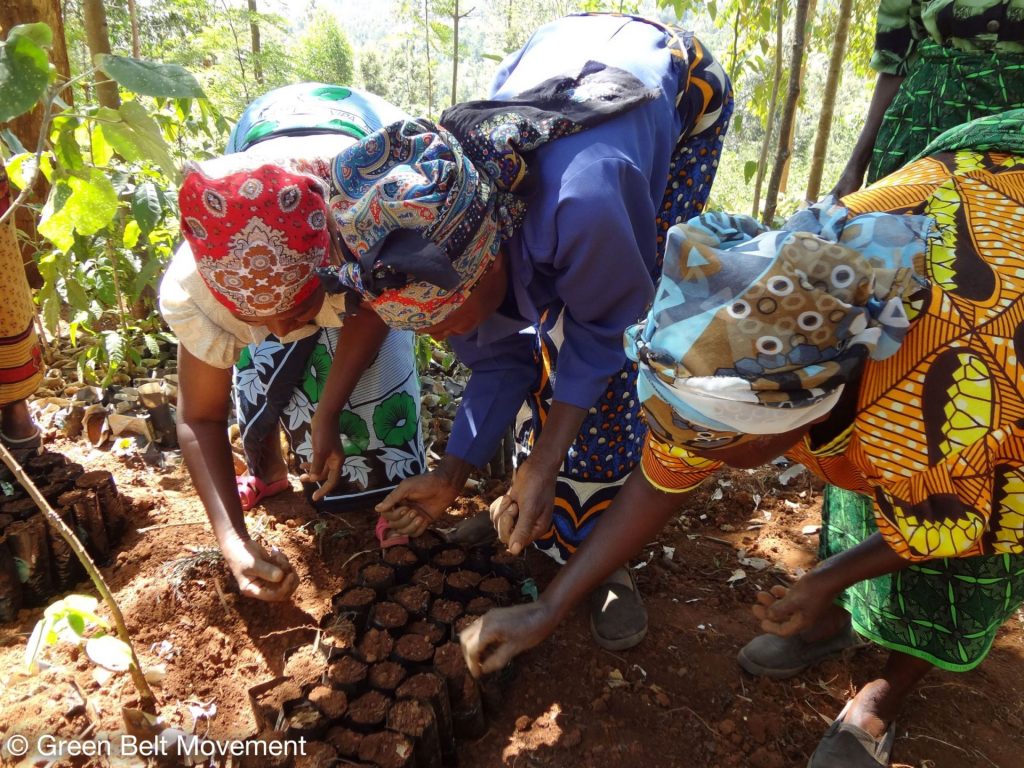 It was talking to women in rural communities about these problems that inspired Wangari to seek a solution. She saw that the answer lay in planting native trees, to create a source of firewood, shade, fruit and livestock fencing, as well as helping to stabilize the soil and restore wildlife habitat. And so, on World Environment Day in 1977, Wangari planted seven trees in a public park in Nairobi and the Green Belt Movement (GBM) was born. She taught women in villages across Kenya how to plant trees and collect seeds to raise more, and the scheme spread to other countries. More than fifty million trees have now been planted across Africa, empowering women at a grassroots level and providing them with economic opportunities. Simultaneously, it helped the environment to regenerate by protecting Africa's forests, grasslands and farmlands.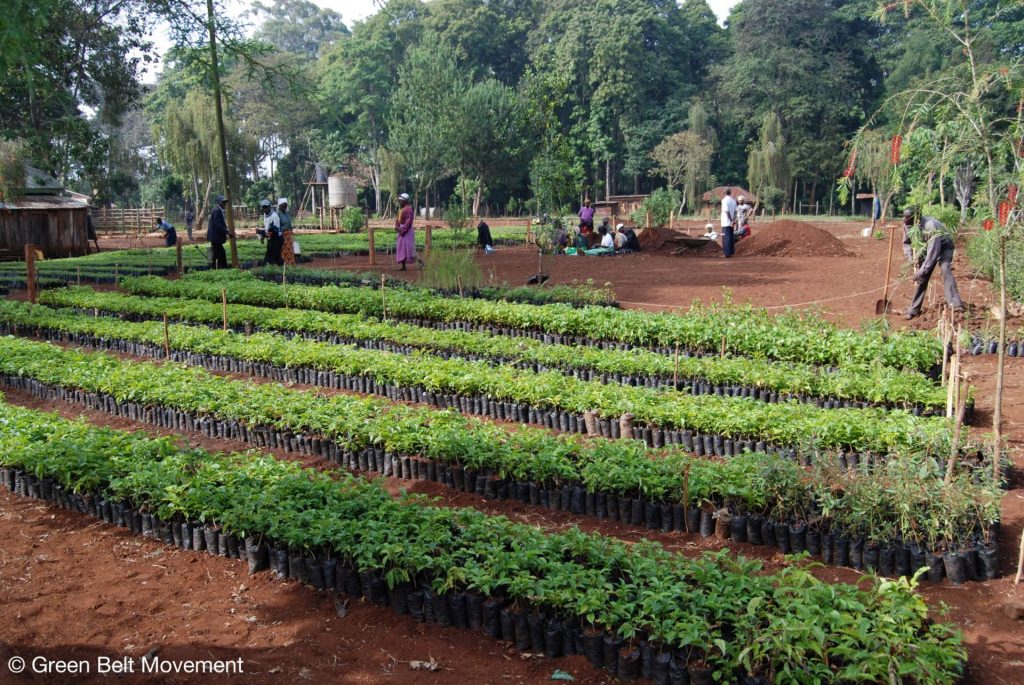 "Until you dig a hole, you plant a tree, you water it and make it survive, you haven't done a thing. You are just talking."
You can watch this lovely short animation about Wangari and the Green Belt Movement by clicking on the link below:
"What a friend we have in a tree, the tree is the symbol of hope, self-improvement and what people can do for themselves."
A woman who didn't know her place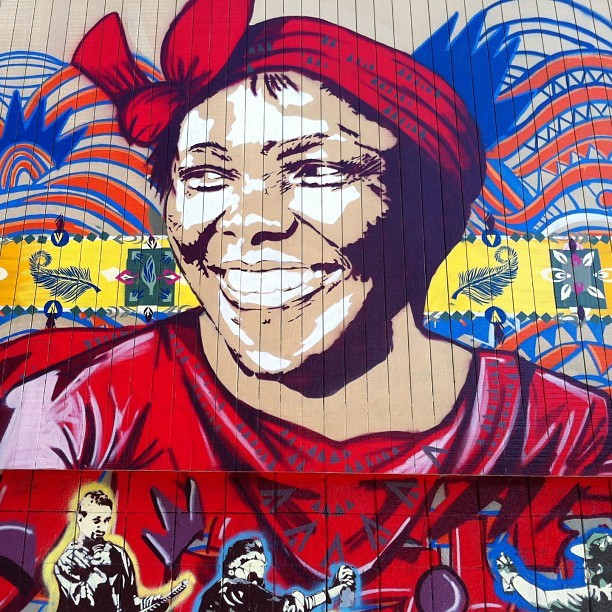 Wangari was by now teaching at the university, was married to a Kenyan politician and had a young family. As well as the many demands on her time she was also having to contend with the attitudes of Kenya's traditional, patriarchal society. Boys were more highly valued than girls, education for women was frowned on by many and Wangari was more highly educated than her husband. The pressure was too much, their marriage broke down and Wangari lost the subsequent divorce case. She was outspoken in her criticism of the judge, who responded by sending her to prison. The message of the sentence was clearly that African women should know their place and stay in it or face the consequences. This experience only made Wangari more determined.
"It was easy to vilify me and project me as a woman who was not following the tradition of a 'good African woman' and as a highly educated elitist who was trying to show innocent African women ways of doing things that were not acceptable to African men."
Illegally blocked from standing for parliament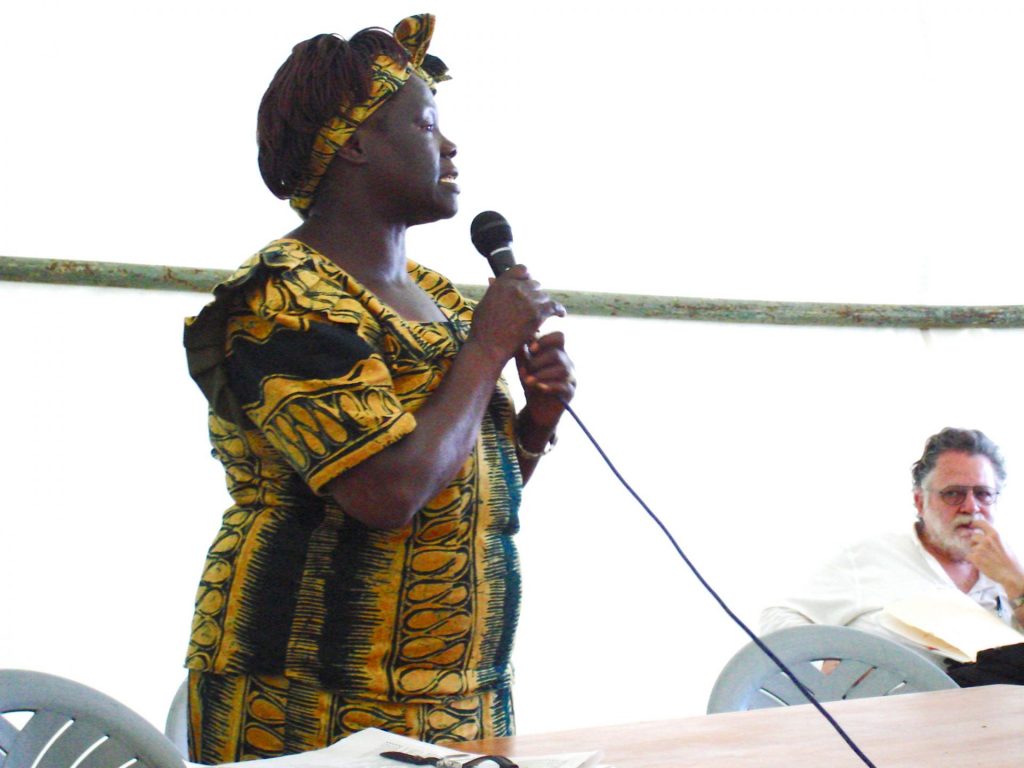 In 1982 Wangari decided to run for Parliament, which meant resigning from her University post. However, she was illegally blocked from standing by the ruling party and was forced to ask for her job back at the University, where she had taught for 16 years. When the government controlled University refused to take her back, Wangari began to put all her energies into working full time for the GBM. By now, she was receiving international recognition and awards for her work, but in Kenya she was facing opposition and hostility from the government and those with vested interests. The ethos of the GBM became not just to plant trees but also to empower communities and encourage them to fight back against the authoritarian regime. Wangari was a prominent member of the pro-democracy movement that was gradually emerging to fight the powerful and corrupt one-party government.
"We are very fond of blaming the poor for destroying the environment. But often it is the powerful, including governments, that are responsible."
A woman with "insects in her head"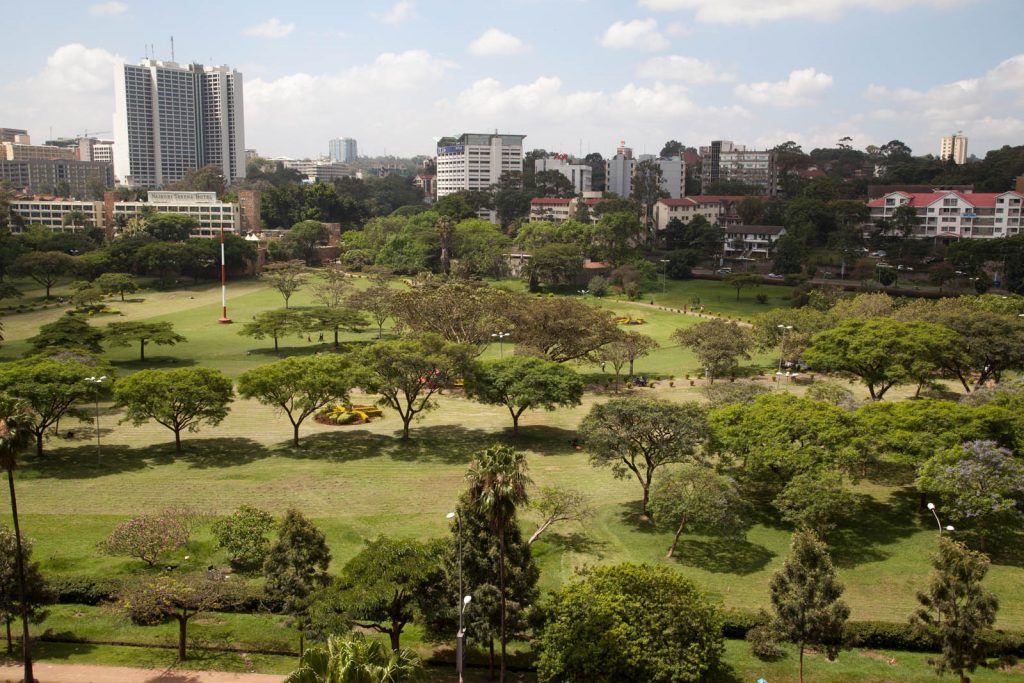 A sensational early victory for Wangari and the GBM was blocking a government plan to construct a skyscraper in the middle of a public park in Nairobi. This park was a vital and much used green lung in the centre of Nairobi. Wangari orchestrated the public opposition to the scheme and for this she was mocked and attacked by MPs, who belittled her as a divorced woman, and by the President who said she had "insects in her head" and should keep quite like a proper African woman. But she recognised that the government was trampling over the rights of the people, who were powerless and frightened. She forced the government to abandon the scheme by taking the campaign to an international level and by harnessing the power of the world's media, so that African voices were finally heard on the world stage. This victory strengthened the pro-democracy movement and paved the way for an eventual end to the one-party state system.
"The people are starving. They need food; they need medicine; they need education. They do not need a skyscraper to house the ruling party and a 24-hour TV station"
Arrested, beaten and on hunger strike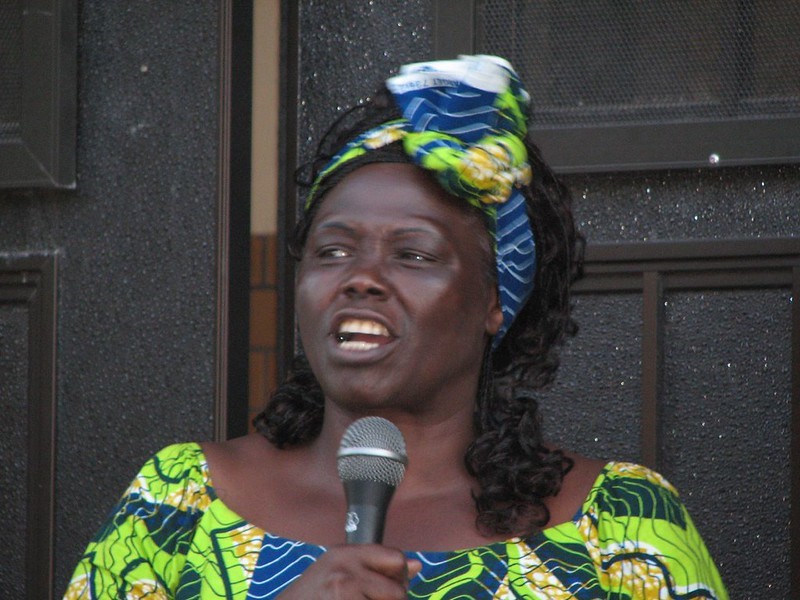 Political repression and the climate of fear was ramped up over the next decade and as a high-profile pro-democracy activist Wangari was at great personal risk. She was arrested and imprisoned several times. Her next campaign was to secure freedom for a number of young men who had been imprisoned for political activism. She and a group of mothers went on hunger strike and were beaten up by the police, and after a yearlong protest the government released the prisoners. Wangari continued her activism and the intimidation continued. She was accused of being an environmental terrorist, of stirring up tribal violence and of wanting to destroy the government. Eventually, she had to go into hiding for a while.
"Human rights are not things that are put on the table for people to enjoy. These are things you fight for and then you protect."
Students take to the streets to protect the forest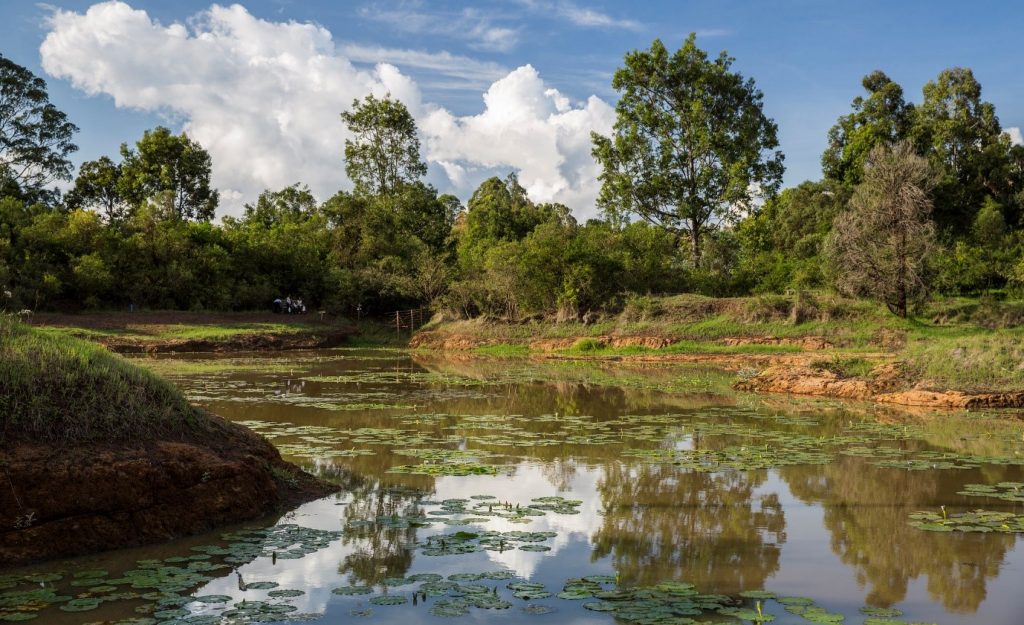 In 1998 Wangari and the GMB stepped in to prevent the destruction of Karura forest. Whilst planting trees to replace the ones destroyed by property developers, the activists were physically attacked and Wangari was knocked unconscious. Later, enraged that the police made no effort to arrest the perpetrators, Wangari signed the police report with an X, using blood running from her head wound. The story went around the world: the fight to save the forest and the intimidation of peaceful campaigners were now being discussed and questioned at an international level. Despite this, the violence continued to escalate. Students took to the streets, angry at the way the government was behaving and about the destruction of the forest. They were beaten up by the police and the University was closed. The fight to save Karura Forest continued for years, but in the end the government backed down and Karura was saved.
"Every person who has ever achieved anything has been knocked down many times. But all of them picked themselves up and kept going, and that is what I have always tried to do."
Winning the Nobel Peace Prize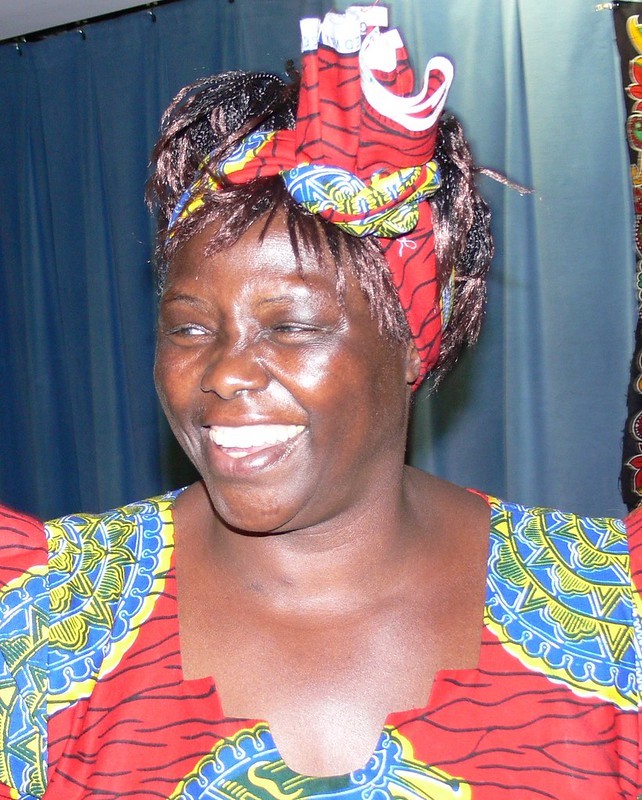 Wangari decided to try standing for parliament once again. At the 2002 election, she won 98% of votes in her region, finally becoming an MP. The people elected a new president, democracy was restored and a new era dawned for Kenya.
Wangari made history in 2004 as the first African woman to be awarded the Nobel Peace Prize, for "her contribution to sustainable development, democracy and peace". She celebrated by planting a tree, of course. In her acceptance speech, Wangari made this plea which has enormous resonance today:
"I would like to call on young people to commit themselves to activities that contribute toward achieving their long-term dreams. They have the energy and creativity to shape a sustainable future. To the young people I say, you are a gift to your communities and indeed the world. You are our hope and our future."
You can watch Wangari's Noble Prize speech here:
Wangari's legacy

Wangari died in on September 25th 2011, leaving an incredible legacy. She was a charismatic and outspoken African woman who wasn't afraid to challenge authority at the highest level. Having pursued a career in academia she then used her education to give Kenyan women a voice and to find simple and empowering solutions to problems at a grassroots level. She highlighted the crucial link between sustainable development, democracy and peace. Through her, the tree became a symbol of Kenya's democratic struggle and her Green Belt Movement brought a holistic approach to development. She has been described as a beacon of inspiration to African women, and to people around the world. Africa Environment Day is co-named Wangari Mathaai day in her honour. The causes she fought for – good governance, zero tolerance of corruption, good resource management and peace are as crucial today as in Wangari's lifetime.
Her daughter, Wanjira Mathai, said that her mother showed us that every person can do something, even if it is a small thing. Collectively, all the little things will create a wave of change. We need that now more than ever.
"Today we are faced with a challenge that calls for a shift in our thinking, so that humanity stops threatening its life-support system. We are called to assist the Earth to heal her wounds and, in the process, heal our own – indeed to embrace the whole of creation in all its diversity, beauty and wonder. Recognizing that sustainable development, democracy and peace are indivisible is an idea whose time has come"
Researching Wangari Maathai
It's been fascinating researching Wangari and I found her story deeply inspiring. She has become a personal hero of mine.
I began with a simple search on Wangari's name in LibrarySearch, which brought up a number of sources. I began with a simplified (Graded Reader) version of her autobiography 'Unbowed', for a quick overview of her life:

I wanted to understand more about the context of the GBM, and the social construction of women's roles in Kenya's deeply patriarchal society. For this I turned to journal articles, including:

I found an interesting interview with Wangari:

You can find the text of Wangari's inspiring Nobel Peace Prize Speech via Project Muse. Click on the 'Find Databases' link on the homepage of LibrarySearch, then select the letter 'P'.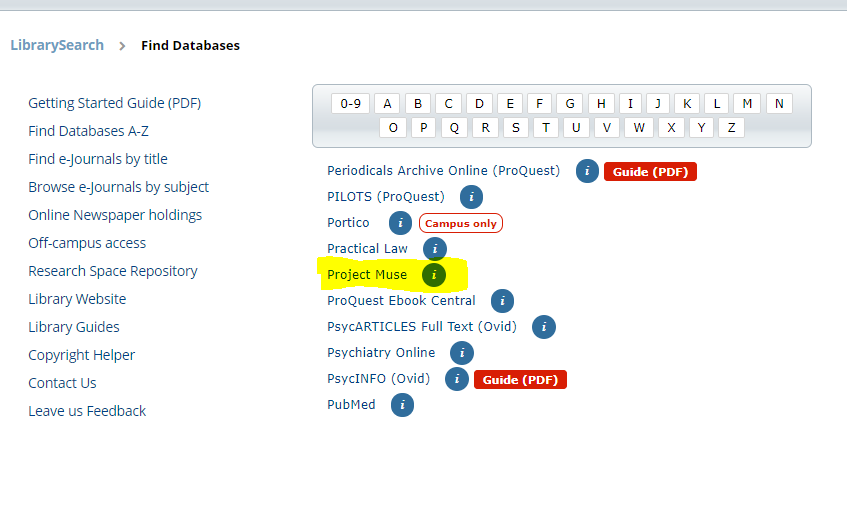 I wanted to hear a personal perspective on Wangari by someone who knew her, so I signed into BoB (Box of Broadcasts) https://learningonscreen.ac.uk/ondemand . I found a number of interesting programmes about her, including:

Most fascinating of all was hearing Wangari herself talking about her life: