Women's History Month 2020: Lesser-Known Heroines of Women's Suffrage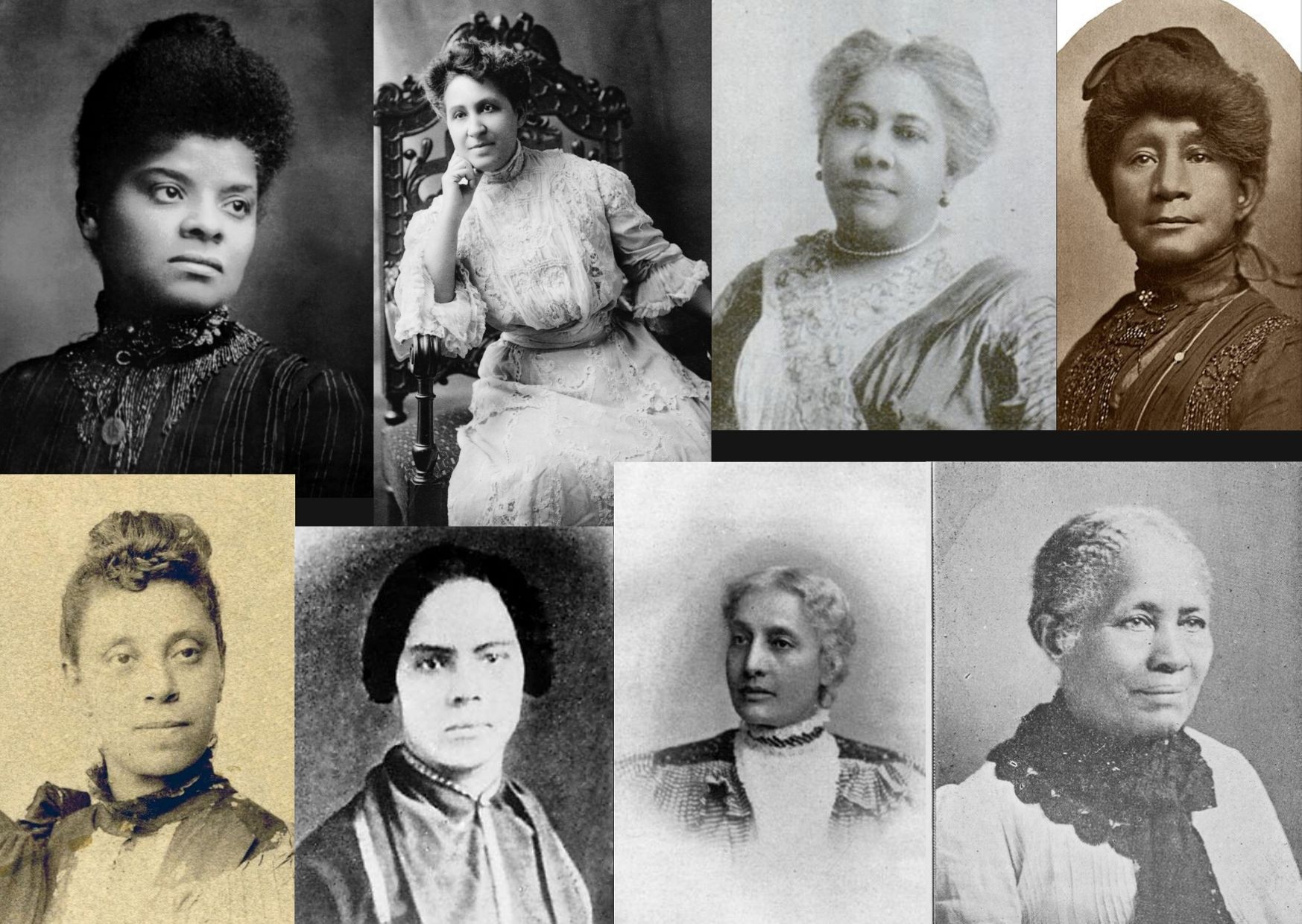 This Women's History Month CCCU Library is celebrating 'forgotten' women; those who have often been left out of the history books, whose accomplishments have been overshadowed by patriarchal narratives, whose significance has not always been rightfully recognised.
The victory of women's suffrage movements in gaining the vote, both in the UK and across the globe, is venerated and taught, as it should be, but there is often a vital component absent from these lessons and celebrations. We know the names Emmeline Pankhurst, Millicent Fawcett, Emily Davison, Susan B. Anthony, Frances Gage, and Elizabeth Cady Stanton. But we rarely, if ever, hear about the experiences and deeds of women's suffrage campaigners of colour. We especially do not encounter much talk and acknowledgment of the racism faced by these women and espoused by the white, middle class, liberal women who should have been their sisters in arms. While white suffragists and suffragettes made huge impacts and helped pave the way for equality, it is important to recognise their lack of intersectionality and make sure that we remember that they were not the only ones fighting.
"No Vote, No Census. As women do not count they refuse to be counted, & I have a conscientious objection to filling up this form"
There is a greater record of women's suffrage campaigners of colour in the US than in the UK, potentially for a number of reasons. At the time of the UK women's suffrage movement, from the mid-19th century to the 1928 Representation of the People Act, black and Asian people had long settled in the UK but only made up a small percentage of the population, something that would change at the end of the Second World War. Census records prove inconclusive in terms of identifying the ethnicity of those they document so there is certainly a case to be made for the possibility that BAME suffragists and suffragettes in Britain have become lost to the mists of time. There are, however, records of Indian women taking part in Women's Social and Political Union (WSPU) activities, in particular Princess Sophia Duleep Singh and Sushama Sen. Duleep Singh was heavily and vocally involved with the WSPU in virtually all aspects of their activism, and supported radical militant action. She was a firm believer in the principle 'no taxation without representation' and was a member of the Tax Resistance League. Duleep Singh was born into an aristocratic life; her father was the last Maharaja of the Sikh Empire and she was a goddaughter of Queen Victoria. This affluence may have played an important part in her having become such a prominent member of the WSPU but even this has not spared her from becoming consigned to a place of lesser recognition in history. When I was at secondary school part of my GCSE history course covered women's suffrage in the UK and while we learnt about the Pankhursts, Millicent Fawcett and Emily Wilding Davison among others, Duleep Singh's name was never mentioned. Sen wrote in her 1971 autobiographical work Memoirs of an Octogenarian about having been invited in 1910 by Emmeline Pankhurst to join a demonstration; only five or six Indian women actually took part in the march to Parliament House and their contingent was one of many representing various colonies, essentially serving as a visual aid to stress the size of the remit of British rule and the importance of British women's involvement in decisions that had impacts across the empire. The WSPU were not particularly concerned with democratic rights for Indian women either in India or at home but the photos below serve as an important reminder of the involvement and contribution of BAME women to the cause.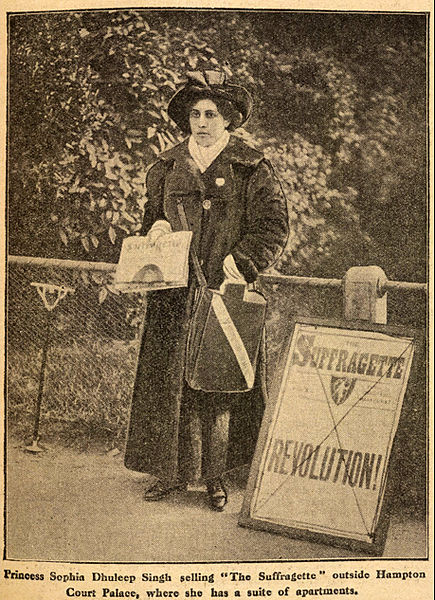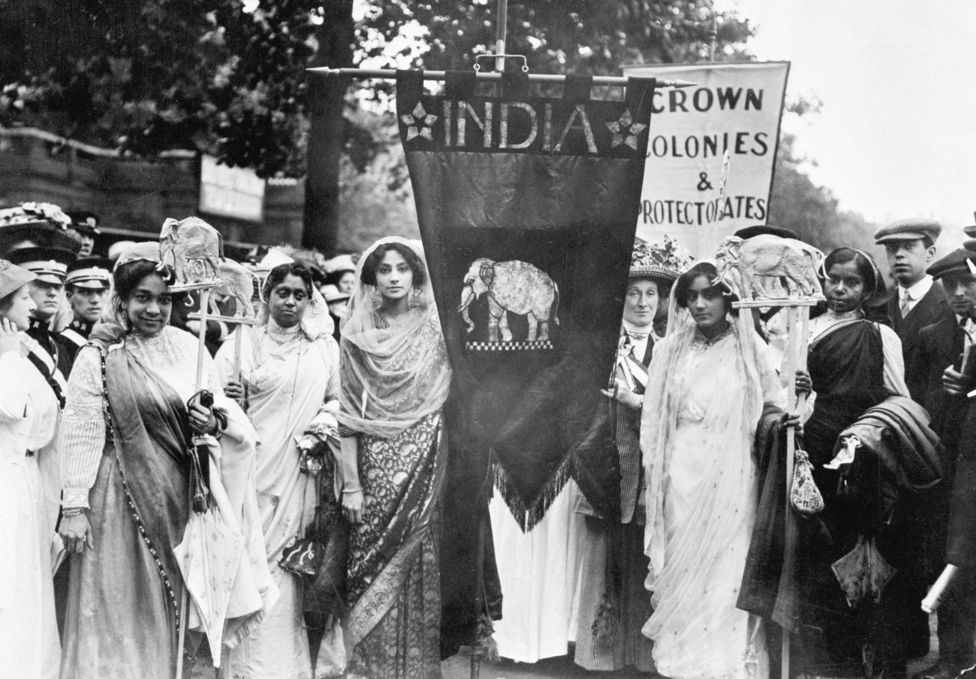 "The way to right wrongs is to turn the light of truth upon them."
A scroll through sources about women's suffrage in America brings to light a picture distorted by prejudice and tied up inextricably with slavery and its abolition, and the movement of African Americans for civil rights and against the horrific practice of lynching. Ida B. Wells was a prominent figure in the fight for not only women's suffrage but also the suffrage of African American men, something that riled large numbers of the white women campaigning for the vote. Having lived in the South, Wells had encountered the horrors of lynching when friends of hers were the victims of white racist mob 'justice' and she devoted herself to investigating and reporting on the extent of lynching in the South, calling for change and an end to this brutality. Wells and other black campaigners knew that the vote was imperative to community empowerment, a way to escape the reign of racial terror that had erupted, particularly in the South, at the end of the Civil War and with the abolition of slavery. Though the passage of the Thirteenth Amendment of the United States Constitution in 1865 emancipated those in bondage, it did not grant them citizenship rights and protection under the law equal with white Americans. They were free but still lesser in the eyes of the law and their white neighbours. Prominent white women's suffrage campaigners such as Susan B. Anthony and Elizabeth Cady Stanton had been active as abolitionists and campaigned for an end to slavery in America but the achievement of this goal caused an ideological divergence and a rift opened up between women's suffrage activists. As the question of giving the vote to former slaves was brought to the fore, it became a major point of contention that black men could be granted suffrage before white women. Stanton in particular resorted to racist rhetoric when speaking about African American men and exemplified a fragmented cause whereby black men and white women were pitted against each other in the struggle for rights. Black men would in fact be enfranchised with the Fifteenth Amendment in 1870. Stanton and others opposed the Fifteenth Amendment on the grounds that it would detract from and delay the cause of women's suffrage. Women would indeed have to wait until 1920 for the Nineteenth Amendment and the right to vote but what many white suffragists failed to realise or acknowledge was that for African Americans, this wasn't just about political parity with their counterparts, it was a matter of life and death.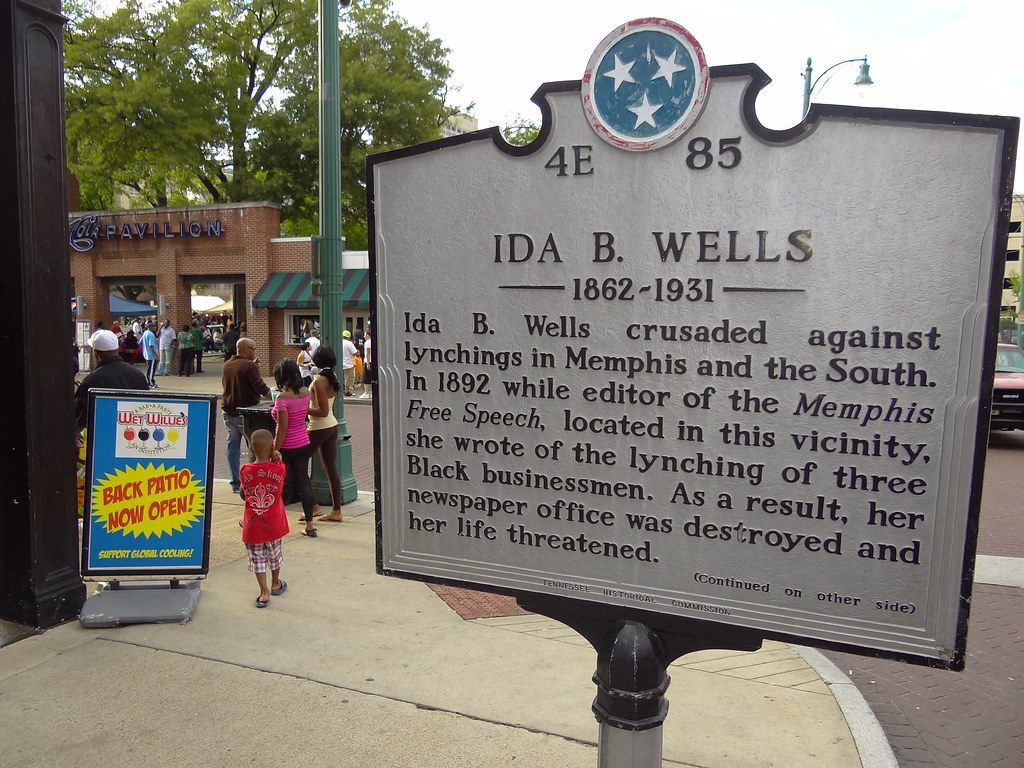 "We are all bound up together in one great bundle of humanity, and society cannot trample on the weakest and feeblest of its members without receiving the curse in its own soul."
Following the passage of the Fifteenth Amendment, black and white women continued to campaign for their democratic rights, although often black women were side-lined and mistreated by the main movement. In 1913 the National American Woman Suffrage Association (NAWSA) organised a march in Washington D.C. the day before the inauguration of Woodrow Wilson where they insisted that the main delegation be all white with a separate delegation at the back for black women. Ida B. Wells, in attendance with members from Chicago, refused to acquiesce and instead waited with spectators as the demonstration got underway before joining the parade by stepping into the white Chicago delegation and marching with them. Suffragist Mary Church Terrell was also a participant in the demonstration, marching with the Delta Sigma Theta sorority of Howard University, a group dedicated to public service with an emphasis on programs involving the African American community. Terrell was one of the few African American women allowed to attend NAWSA meetings and she became an active voice within the organisation, devoting much of her life to advancing the cause of black women's rights and finding that her lighter complexion led to a social mobility that enabled her to engage with and create greater links between African Americans and white Americans. Other notable black women's suffrage campaigners include Harriet Forten Purvis, Hester C. Jeffrey, Frances Watkins Harper, Sarah Redmond, Mary Ann Shadd Cary, Gertrude Bustill Mossell and Mary Burnett Talbert, among many others. Many of these women were acquaintances and even friends of Stanton and Anthony but there is no doubt that the cause of women's suffrage was fractured and that black women and their efforts were largely not considered in equal terms.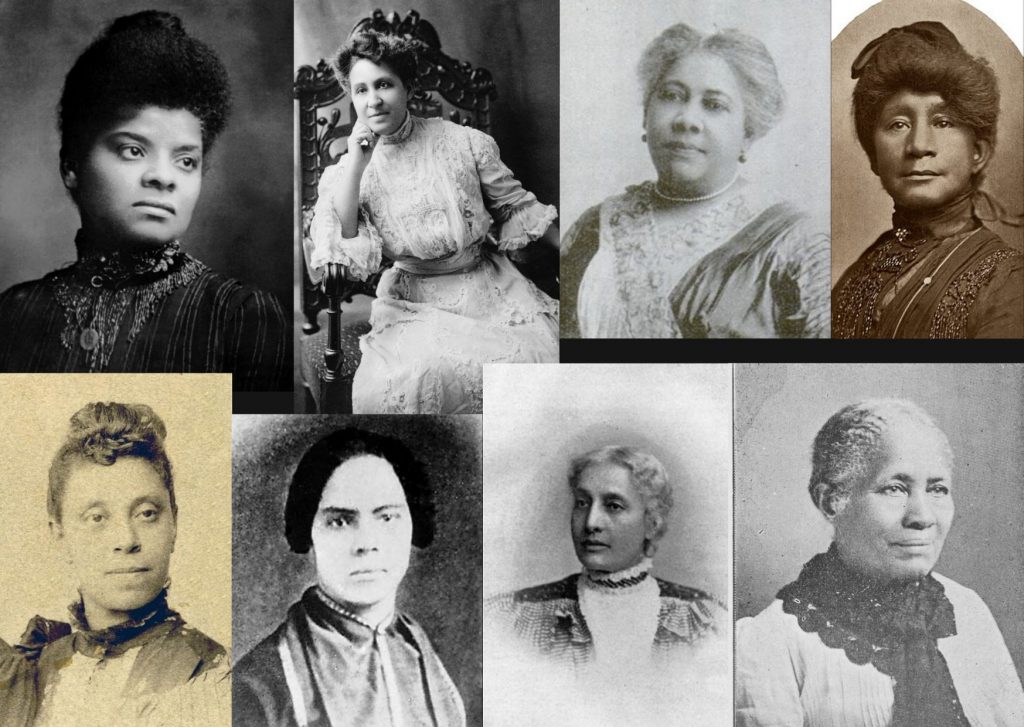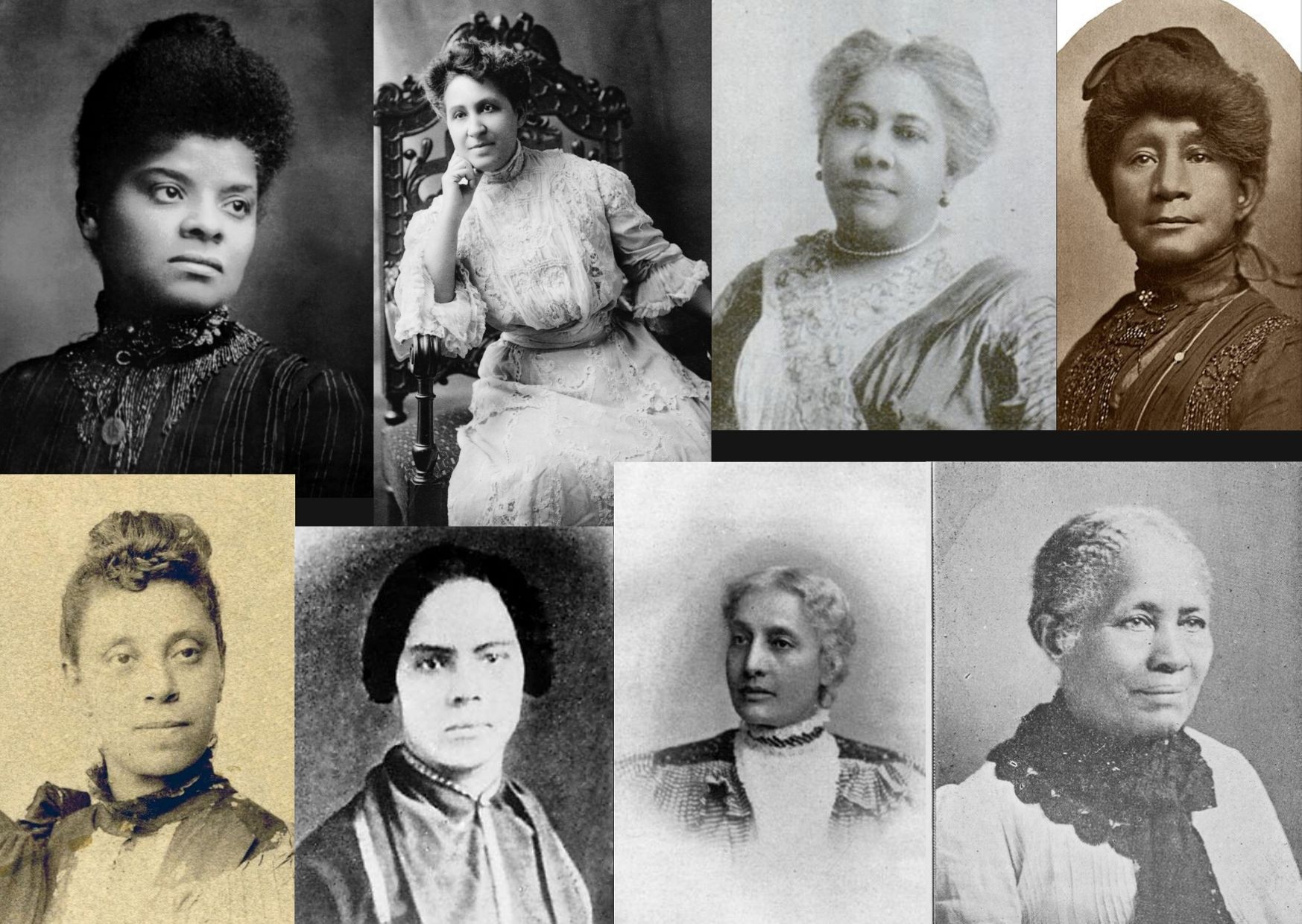 "And so, lifting as we climb, onward and upward we go, struggling and striving, and hoping that the buds and blossoms of our desires will burst into glorious fruition ere long."
This year sees the centenary of the passage of the Nineteenth Amendment, and of course the UK has recently celebrated the centenary of the 1918 Representation of the People Act, which gave voting rights to property-owning women aged 30 and over (a step towards equality but one that would be redressed ten years later with a further act that granted suffrage to women aged 21 and over regardless of property ownership). These are milestones to be recognised, and the achievements of the white women who campaigned for them should be acknowledged but alongside, rather than instead of, the women of colour who risked so much more for their civil rights and freedoms and who, in a continuation of the injustice they faced from their contemporaries, have been overshadowed and written out of history lessons and books. It is perhaps not too surprising that on this occasion LibrarySearch does not reveal swathes of information resources about these women and their stories. There are of course books about women's history and the activities of the WSPU and NAWSA but these tend to be skewed towards white narratives and perspectives. The following books however, found on LibrarySearch, may be of interest:
Gates, H (2013) Life upon these shores : looking at African American history, 1513-2008
Painter, Nell (2007) Creating Black Americans : African-American history and its meanings, 1619 to the present
There are also a number of fascinating journal articles about key figures in the enfranchisement of women of colour, including the below about Ida B. Wells, Mary Church Terrell, and Hester C. Jeffrey: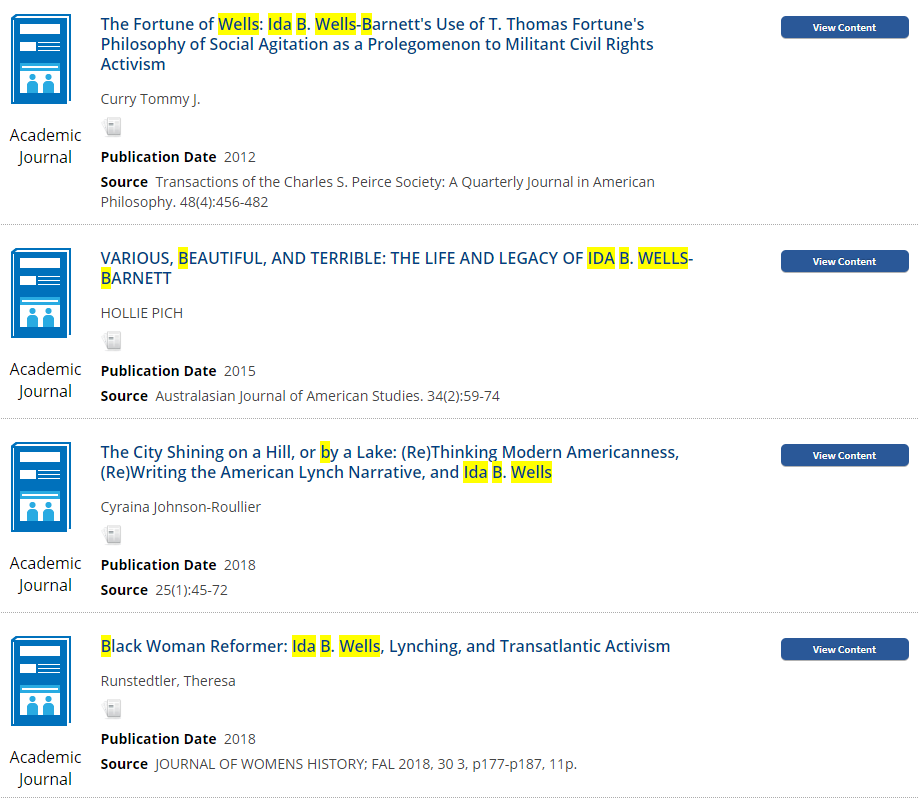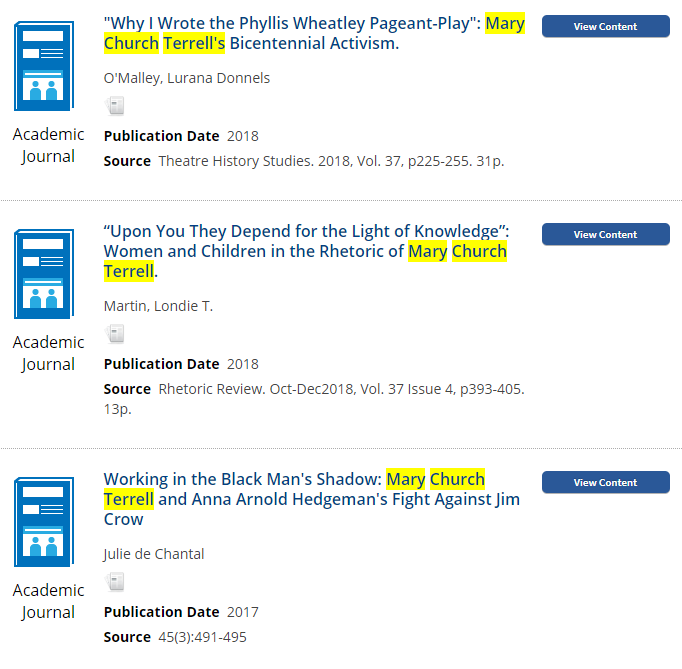 I also came across the below article which explores the intersection of anti-racism movements and sentiments with feminism in Victorian Britain, intrinsically linked with abolitionism, lynching, and women's suffrage:

These women were and remain heroes and this Women's History Month, we remember them.