A warm welcome back to all our returning students. We appreciate some of you may not have been in the library since February or March! It's been a long time since the beginning of lockdown and we've missed you all. So much has changed that affects all our daily lives and coronavirus has changed a great deal of how the library will open and how we can run our services this semester. Here's everything you need to know…
Services by appointment – Bring your smartcard and face covering
From the 28 September Augustine House will be open from 8 am -10 pm (Monday – Friday) and 10 am – 5 pm (Saturday – Sunday). The building has unrestricted access from 9 am – 5 pm, so students can get support from the library point, i-zone and IT helpdesk. You'll need your Smartcard to access the building outside of those hours.
Please be aware however all core library services are available by appointment only, including:
To use a study space you'll need to book using our Click and Study service.
You can book a fifteen minute slot to Browse and Borrow, collect or return books. You can access the shelves to pick up the books you need and borrow them using the self-service machines. You can also collect reservations and return the items you have on loan.
From Monday 9 November, new guidance for the lockdown period requires face coverings to be worn at all times when in our Library buildings, even when seated and 2m apart. If you wish to indicate that you are exempt, face covering exemption cards for lanyards are available from Anselm security lodge and Medway and Salomons receptions. As a University, we also recognise the Hidden Disability sunflower lanyard. See Your campus during lockdown for details.
Keeping you safe
The Library will certainly look different from what you remember but the changes are all designed to keep you and our staff safe:
There are one way systems in place so please follow the signage as it directs you around the building.
Hand sanitiser stations are available by all entrances and exits. Please wash your hands or use the hand sanitiser stations regularly.
Disinfectant wipes are available by printers and PCs. Please them to wipe down printers, keyboards, mice and desks before and after use.
Returned items are stored safely for 72 hours until the risk of virus transmission have been mitigated.
Self-service machines have been reconfigured so you can borrow and return items without using the touch screen.
Protective screens at our Library Points, please respect the screens and don't walk behind the Library Point.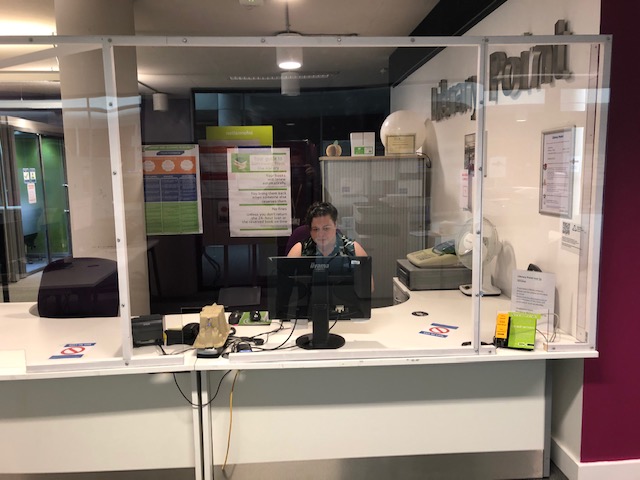 Contact-tracing
On the 24 September the NHS launched its Covid-19 contact-tracing app. You will be asked to use the app whilst you are in our libraries. Read our blog post contact-tracing in our libraries for full details.
Getting borrowing back to normal
You've had some items out now for a very long time! We've kept extending those items for you up to the 5th October but it will soon be time to return your items. If you're interested in when automatic renewals will be working again or when you can start requesting items that are out on loan read our blog on getting borrowing back to normal to find out how we'll transition back to a normal borrowing pattern.
Book a Study Space using our Click and Study service
This year, our study spaces and computer desks will be available on a bookable basis only. You'll be able to book a study space via our Click and Study service.
The study spaces are to be used for individual study and will be 2 metres apart from each other. Social distancing will be in place throughout. Computer desks and study spaces can be booked for three hour slots. You can book multiple slots in a day. Study spaces are cleaned on a regular basis and not all spaces will always be available at all times of the day. Study spaces can be booked up to two weeks in advance. You will require your smartcard to access the building before 9am or after 5pm.
If you are booked in the library for Click and Study you can also browse and borrow from shelves, collect reservations and return items.
Read Introducing Click and Study for more details about what's available.
Browse and Borrow, collect or return books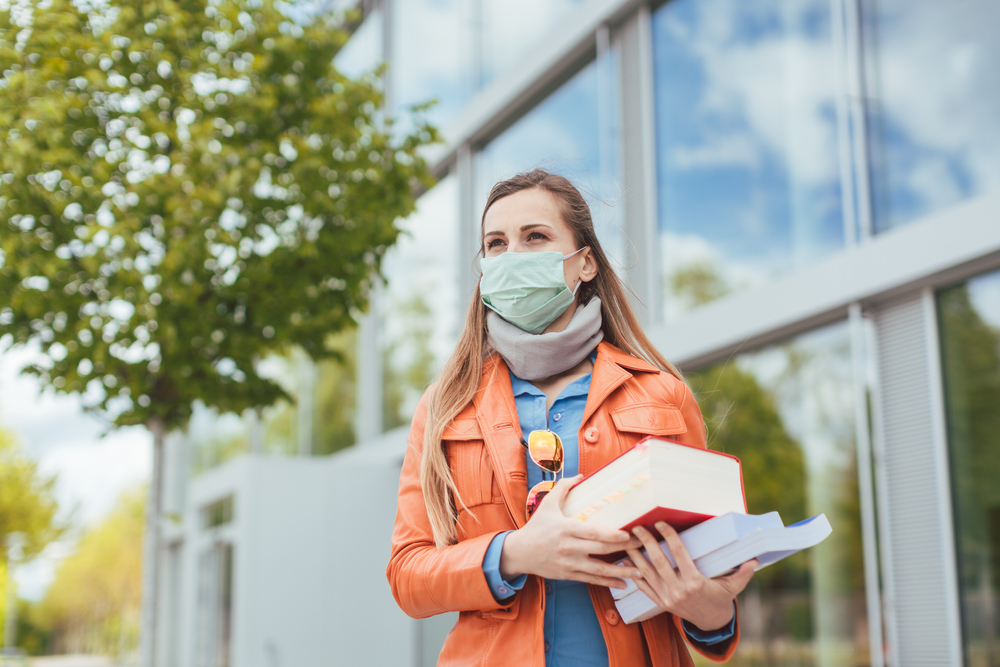 Browse and Borrow allows you to book a 15 minute slot to browse shelves in Augustine House and borrow items via the self-service machines. See our opening times page for details of when the service is available. You'll be able to return items and collect reservations as part of the same booking.
If you have booked a Click and Study slot, you will be able to access the shelves whenever you need to. You won't need to book a separate slot.
If you have used an item from the shelves but do not wish to borrow it please place the item in the green boxes provided. These will be located near to exit doors and the moving shelves. In accordance with current Government guidelines these items will then be safely stored for 72 hours to mitigate the risk of virus transmission. To help us keep all users safe please do not leave them on desks or shelves. Compliance with this measure allows us to continue offering access to the shelves.
Unless you have also pre-booked a study space through the Click and Study service, you will not be permitted to stay in the library after collecting your books.
15 minute Quick Access PC bookings are available on a separate booking form.
Try our Scan and Deliver service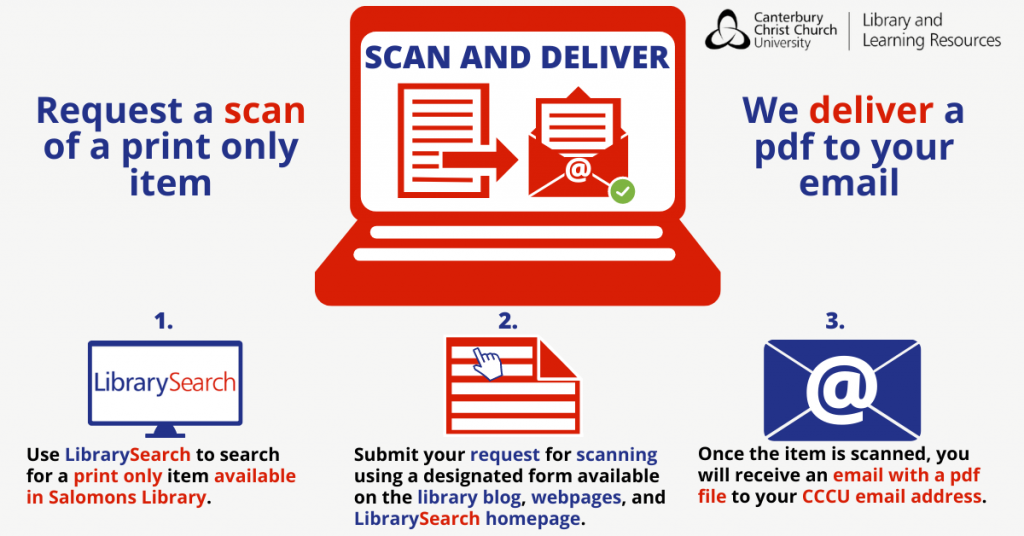 This new service enables the ordering of digitised scans of journal articles and book chapters from the Augustine House and Salomons Institute Library print collections where copyright rules allow. You can request:
One article from any one issue of a journal of which we only hold a print subscription.
Book chapter or 10% of a work which we only hold in printed form.
One article of a UK national newspaper which we only hold in printed form (You can check on LexisLibrary Newspapers UK to see if the article is available online https://www.lexisnexis.com/uk/legal/news/).
Read Introducing Scan and Deliver for more information.
Learning Skills Hub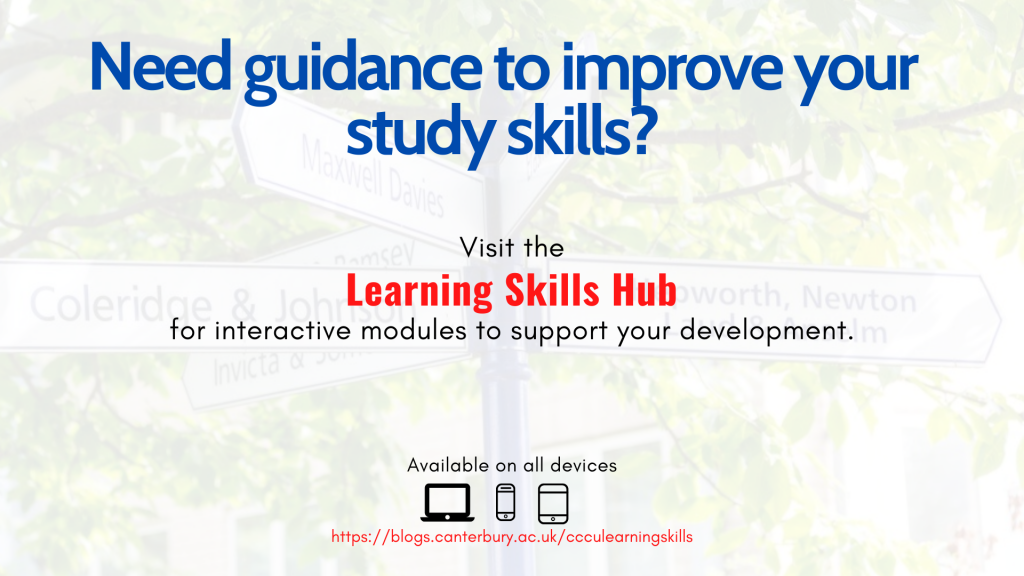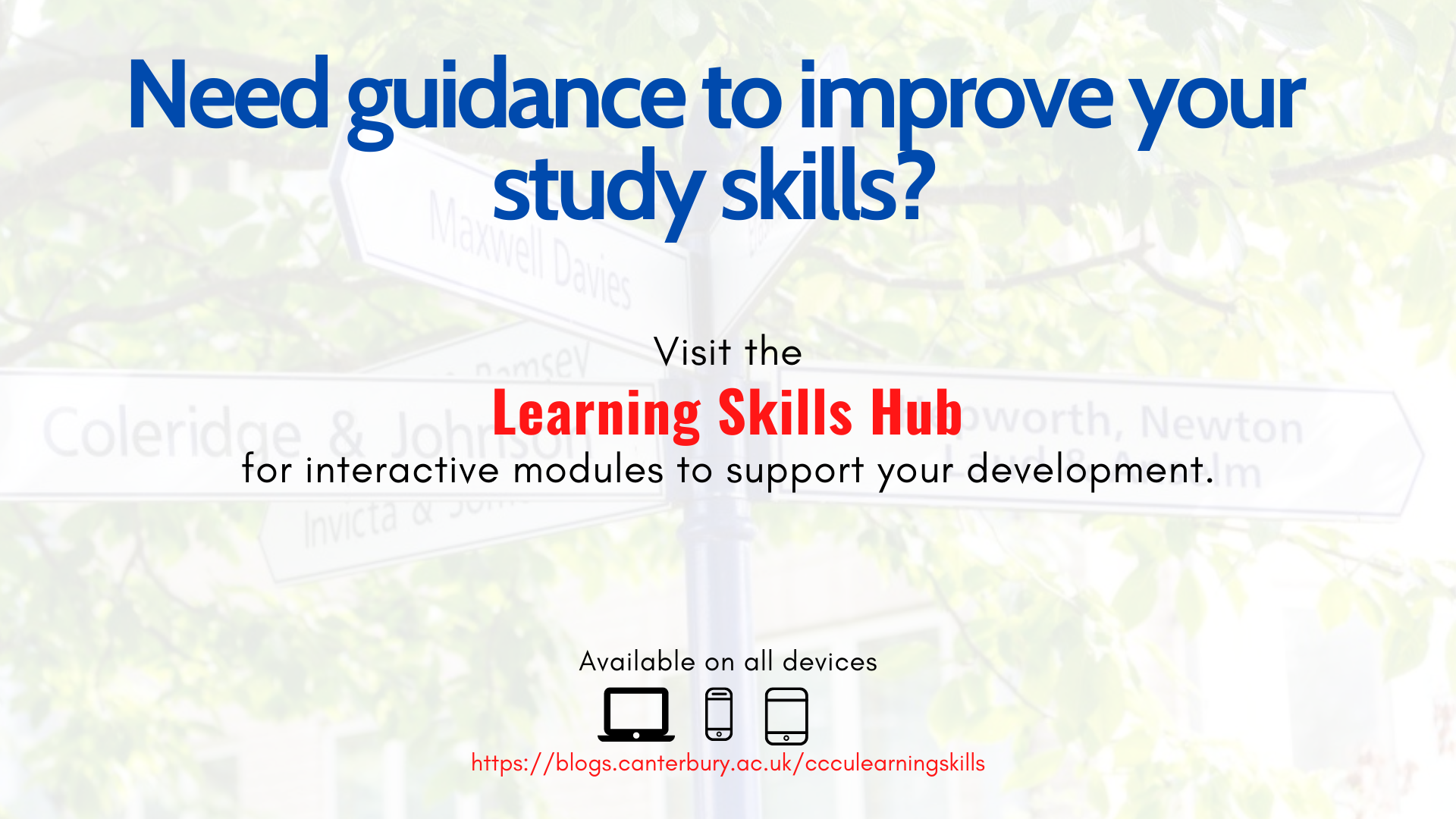 In response to student feedback and our close connections with academic staff, the Learning Skills team created the new Learning Skills Hub, released in September 2020.
The hub contains a collection of short and interactive modules on the topics students often book tutorials for, such as academic writing, critical thinking, referencing and time management. The modules are made with you in mind and are easy to dip into at any time to develop your skills and you can assess your learning at the end of each module to check you are on track. You can even access modules on your smart device whilst travelling or waiting for a seminar.
You will find we have organised our modules by your year of study, but you will find useful information and guidance across each section, no matter what year you are in. we recommend you watch the home page introduction video and explore what's on offer.
If you don't know where to start, we have an introductory blog here.
E-books
Dawsonera one of our main e-book vendors went into administration earlier this year and closed on the 30 July. We've been working throughout the summer to make those e-books available through VLeBooks instead. Although a few older titles couldn't be transferred between platforms the vast majority of our titles are now available in their new home. If you come across any links to Dawsonera ebooks in Blackboard or have any bookmarked in you internet browser you'll need to update these to the new VLeBooks holdings.
Throughout the lockdown period we ran a suggest an e-book campaign. This contributed to many hundreds of new e-books being made available through LibrarySearch. You can start discovering them today by using our new e-book discovery tool in LibrarySearch. Use the drop down to find new e-books in your subject area.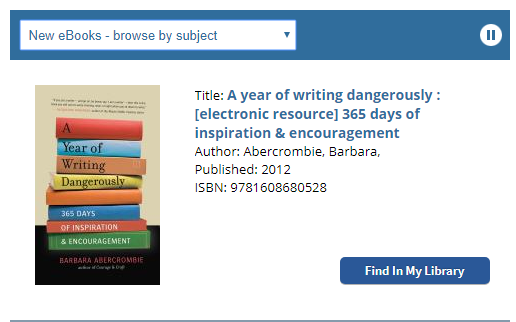 Document Delivery
The document delivery service usually costs £2.00 per request for undergraduate students, however to support you during the current Covid-19 measures, we are removing all charges from this service for all of this semester, which means document delivery requests will remain free until 22nd January 2021.
iBorrow loans
From Monday 5th October we are relaunching our iBorrow loan scheme. It's bigger and better than it was before. We now have a bank of 40 loanable i-borrows and you can now take the items out for two weeks. You still won't be able to reserve or renew an iBorrow laptop. To borrow a laptop, book a Click and Collect slot during staffed hours and request an iBorrow at the Library Point. You can email us on library.canterbury@canterbury.ac.uk to check availability.
If you currently have an iborrow laptop on loan, we are extending the current due date by another two weeks, but you will need to return the laptop on or before the 19th October. Please email us on library.canterbury@canterbury.ac.uk to make arrangements on returning your laptop. You will need to book a slot and let us know when you're returning your iBorrow loan.
Like all other library items, iBorrow laptops will be safely stored for 72 hours between users to mitigate the risks of coronavirus transmission.
Getting Help!
Finally there is a new way for you to get in touch with us. You can now use the current students website to get live chat support Monday – Friday (9:00-5:00).
That's just one of a range of ways in which you can get help. See our blog Need help?… Just ASK for more information.