What to do when you're isolating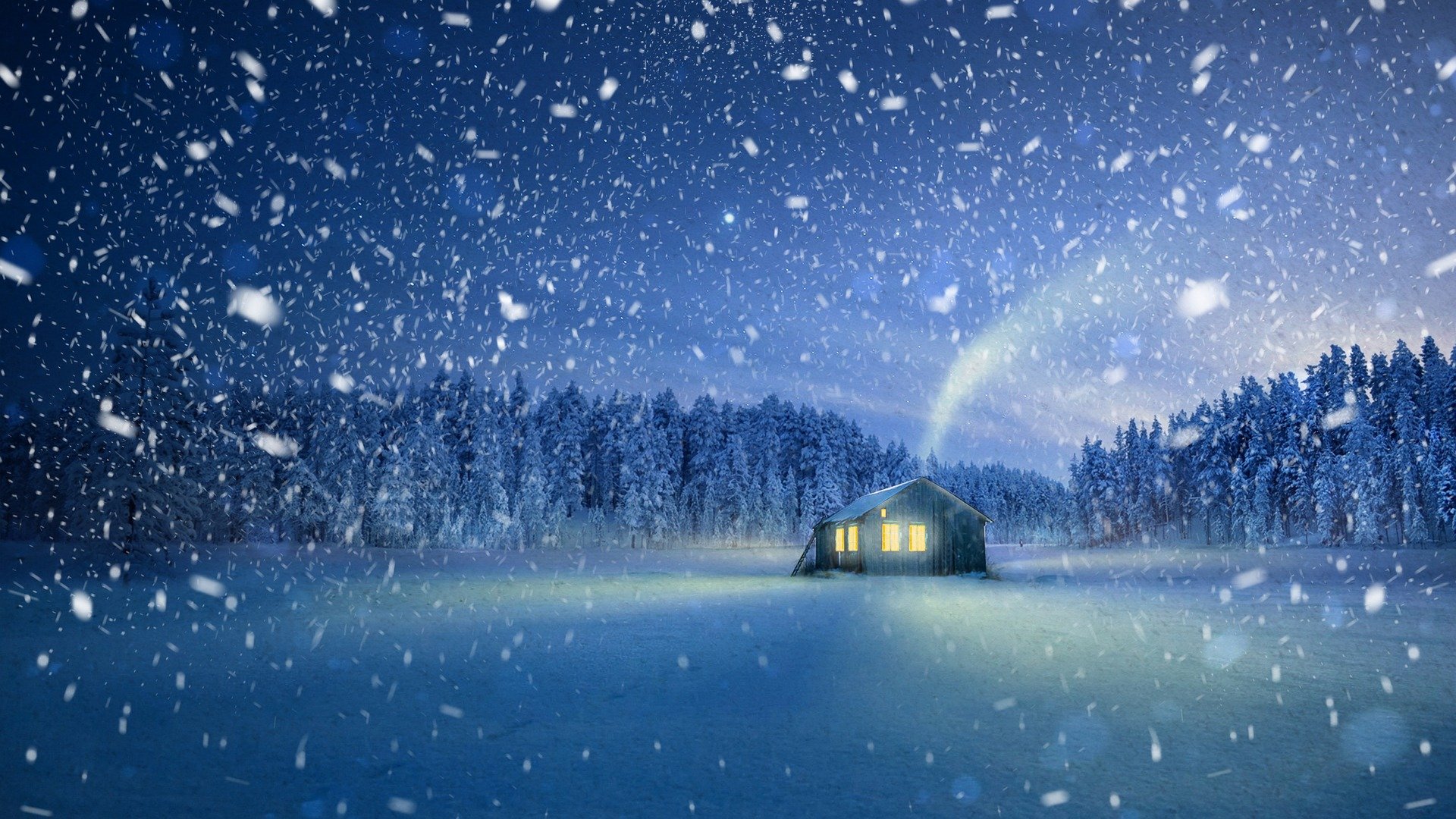 You've just received the news that you must self-isolate at home for the next ten days. It can be tough: amid health worries, work or studies may carry on remotely, or you could have free time on our hands, the notion you should fill it, and then growing loneliness. Here are the top tips we have identified to help tide you over until you are allowed to leave your house again:
#1 Keep a Diary of your Experience
Journaling has a long tradition and can be great fun. The excitement may start with selecting your favourite pen and a brand-new notebook. Writing something, anything, every morning to nurture creativity is the ritual advocated in Julia Cameron 's The Artist's Way (available in the library). You could experiment with adding drawings, keeping a dream log, or electronic journaling.
But did you know that research has found keeping a diary may also have a therapeutic value? The "emotional and physical health benefits of expressive writing" may arise less as products of catharsis than as the result of the cognitive processing involved in making sense of events and emotions, and the construction of narratives (Baikie and Wilhelm, 2005).
Later, "to return to this experience and recapture it in context with its full impact allows for further reflection" (Boud, 2001), another way of saying that looking back at old diaries can often be priceless.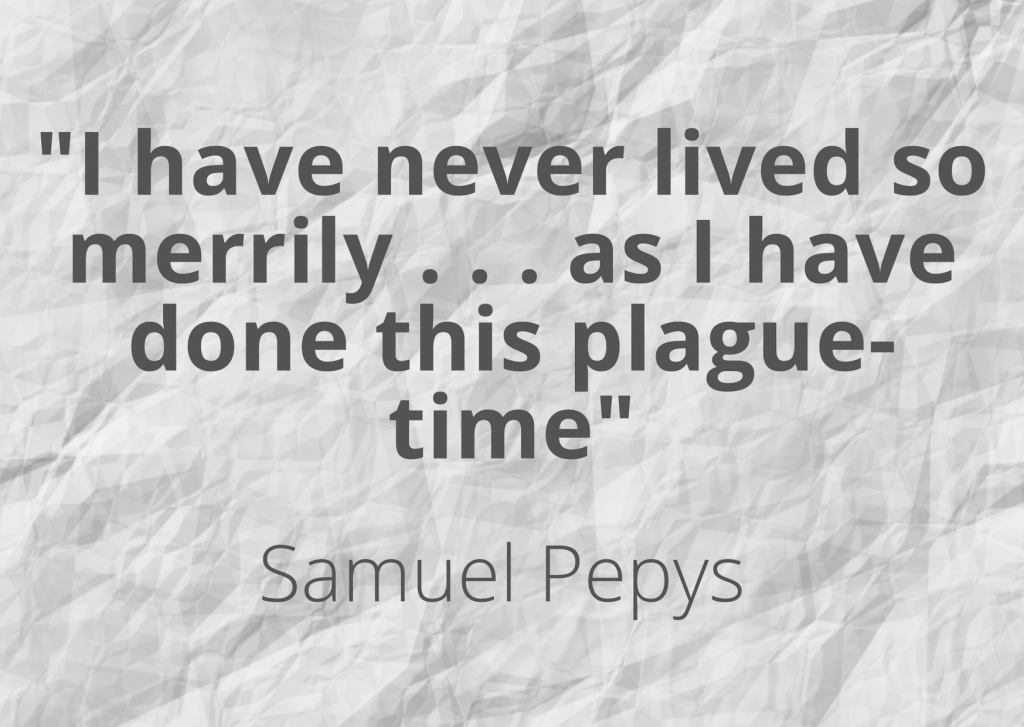 #2 Eat Well and Take Care of Yourself
There is a clear link between food and mood, so why not take some time to read up on nutrition?
The Exploring Nutrients section of the British Nutrition Foundation website covers micro- and macronutrients and makes for a good starting point. You may find inspiration for new healthful snacks in the vitamins and minerals overview list. Micronutrients are essential for the body to work properly and variety is crucial – but we may also need to aim to eat 30 different plant-based foods every week to keep our microbiome happy (Rossi, 2019). It is said that the bacteria in our gut play an important role in our mental health (Enders, 2014), so see what sampling new food can do for your mood – in more ways than one.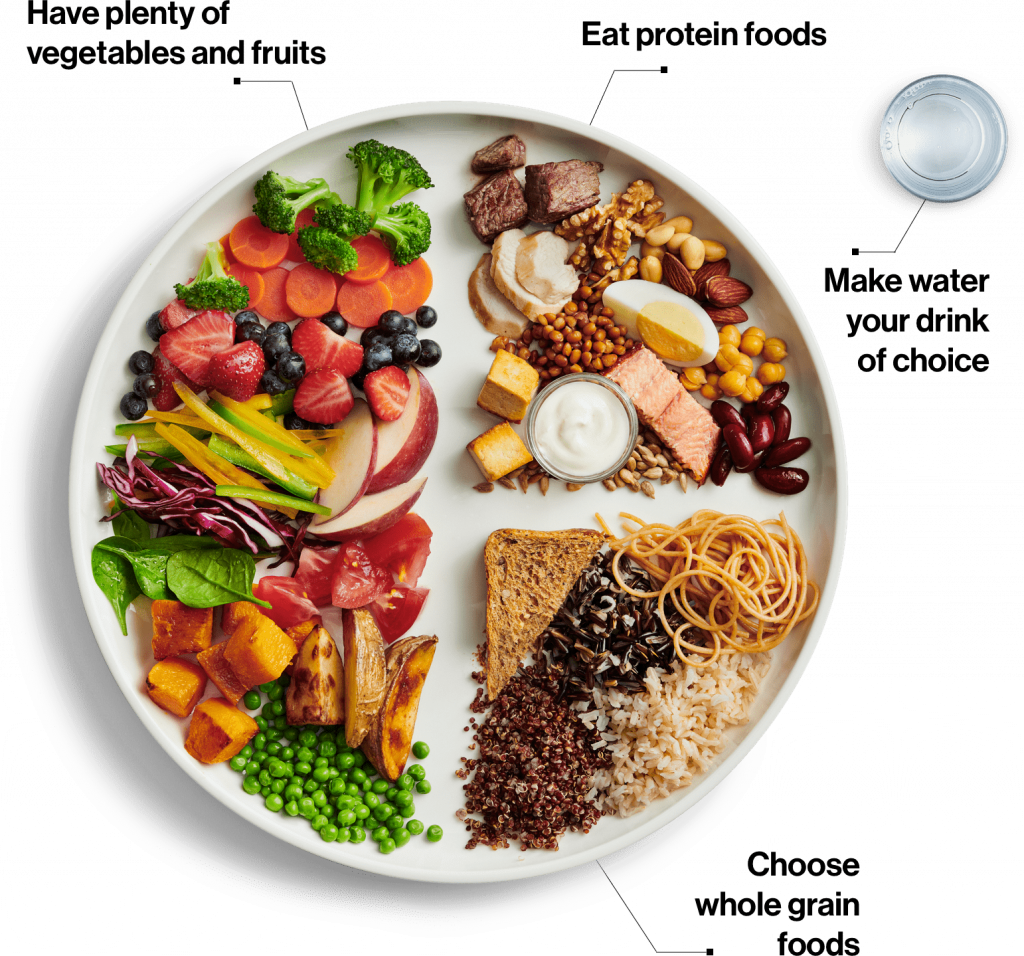 #3 Learn a New Skill
If you'd like to learn how to cook from scratch, you can get started with the help of Christ Church students and staff : Learn to cook with Head Chef Stuart on Instagram or check out these Student Cooking Tips, based on the Student Sustainable Green Office's free eBook Cooking Goes Green .
Check out too the Student Food Project, a website by students for students full of quick, cheap and nutritious recipes that look delicious too.
Beginner cooks may also head to Kanopy for courses like Rediscovering the Lost Art of Cooking and Making Healthy Food Taste Great, the first lesson of which covers tasty porridge and rice. Kanopy is a video streaming service available through LibrarySearch – see this guide if it is your first time using it – that offers documentaries as well as films and classes in a wide range of subjects. Take a look at this blog post for a round-up of their Great Courses.
#4 Organise your Photos and Paperwork
It makes sense that restoring order should appeal in uncertain times. If there's something you have always meant to get on top of – bills, computer files, photographs – it may be especially satisfying to take back control now.
While not everyone works best in a tidy environment (Vohs et al., 2013) a good reason for a clear out this week may be that "clutter is (…) a disruption that can threaten the bonds that people develop with home" (Frost & Hartl, 1996) – not helpful if home is where you will spend the next two weeks.
#5 Keep in Touch with Friends and Family
You could use this time to drop a line to friends and family you have meant to keep in touch with. Why not get creative and make a holiday or birthday card for someone, to post when you come out of isolation?
Conversely, let your friends help you – they can offer different perspectives, cheer and comfort you.
To keep in touch with Christ Church students, don't forget to check out the Facebook groups set up the Student Union, like the new Community Group. The Student Union also offers virtual Societies and hosts online events where you could make new friends.
#6 Exercise Indoors
Exercise improves your mood and cognitive functions, but your home will now have to be the backdrop. What can you do inside by way of exercise?
You can of course keep on doing the plank – or get familiar with it, taking the time to do it right. This abdominal exercise will help strengthen your core, improving your balance and your performance in other sports like running.
If you do miss running, jumping with a skipping rope may be a cheap and easy cardio exercise alternative. To choose the length of your jump rope, NASA recommends that you "stand in the middle of the rope and raise the ends under each armpit. If the handles barely touch – it fits". Jumping will strengthen your core, ankles, legs and arms.
And of course subscribe to Christ Church Sport & Active Health's YouTube channel so you never miss their workout videos – new ones are added every week. You will find more strengthening exercises in this recent blog post by the Student Green Office. Most are suitable for doing in a home environment.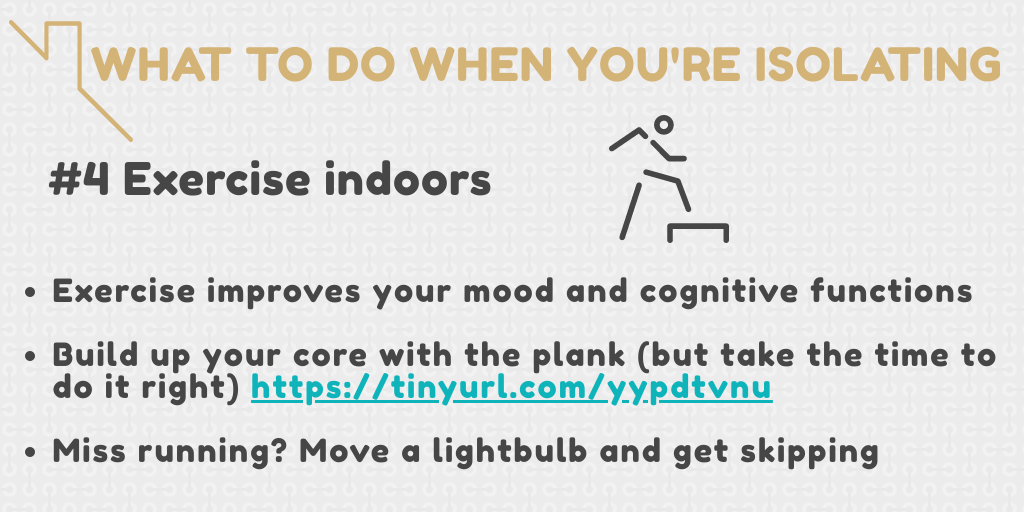 Further Help
You don't have to wait to speak to a professional: if you are feeling down you can now refer yourself to access online talking therapies for free on the NHS.
The Mental Wellbeing and Chaplaincy teams are offering stress and anxiety virtual peer support sessions every Wednesday, 1-2pm. Just email mentalwellbeing@canterbury.ac.uk quoting Stress and Anxiety Virtual Peer Support Session as the subject for more information.
Student Support Team are offering daily drop ins from 12noon to 1pm via Blackboard and you can also contact them via email on studentwellbeing@canterbury.ac.uk.
You can also contact:
Your GP for general physical or mental health concerns
The Samaritans: 116 123 for confidential, emotional support 24/7.
24/7 Mental Health Matters Helpline: 0800 107 0160. Confidential emotional support and guidance. They also have details of local and national support services.
References
Baikie, K. A. and Wilhelm, K. (2005) "Emotional and physical health benefits of expressive writing," Advances in Psychiatric Treatment. Cambridge University Press, 11(5), pp. 338–346. doi: 10.1192/apt.11.5.338.
Boud, D. (2001) 'Using journal writing to enhance reflective practice', New directions for adult and continuing education, 2001(90), pp. 9-18.
Rossi, M. (2019) Eat Yourself Healthy: An easy-to-digest guide to health and happiness from the inside out. London: Penguins Life.
Enders, G. (2014) Gut. London: Scribe.
Vohs, K.D., Redden, J.P. and Rahinel, R., 2013. Physical order produces healthy choices, generosity, and conventionality, whereas disorder produces creativity. Psychological Science, 24(9), pp.1860-1867. DOI: 10.1177/0956797613480186
Frost, R.O. and Hartl, T.L. (1996) 'A cognitive-behavioral model of compulsive hoarding', Behaviour research and therapy, 34(4), pp. 341-350. doi: https://doi.org/10.1016/0005-7967(95)00071-2