Yes, we have e-books, thousands of them, but your CCCU digital library provides many more resources for learning, teaching and research. Here, the Learning and Research Librarians share their five top picks on ways you can use the digital library to support your virtual classrooms.
Access all the resources mentioned in this post by logging in to LibrarySearch, choosing the Find Databases A-Z link of the left-hand side of the screen and selecting the letter for the resource.
1. Sage Research Methods
Got a module to teach about research methods? Do you need your students to read online texts, chapters, view videos and find definitions of key terms in your discipline? Sage Research Methods can help with curating and sharing a reading list.

Once you have created a Profile in Sage Research Methods, you can start searching for books, videos, chapters and articles on the desired methodology to populate your own reading list. Use the Add to my reading lists function which will show the option to create a new list. Give your list a name, even a description, and click Add. You can view others' reading lists by choosing Reading Lists from the Research Tools menu and add items from their list into your own.
Once you have a list, you can decide whether to make it public or private. Going public allows you to share your list with colleagues, students or via a social network and the embed function permits you to nestle the list in Blackboard or a blog
2. Cite them Right
If you are thinking 'here we go again, another year and another round of the 'what, why, how' etc. of citing and referencing'. The online version of Cite Them Right offers a tutorial where students can find out about the principles behind referencing and how to acknowledge the information sources that they use.

The tutorial consists of 11 short, self-contained topics, which can be explored and revisited at any time. Four assessments are included for students to check their knowledge and understanding.
Content includes 'What is referencing and why it matters'; 'What sources are appropriate to reference'; 'How to avoid plagiarism'; 'How to insert citations into your text'; 'Incorporating the work of others into your writing,' and 'Documenting the full reference details.'
The tutorial allows students to select the referencing style they use for their programme – Harvard, MLA, APA, OSCOLA, Chicago, MHRA and Vancouver – to see appropriate examples.
3. Browzine
Want to encourage your students to read a top journal, or perhaps your commuting students want to read on the go? Ask them to try BrowZine. BrowZine is an app for Apple and Android devices which lets you browse through our e-journal holdings in a quick, simple and visual way.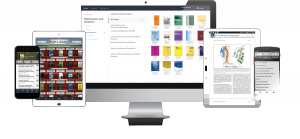 Categorising our titles by broad subjects and then into narrower disciplines, BrowZine allows you to find, read and monitor scholarly titles from your mobile device (it works on the desktop too). Create an account to have a personal bookshelf of your favourite journals and be alerted when a new issue is published. Save interesting articles to your My articles space for easy reading on the go, between lectures, on the bus or whenever you get a quiet moment. Suggest some key titles your students might want to follow, and – fingers crossed – they'll pepper future essays with insights and evidence from up-to-date scholarly journal articles.
4. Skills4Study
If you need to introduce students to critical thinking skills, groupwork, presentations, projects, dissertations, reports and much more besides, ask your students to undertake the relevant Skills4Study modules.
This could be as a self-directed activity before reflecting on what skills they need to develop, or you could ask them to complete a module before your online seminar so you can focus on the subject-specific content.
Students can register to save their assessments and progress through the modules. Check out the Skills4Study video for more.
5. Your digital library
Do your students engage with the sources you would like them to? Perhaps you want them to use journal articles rather than textbooks, check out some newspaper articles, watch a documentary, study some case law, find some copyright cleared images, view the human anatomy in 3D, analyse cartoons, peruse market research reports, examine a few x-rays, access Census data… we could go on, but you get the idea.
The digital library is full of interesting stuff. Ask your students to find their subject guide and explore one of the databases mentioned. Ask them what the tool is; what useful features does it have; how could they use this resource and its sources for their assignment and to check if it includes peer-reviewed literature. Perhaps ask them to present their findings as a PebblePad entry.
So what are you waiting for?
We hope these suggestions will support your endeavors in the world of virtual classrooms. The Learning and Research Librarians are part of your Learning Skills Team. We can embed workshops for your programme or module and can advise on library collections and how these can be used for teaching and learning. If you'd like to contact your Learning Skills Team you can find us on Blackboard or contact your Learning and Research Librarian directly.