Henry King, second year English literature student, is currently doing a virtual work placement with the Library. Read his blog post about Mary Shelley's dystopian novel The Last Man and nineteenth-century dystopia.
Due to the current predicament with Covid 19, and experiencing life in lockdown, I was interested in writing a blog about dystopian fiction. According to Google Trends, interest in books exploring themes of plague and apocalypse have skyrocketed in recent weeks, and now seemed a good time to find out what the 'lockdown library' had to offer.
The fictional concept of being the last man standing has become a staple of both dystopian literature and media. From novels in the library collection such as John Christopher's Empty World (classmark JF CHR) and Stephen King's The Stand (reservable from the Drill Hall Library) to huge budget productions like I am Legend (classmark 791.43 IAM) – being the last human alive encapsulates the reader's sense of hopelessness and isolation unlike any other.
As with all fiction, themes, motifs and symbols are often reworked and adapted throughout the years. In the case of the metaphorical 'last man on Earth,' the concept dates back to the adolescence of dystopia in the early 19th Century.
Dystopia and Mary Shelley are not often associated with each other and the writer is better known for her gothic novel Frankenstein. It was not until I did an online library search that I discovered The Last Man, her obscure novel published in early 1826 and learned of its grim vision of a dystopian world.
The novel commences in the year 2073 and is centred on the life of Lionel Verney, an orphan whose ultimate fate as the last human alive is revealed as the world around him rapidly collapses due to an "unnameable and preternatural" plague.
After the initial demise of Mankind, Lionel and his small band of survivors travel across the ruins of England, France and Switzerland. Gradually the group around him diminishes, culminating in a shipwreck in the Mediterranean Sea where only Lionel survives. As he is washed ashore on the bleak and desolate coast of Italy, Lionel ultimately believes that he is the last human alive – condemned to wander the Earth alone.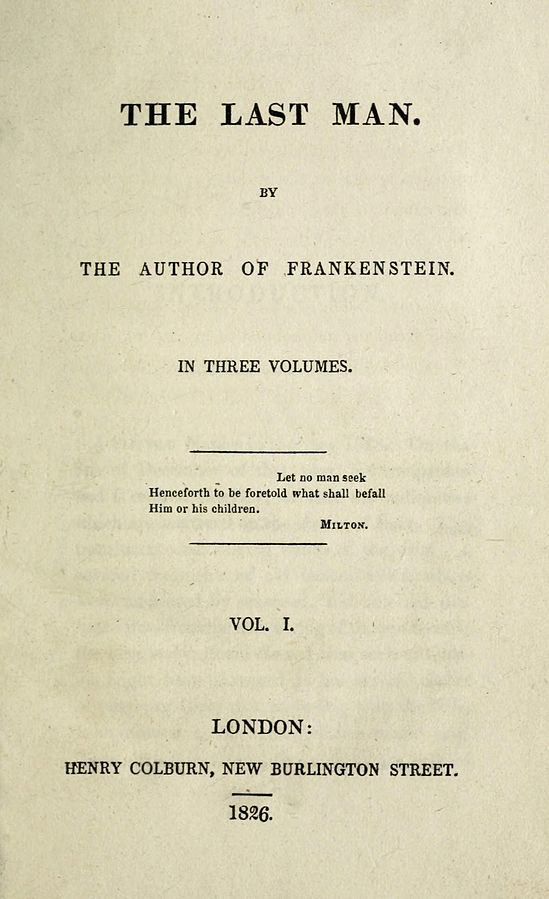 After its publication in 1826 and a revival in the 1960's The Last Man has been the subject of extensive literary criticism with many viewing the novel as too heavily autobiographical and depressing for its time.
Regardless of criticism, I personally found The Last Man highly engrossing. It is a lengthy tome at 479 pages however this works in its favour as it gives space for the characters to develop. Perhaps it is Shelley's authorial voice and integration of real people such as Lord Byron and her deceased husband Percy that creates this depth. This in turn enables Shelley to craft a level of authenticity that many other dystopias simply do not achieve.
In a time of isolation and uncertainty, I found Shelley's interpretation of dystopia both captivating and disturbing as she explores the themes of plague and apocalypse which result in mankind's ultimate annihilation to an invisible yet omnipotent force. I would insist on it as an essential read not just for fans of dystopian literature but all who enjoy a perplexing yet provoking read.
You can find a copy of The Last Man in the third floor silent zone of Augustine House at Classmark F SHE. Alternatively, the e-book is available via Library Search as part of the open book deal from EBSCO. If you would like to read more about Shelley and disease theory, you can find a short article at JSTOR daily or you can explore the critical texts and journal articles available via databases such as Project Muse and Periodical Archives Online.
You can find dystopian works by other nineteenth century authors at Project Gutenberg . This website has works by H.G. Wells (When the Sleeper Wakes and The Time Machine); Fyodor Dostoyevsky (Notes from the Underground.); Anthony Trollope (The Fixed Period); Anna Bowman Dodd (The Republic of the Future);Walter Besant (The Inner House) and many more.
But if you prefer something a little more contemporary, why not head to the university bookshop when the campus re-opens.
Today's blog has been written by Henry King, a second year English Literature student, who is working on a 40 hour placement as part of the Applied Humanities: Employability in Practice module. This module aims to introduce humanities students to a range of work-related skills such as communication, teamwork, problem-solving, decision-making, initiative, and creativity, thus improving their employability. Henry is interested in dystopian fiction and cites the 'Hunger Games' as a particular childhood favourite. We challenged him to read something a little older for his placement, asking him to research nineteenth-century dystopia in the context of our collection.
If you would like to share your lockdown reads with @ccculibrary, we'd love to hear from you.