Stressless has now become common place within our academic year; we know its coming, and we have an idea of what it will involve. However, its important to keep it fresh and relevant, to continuously provide ways that will help YOU de-stress. This is why we always ask for feedback. It helps us develop and look to the future, making Stressless your Stressless! Let's have a look at what you said this time round.
"Criticism may not be agreeable, but it is necessary"

Winston Churchill
As with previous sessions we created a range methods that would allow us to collect various forms of feedback during the Spring Summer 22 Stressless Event. Many of these had been used previously and have become recurring ideas due to the success's seen, while several new ideas were also included.
Drop-in event feedback gathering – ie whiteboards, word of mouth, forms, photos
Social Media
Feedback Cards
Target Boards
Urns
Whiteboards
Observations
Student Creations
The Stressless Team
Drop-in events
We always try to include a range of drop-in sessions during every Stressless period and these give us the perfect opportunity to gather feedback specific to the events, but also Stressless in general. Methods do vary, but often include whiteboards, feedback cards, photographic evidence and general word of mouth discussion. To See the full range of feedback gathered from the drop-in events check out the drop-ins review blog.
Social Media
We currently have three social media channels that we put to good use during the Stressless period; these being Facebook, Twitter and Blogging. We can use these channels to provide a wide range of information and knowledge about Stressless. Feedback through these channels can be viewed through the interactions with individual posts, to the actual comments that have been attached.
Facebook
Where possible we would post three times a week on all three student Facebook pages throughout the period. This mainly consisted of awareness posts about Stressless or information concerning the various drop-in sessions that were going to be held. In total we released twenty-four posts during the Spring Summer session.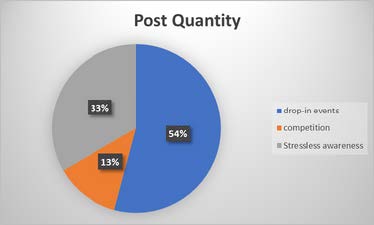 Over half of posts were linked with various
events. While over a quarter linked to
Stressless awareness information.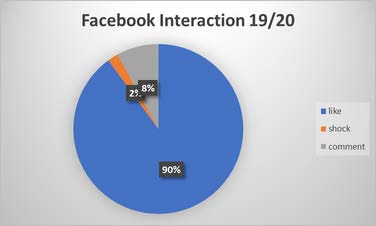 Fifty interactions. Over three quarters of
which were likes. Our highest interaction
page.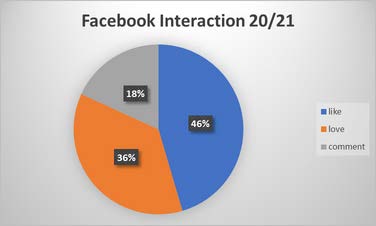 Eleven interactions. Almost half of these were likes. Our lowest interaction page.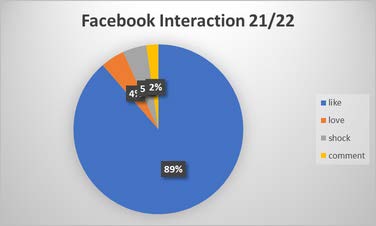 forty-four interactions. Over three quarters of which were likes.
In total we received seven comments on our Facebook posts, only one of these was specifically feedback. This was attached to a Hot Chocolates post commenting 'another day like this please'.
We do try our best to rotate the days on which we hold our Stressless drop-in events. However, the one thing that does tend to impact this, is the availability of the Stressless Team, quite often due to the days they work.
Twitter
We had more opportunity with the Twitter Page as it was run by the library services team. We aimed to provide one tweet a day covering a range of topics; general categories for these were:
Awareness of Stressless – 31 Tweets
CCCU Connected – 13 Tweets
Celebratory days/weeks – 17 Tweets
Book suggestions – 11 Tweets
Top Tips and help – 25 Tweets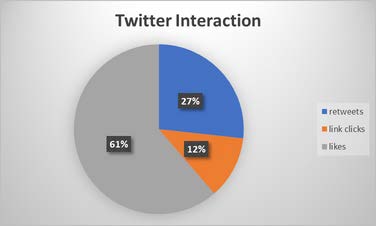 We received a total of 318
interactions on our tweets, which
was a increase on the AW event.
Over half of these related to likes,
while over a quarter related to posts
retweeted.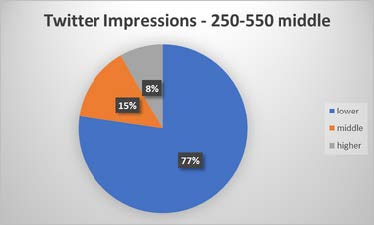 Twitter impressions were down this
session; for example the AW event had
the majority of impressions fall within a
250-550 range, where as this event the
majority fell below.
Top Tweets for impressions were:
Books – Overdrive – 2353
Books – Skills for success – 1321
Day/Week – Elimination Racial Discrimination – 746
Awareness – New stock – 681
Awareness – Hot Chocolate Event – 660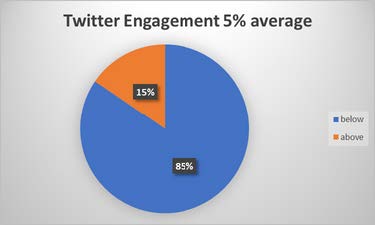 As with the previous session twitter
engagements, for the majority, were
below 5%.
Top Tweets for engagement were:
Awareness – New stock – 720%
Top Tips and help – New cycle route – 13.2%
Awareness – Outdoor Games Session – 9.7%
Top Tips and help – Ukraine cross stitch appeal – 8.7%
Day/Week – National pet day – 7.7%
Blog posts
During this time we aim to provide a range of blogs providing awareness information for Stressless and the activities being held, plus variety of fun, useful, informative concepts. During this period we focused solely on the former. We published eight blogs, being the equivalent to the AW session, but down on older events. Blog posts in order of publication included:
Vote for your favourite Stressless activities – 633 views
Can you escape the box? – 690 views
Stressless is back – 597 views
Upcoming Stressless events (also used when activities were postponed) – 330 views
CONNECT with Stressless and see our new resources – 239 views
Stressless Zone drop-in events for you – 333 views
Win £50 of CCCU bookshop vouchers – 641 views
Stressless all year round??? Is that possible??? – 131 views
Feedback cards
Our feedback cards have been in existence since the very first Stressless in 2017. These are great, as they allow us to ask specific questions and can be easily adapted to meet the needs of different events and activities. Usually consisting of five questions, both multiple choice and open ended.
Seventeen feedback cards were received on this occasion, which was an increase on the previous event. What was amazing to see was that everyone stated that Stressless had helped them in some way during the assessment period.
Areas regularly used by students included;
The colouring wall and word puzzle boards
The games and puzzles found on the various shelving units
The arts & crafts found in the creative stackers and the craft trolley
The giant bean bags
Breaking this down further student favourites included;
Chilling in the chillout area
Colouring and puzzle books
Lego building
Reading self-help books
Puzzles
The massage equipment, especially the chairs
The funky maze ball
Board games and table top games
The marble maze
Future requests included;
Air hockey table
Hot chocolate machine
Cinema room
Flat screen TV
More Lego
NEW Comfy seating
The space and furniture for Stressless is something that we are aware of and do hope to look at in the near future.
An air hockey table is something that is currently on our wish list, so its great to hear that its something students would like to see. As for more Lego, can there ever be enough? (also now added to the wish list)
For day to day needs the café on the ground floor should be able to meet your needs concerning hot chocolates. However, do keep an eye out for our hot chocolate drop-in event.
While we don't have the space for a cinema room or tv's, we have in the past explored the option of a movie night. Would this be something people would like to see come back?
Target boards
These can regularly be seen in the Stressless Zone, with usually one or on the go at any one time. These work by asking you four straight forward questions, giving you three levels of response. It's fun and easy, as all you need to do once you have chosen your responses is pop on a sticker in the area you feel best fits.
In total we received fifty-two votes on the singular target board that was provided during this event. It is great to see that the majority of votes fell within the 'exceeded expectations' section for all aspects, which is an improvement on the previous event. (In some instances a vote fell on the line, in these instances we accepted this as a vote for both sides).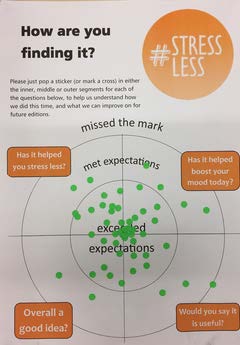 Urns
We have used the ball and urn technique many times within the library, but never for a Stressless session, so we thought we would give it ago. It was really successful and I think part of the reason for this is due to it being such a quick and easy way to vote or give your opinion on something. We had three urns, three choices and a big tub of balls.
In total we received two hundred and thirty-two votes, which is amazing. Three quarters of these were within the 'really helpful' urn.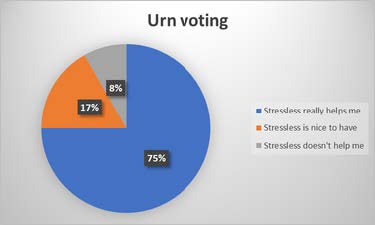 Whiteboards
The day-to-day use of the whiteboards within the Stressless Zone is usually to gather top tips and helpful advise from students, to then share and help with other students. However, on occasion we do notice a few comments that fall more within the feedback narrative, which is fantastic.
"I only come here for Stressless"

Unknown Student
"OMG so nice, I love it, especially the massage bits"

Unknown Student
"Don't ever take this away"

Unknown Student
Towards the end we also put up a notice exploring the idea of a permanent Stressless Corner, which received the following comments.

It is due to comments like this that has enabled us to expand upon the idea of Stressless and introduce the Stressless Corner.
Observations
From our perspective, one of the easiest things we can do to gather information, is to observe. We recruit staff from the library office to do this task. All they need to do is jot down the date they saw students using the zone and what they were doing. The Stressless team would also do regular walk throughs of the Zone, giving it a good tidy, but also recording evidence of use. This has been especially useful first thing in the morning to give us an idea of what was used through the night.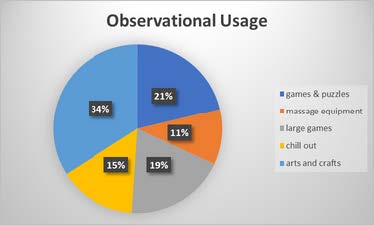 Number of observations
Games & Puzzles – 10 observations
Massage Equipment – 5 observations
Large Games – 9 observations
Chill Out Area – 7 observations
Arts & Crafts – 16 observations
Student Creations
You never know what you are going to find when having a walk through of the Stressless Zone; We have found so much evidence of the area being used and love it when we come across creations or completed resources. We will always make an effort to take photos and even keep created items to help us celebrate Stressless.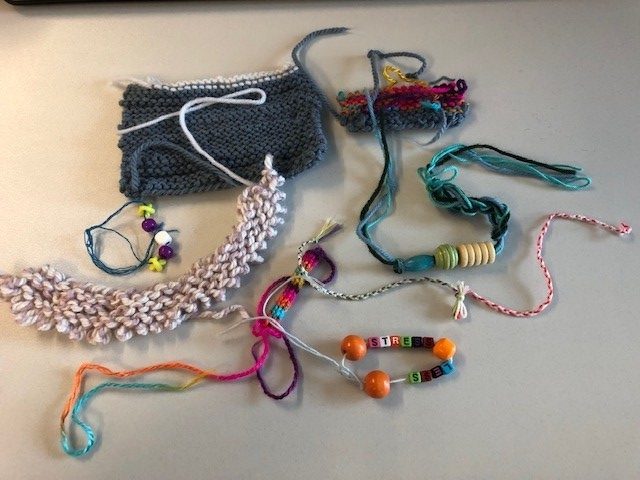 Colouring and puzzle pages
It takes a little time but we always have a quick flick through the colouring and puzzle books to get an idea of usage. We love coming across your colouring master pieces, You can really tell when a student has taken a good break.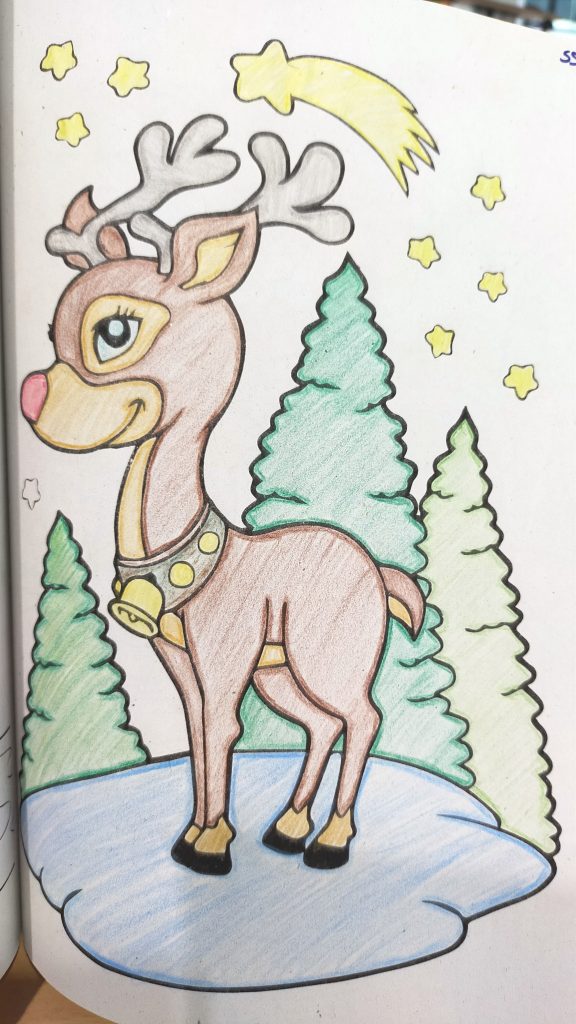 Fourteen started or completed colouring pages
One Hundred and Fourteen started or completed puzzle pages
Colouring wall and puzzle wall
The puzzle wall has exploded with popularity this year, whether its students working on their own or solving the problems as a team, its great to see. This year we totally lost count of the specific puzzles that were being completed due to the speed it was happening. The colouring wall also had some nice touches made to it, this year being built up from smaller images, rather than one large image.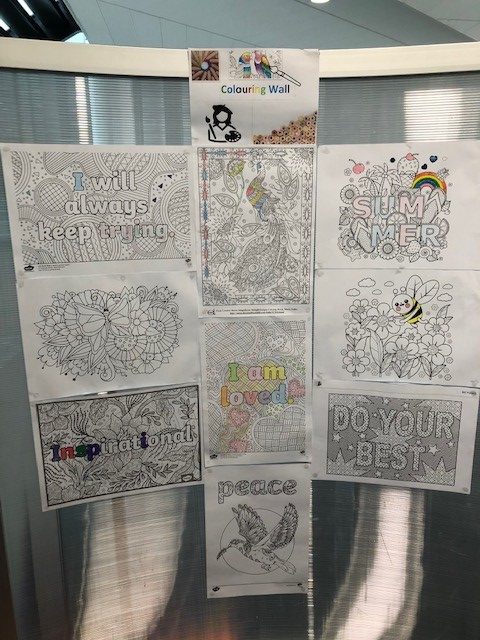 The Stressless team
We would like to take this opportunity to thank you all for the many kind words that have been provided during the Spring Summer event towards the Stressless team. It is really appreciated by all and we are extremely pleased that you find Stressless a useful and helpful tool.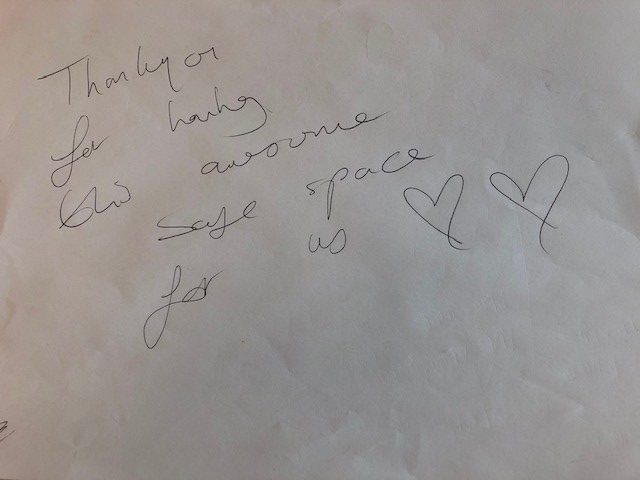 Comments from the drop-in events
Lovely hot chocolate, from lovely people
Such a cute idea! Love it! And lovely people
Best hot choc & nicest people running the sessions
10/10! We love the people that run this!
People who run the sessions go above and beyond
The Stressless Corner
Over the years we have had a few comments or suggestions on how would should do Stressless all year round. There was definitely an increase in this during this event, and some of you have even been chatting with your student presidents. We always hear, and will always do our best to meet your requests where possible. This is why we have now introduced the Stressless Corner. A smaller version of the Zone that will be available outside of assessment periods.
It's never too late to have your say
Your feedback is extremely important to us. Stressless needs your thought, your ideas, your input to help grow and develop, to really make a difference to students time at university, today and into the future. If you would like to get in touch, please use our Stressless form.