Six films available to stream for free on Kanopy this Halloween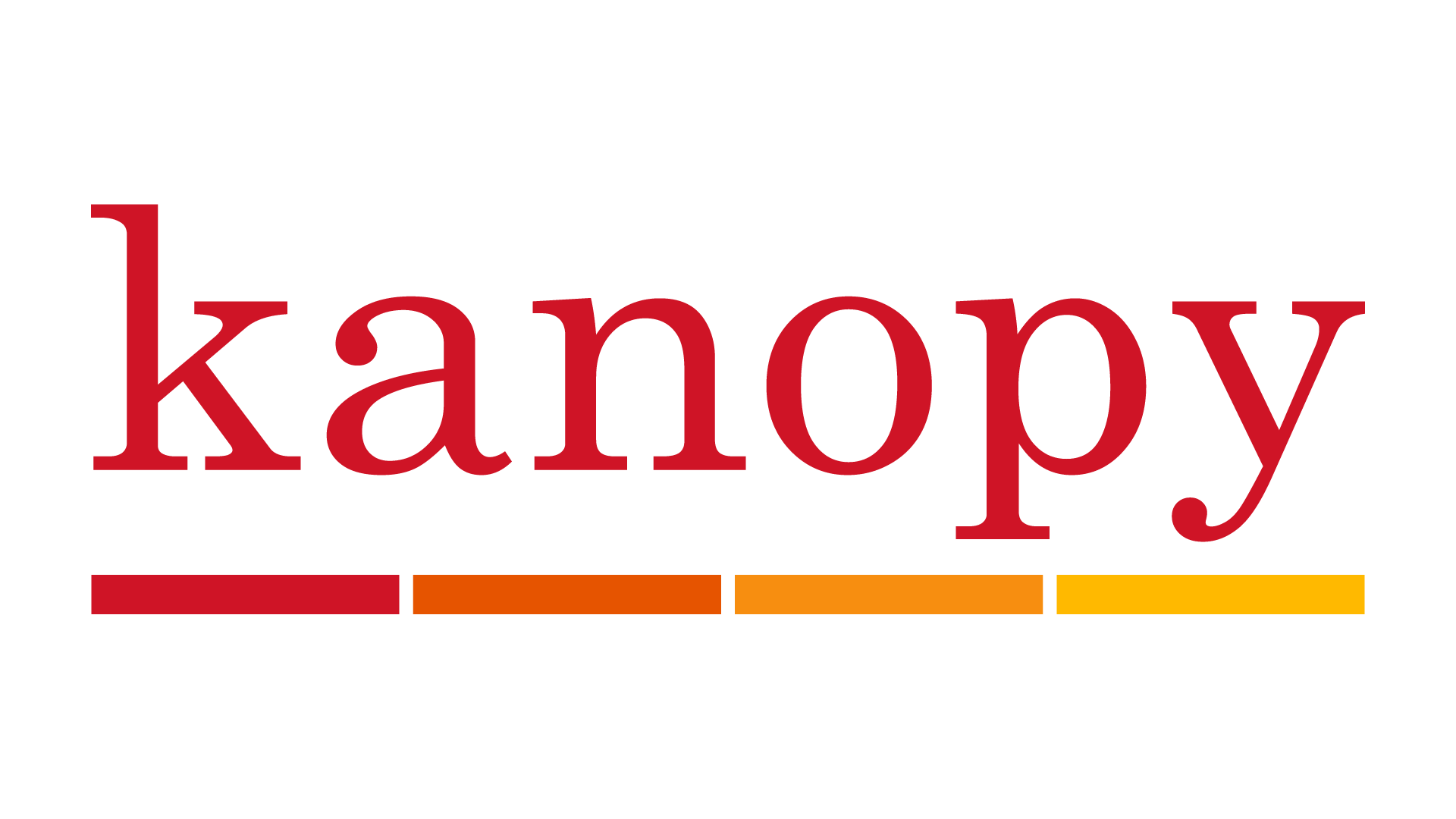 Kanopy (https://www.kanopy.com/) is a streaming service that allows the Library to bring to you a range of diverse and thoughtful entertainment. There are no fees and no adverts to interrupt your viewing pleasure. All you need to get started is to sign up with your name, University email address and computing username and password. You're not restricted to watching Kanopy in an internet browser; there is an app available for a whole host of devices including iPhone, iPad, Apple TV, Android, Android TV, Chromecast, Roku, Fire TV and Fire Tablet.
If you need any help getting started with Kanopy check out our user guide.
With Halloween approaching what better way to start delving into the treasure trove Kanopy provides than by checking out some of these horror classics? They are sure to chill your bones this All Hallows' Eve.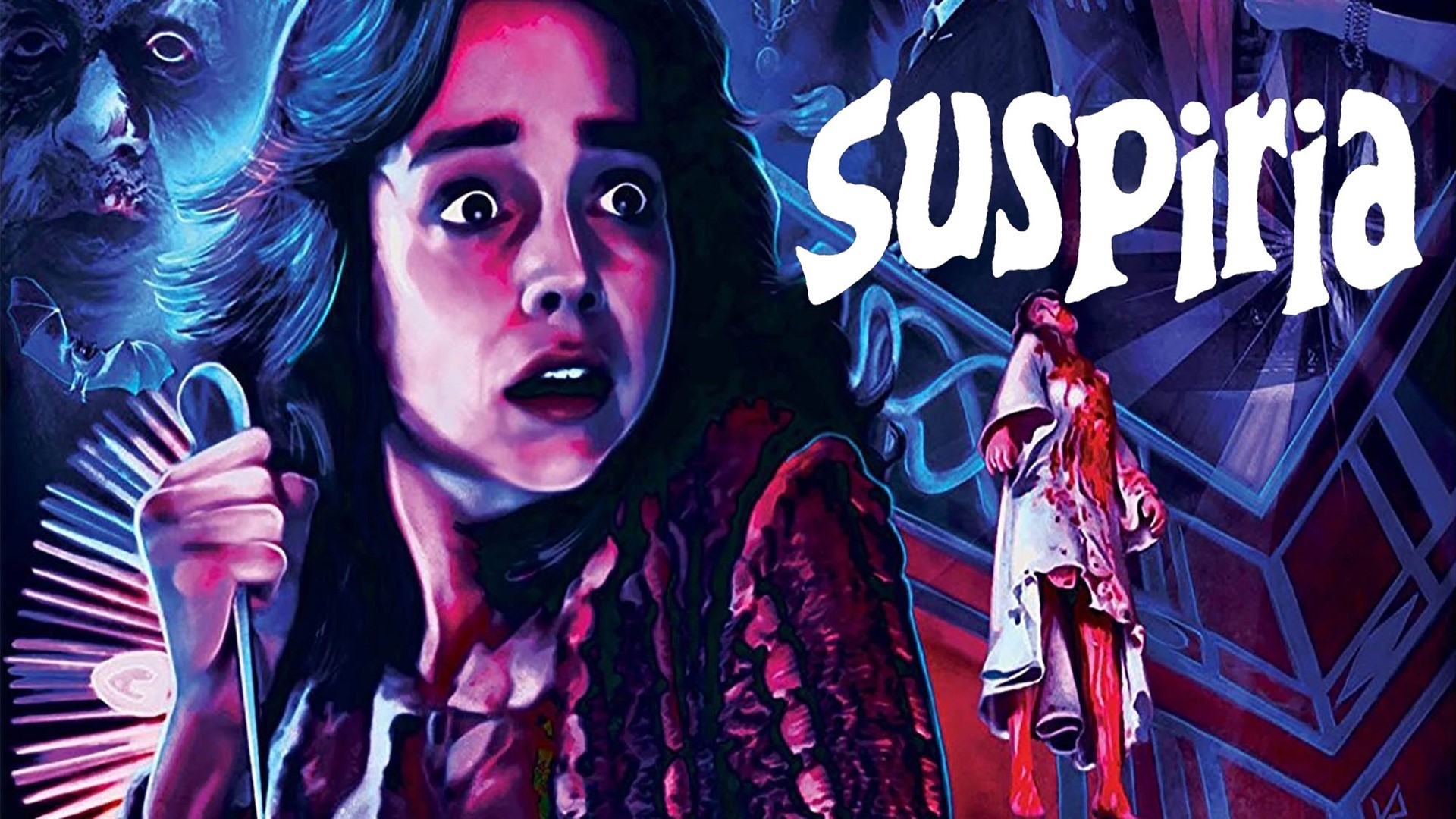 Suspiria (1977)
Suspiria stands as Italian horror master Dario Argento's best known and most critically acclaimed film. Dazzlingly stylish, influential use of vibrant neon colours, whose influence was heavily seen in Nicolas Winding Refn's The Neon Demon. The story of an American ballet student who transfers to a prestigious dance academy in Germany is punctuated with gruesome murders and supernatural conspiracy. A sustained exercise in suspense and terror. If you've only seen the recent remake it's the perfect time to discover the original.
Suspiria is available to stream at https://canterburyuk.kanopy.com/video/suspiria-0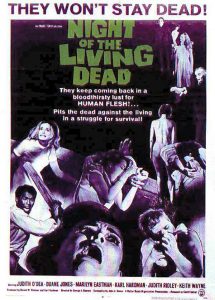 Night of the Living Dead (1968)
Despite entering its 50th year George A. Romero's seminal zombie film still retains a great deal of power, the gore is still effective and there are moments that really shock. A grim horror film that extinguishes every glimmer of hope at every turn. Everything is against our characters and every twist of fate is decidedly cruel. It's a horror film that screams that "the good do not always avail" and drives it home to its ultimate devastating conclusion. It is one of the most important and influential horror movies ever made but most importantly it's still a good scare.
Night of the Living Dead is available to stream at https://canterburyuk.kanopy.com/video/night-living-dead-1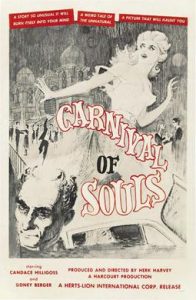 Carnival of Souls (1962)
A mainstay in Steven Jay Schneider's 101 Horror Movies You Must See Before You Die, Carnival of Souls is a creepy little low budget chiller made for a mere $33,000. Ignored on release, the film has later found critical acclaim as an art house cult horror classic. Carnival of Souls is dripping with atmosphere, has stunning black and white photography and an intriguing use of sound. Influential on horror filmmakers today, horror fans will certainly see its influence on James Wan's Insidious.
Carnival of Souls is available to stream at https://canterburyuk.kanopy.com/video/carnival-souls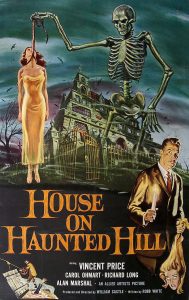 House on Haunted Hill (1959)
If you appreciate a touch of humour in your horror, House on Haunted Hill may well be for you. Starring horror legend Vincent Price, the film is spooky and suspenseful but decidedly tongue in cheek. It's a tale of five strangers who are offered $10,000 each by an eccentric millionaire to spend the night in a haunted house. As the night develops, it becomes clear that these strangers' selection was no accident–and a few have some diabolical schemes of their own… Just be warned it does contain one of the most rinky-dink skeleton props you'll ever see.
House on Haunted Hill is available to stream at https://canterburyuk.kanopy.com/video/house-haunted-hill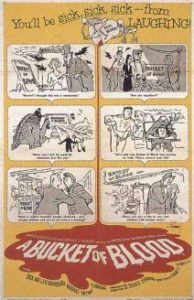 A Bucket of Blood (1959)
Who knew dead cats would make such amazing art supplies?
And that could lead someone to become a serial killer?
That's the premise in Roger Corman's delicious pitch black horror-comedy. Part House of Wax infused horror, part satirical comedy about the beatnik scene. Dick Miller, in a rare leading role, plays Walter Paisley a simple bus-boy who longs to be popular with the snobby beatnik artists he waits on. After accidentally killing a cat, he covers it in plaster to create a sculpture that's heralded as a great work of art. But how will he create his next piece…?
The script by Charles Griffith is razor sharp. Miller is excellent, providing laughs at the start and menace at the end but mostly playing Paisley as a forlorn simple man who doesn't really understand what he's doing. He himself is such a victim, unloved, the butt of everyone's jokes, desperate to make people like him. There's an underlying melancholy, a sadness that lingers after the film, that elevates it above its Corman quickie roots.
A Bucket of Blood is available to stream at https://canterburyuk.kanopy.com/video/bucket-blood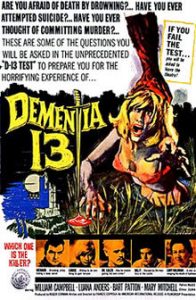 Dementia 13 (1963)
Roger Corman gave many a famous Director their first big break. Dementia 13 served as the mainstream directorial debut for future Godfather director Francis Ford Coppola. Although a far cry from his Academy Award winning gangster epics, Dementia 13 is still a moody and atmospheric gothic horror film. Worth watching for anyone interested in Coppola's humble beginnings.
Dementia 13 is available to stream at https://canterburyuk.kanopy.com/video/dementia-13
Where to go for further help
Your Learning and Research Librarian will be able to help you make the best use of online resources. You can book a 1-2-1 tutorial through the Learning Skills Hub
E-mail learner@canterbury.ac.uk with any questions.