The Library is always looking at ways to improve things for you and so we're holding an informal feedback session on Thursday 24 November between 12pm & 4pm on the ground floor of Augustine House. Stop by for a few minutes, meet some of the team and tell us what you think of the library! Good or bad! We want you to help us improve! We've called this event #ShapeOurLibrary and would love to see you there! Anyone stopping by with feedback can also be entered for a draw for a £50 CCCU Bookshop book token.
You are welcome to drop by have a chat and give us your thoughts on what is and what isn't working well for you. We would also love to hear your ideas on how you think we can make things better!
It doesn't matter what you would like to talk about – whether it's about the resources, borrowing, support, the space or the facilities – we want to get your opinions on all of it. You may have one issue that if resolved could make all the difference to you and others or it might just be a number of smaller things that could make using the library easier for you.
Group Study Rooms
During our last event, we had significant feedback on the availability of group study rooms, and we'd like your input on if we should change how they're booked. Would you like to see limits on the length of time they can be booked for? or how far in advance you can make bookings to ensure more people get a chance to book them? We'll have a survey available on the day as part of the event. If you can't make it on the day, we have a form available online too. Have your say!
Not sure if it will make a difference?
At previous events, students said this:
"StressLess area should be available all year round"

Your feedback through the Student Union.
You asked for the StressLess zone to be available all year round so we've introduced the Stressless corner. A comfy little nook on the second-floor atrium where you'll have access to a selection of StressLess resources all year round. It still expands to the full StressLess zone throughout the 24/7 opening periods. Keep up to date with stressless events on the library blog.
"There are out of date curriculum resources"

Shape Our Library – November 2021
We've been working closely with the School of Teacher Education to revitalise Curriculum Resources. Not only have we had the opportunity to make the collection more relevant, but also invested in an exciting range of brand-new resources. You can get a flavour of the new resources on the library blog.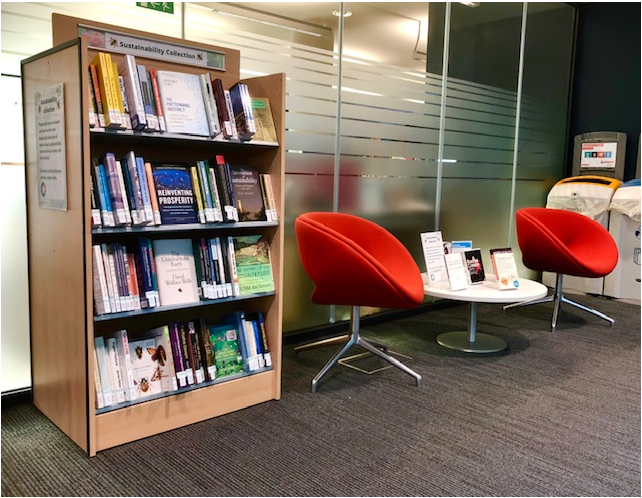 "We need more resources on climate change"

Shape Our Library – November 2021
Working with the Sustainability team we've launched a Sustainability collection. Held in the second-floor atrium, you'll find a selection of 4-week loan books covering climate, environmental and sustainability topics. Feel free to browse and of course borrow titles that interest you.
---
Your feedback really matters and drives real change. So, take this chance to have your say, your feedback is really important to us. If you would like to take part but cannot make it on the day, why not leave us a comment below.