Salomons Institute for Applied Psychology – Library arrangements during lockdown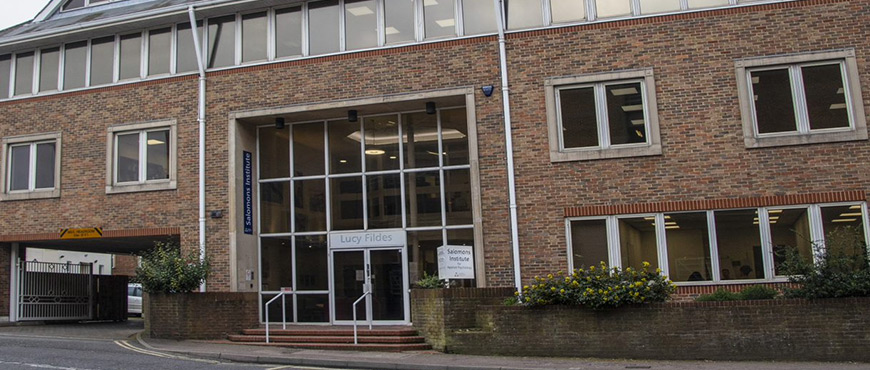 On the 5 January, the country entered another period of lockdown. To keep students and staff safe, no face-to-face teaching is currently planned at the Salomons Institute for Applied Psychology.

From 11 January, Lucy Fildes House and by extension the library will only be open Monday, Wednesday and Friday each week.
Can I go to the Library?
Students should remain where they are currently living and should not travel to access university facilities until the resumption of their on-campus teaching. The library can be accessed for essential use by those from a small number of exempt programmes and students with certain exceptional circumstances such as those who do not have access to appropriate study spaces or facilities in their usual accommodation. See the section 'Who can access campus facilities?' on the Supporting you during national lockdown page for guidance.
You will also need to follow the asymptomatic testing guidelines if you plan on making use of campus facilities. The government currently recommends that any students coming onto campus should take an asymptomatic test twice a week.
What can I do when the library is open?
Throughout the national lockdown period Lucy Fildes House is only open Monday, Wednesday and Friday each week. Visit the opening hours page for further details.

On the days the library is open, study spaces including PCs, can be booked using the Click and Study service from 8:30 – 1:00 or 1:30 – 6:00. All study spaces must be vacated for cleaning between 1:00 and 1:30.
The Browse and borrow service is available if you only need 15 minutes to access resources from the shelves.
Changes to borrowing
To reflect that most of our users will not be able to come into the library, the following changes will shortly be made to borrowing:
All items on loan will be automatically extended to the 29 March. We will be regularly reviewing this date and extending it in line with government and University guidelines. This extension includes i-borrow laptops, locker keys and document delivery items.
With users unable to return their items in person, on Friday 15 January reservations will be suspended on any items that are out on loan. If you try to place a reservation you will receive an error message "No items qualified for Hold" or "User cannot check out this book".
Any items that are currently reserved will also have their due date extended to the 26 February meaning existing reservations will not be supplied until users can return items to the library.
You will still be able to place reservations on items that are held at another campus library. The inter-site loan service between Augustine House and Salomons library will continue, with items moving between the campuses weekly on a Wednesday.
Library Support
Face to face enquiries at the Library Point are available between 9:00 and 17:00 on Monday, Wednesday and Friday.
Telephone enquiries (01227 927126) are available between 9:00 and 17:00 on Monday, Wednesday and Friday.
Email enquiries (library.salomons@canterbury.ac.uk) are answered between 9:00 and 17:00 Monday to Friday.
How we provide support is currently under review and we hope to have an update in the coming days.
Keeping you safe
We work closely with the University Health and Safety Officers to ensure we are providing a safe space.  We:
regularly clean all surfaces, including the self-service borrowing machine thoroughly and regularly cleaned.
provide hand sanitising stations.
physical distancing measures with signage indicating safe spacing in queues.
Store returned and handled items away for 72 hours until risks of virus transmission has been mitigated
We ask you to:
always wear a face covering when in our Library buildings, even when seated and 2m apart. If you wish to indicate that you are exempt, face covering exemption cards for lanyards are available from Anselm security lodge and Medway and Salomons receptions. As a University, we also recognise the Hidden Disability sunflower lanyard. See Your campus during lockdown for details.
regularly clean your hands.
sanitise your workspace or printer before and after use with the wipes provided.
place books you have used but do not want to borrow in the designated boxes.
make use of the NHS COVID-19 contact-tracing app when in our libraries. Read contact-tracing in our libraries for details.
To prevent the spread of COVID-19 and reduce the potential risk of exposure to the virus, consider the following questions:
you, or any of your household, have returned from international travel to any non-exempt overseas country, or had a transit stop in a non-exempt country (see the 'travel corridors' list and further guidance on www.gov.uk).
you have COVID-19 symptoms or are awaiting a test for COVID-19
you have tested positive with COVID-19 (even if you have no symptoms)
you live in a household with someone with COVID-19 symptoms or with someone who has tested positive for COVID-19
you have been advised to self-isolate by Test and Trace
If you answer yes to any of the above questions, then please do not leave home. Please ensure you follow the gov.uk guidance on self-isolation.
Online Resources
Access the wealth of online resources available through LibrarySearch. Read See what you can achieve with your Digital Library for an overview on accessing e-books, online journals and databases. You can also:
Document Delivery
During the national lockdown libraries are unable to provide physical document delivery items but we are still having success fulfilling requests for journal articles, book chapters and other items that can be supplied in a digital format. Please make your document delivery requests through LibrarySearch as normal. You can contact the team on library.salomons@canterbury.ac.uk with any questions.
Scan and Deliver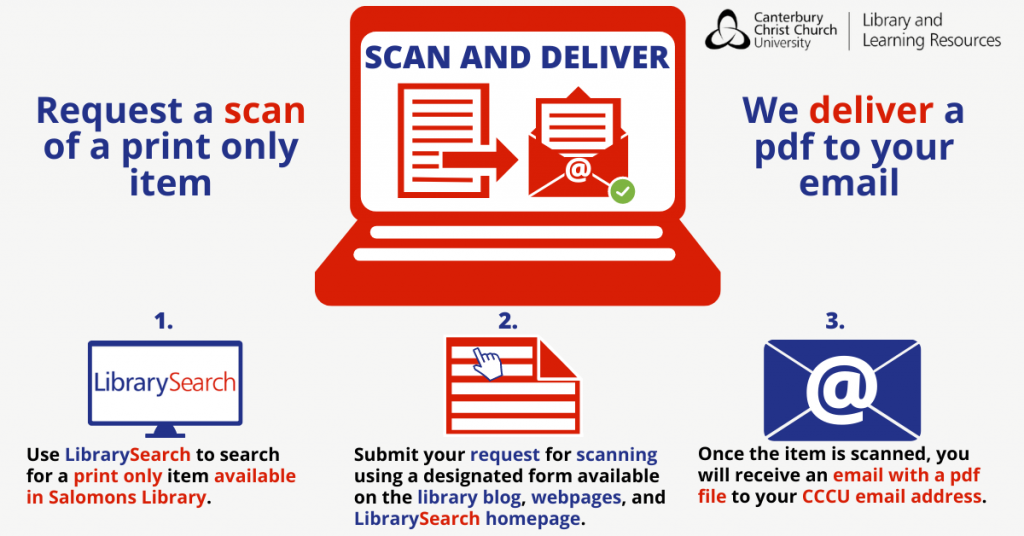 The Scan and Deliver Service makes print only books and journals, which we only hold in the Augustine House or Salomons Institute libraries, available for essential work, research or study.
You can request:
One article from any one issue of a journal of which we only hold a print subscription.
Book chapter or 10% of a work which we only hold in printed form.
Use LibrarySearch to locate the item you need and, if it is showing as available, submit your request for scanning using this form.
Exemplar academic work can also be scanned to your inbox. Email library.salomons@canterbury.ac.uk to make your request
For more details see the Scan and Deliver web page.
Suggest an e-book
If you require a book title that we only hold in print or not at all, you can suggest it for purchase using the suggest an e-book service.
Visit https://blogs.canterbury.ac.uk/studentnews/suggest-an-e-book/ for details.