CCCU has a selection of free apps and software that can save you time, make your work easier, and increase your productivity. One of our Library Champions, 2nd year BA Primary Education student Jake Forecast, has written this blog about his preferred productivity tool, OneNote.
A number of students at CCCU use different ways to write up lecture and seminar notes, from pen and paper to creating Word documents. But lots of students have to buy many notebooks to collect the information that they need, which wastes paper (and impacts the environment!).
This is why I use OneNote.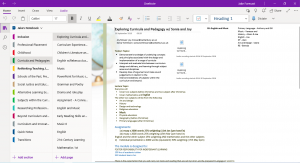 OneNote is a cloud-based 'book' which helps to store all of your information without the need to continually write or type new pages! It can also be used to collaborate with multiple users. This software is useful for me as I have a hearing impairment and it allows me to record the lectures or seminars I am in (with permission of course!), and the dictation function means that OneNote can take notes for me.
The best thing about OneNote is that you could either type up notes or hand write them and organise your pages into different categories. For me, I usually organise my folders into the different modules that I study.
You are able to get OneNote using the free Office 365 Software that can be installed on your computer or laptop. OneNote is also accessible through any Windows, Android and iOS device, which I can use on the go if I am doing reading and I need to refer back to notes, or to make notes if your laptop has run out of battery!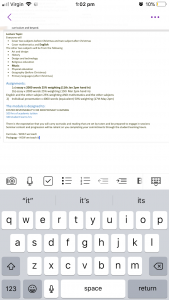 This year, save money and save space on your computer. Use OneNote. After all, you'll need to use the 1TB of OneDrive space!
---
A huge thank you to Jake, we hope you find his tips helpful. You can access a range of productivity software packages on University PCs and to use at home, including accessibility tools, text to speech, time management, note taking, and more. Visit the productivity software page for more details.
If you are interested in writing for us on any of these tools or, indeed, any other topic on our blog, do get in touch on the comments below or email library.canterbury@canterbury.ac.uk