Our commitment to you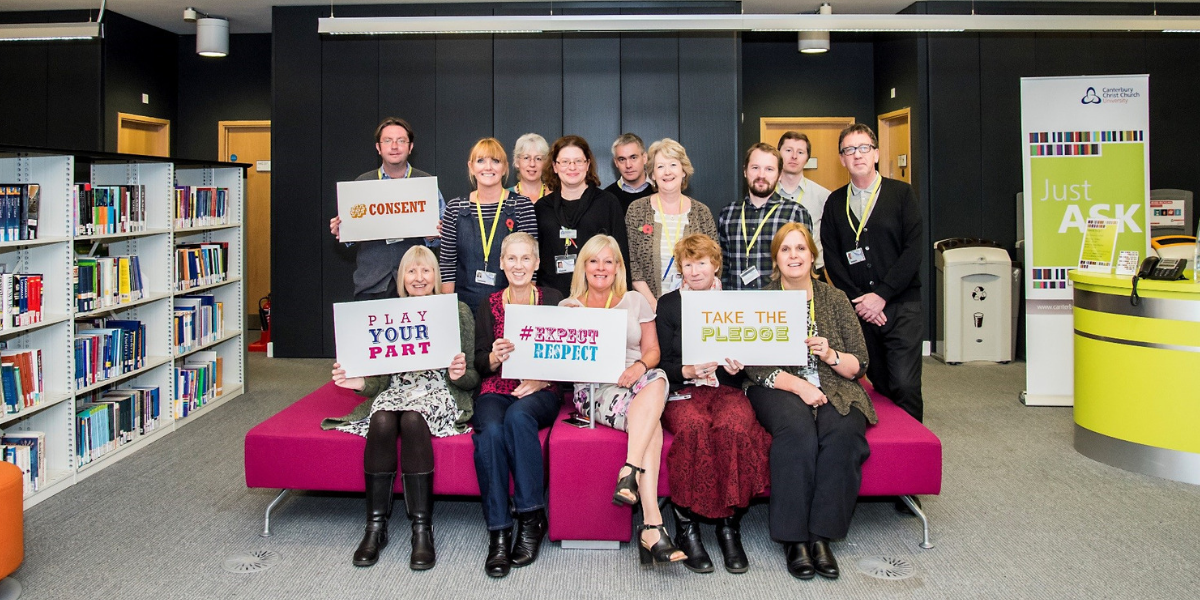 Questionnaires, surveys, whiteboards, feedback events and even Valentine's Day letters…
It might seem that we are asking you for your opinion all the time…
That's because your voice matters to us.
We listen to all the things you say and bring them together as a plan of improvement.
A plan we call "Our commitment to you".
You can read our full commitment to you here but for now, here are the highlights…
---

We want our libraries to be as welcoming, comfortable and accessible as possible. Everyone is different, so we have setup a range of zones to provide silent, quiet, social and group study area, so you can find a place to study that suits you.
This is what we have planned to improve the study environment this year:
Research more about your experience in the library and how you prefer to study.
An audit of Augustine House (AH) to assess the ease of access to, and ease of use of, the space and the facilities.
Replace as many damaged desks/chairs in AH as possible.
Continue to provide 24/7 access in AH.
Replace all the printers/scanners in AH.
---

Helping you make the most of the support, resources and facilities available is what we love the most.
Here are the ways we will improve the support and help we provide:
Fun, engaging and informative orientation activities during Welcome Week.
Organise activities during Academic Development Week and Personal Development weeks.
Introduce more social media channels so that you can find out what we are up to and ask us any questions.
Make our support for the students based at our partner colleges more effective so that you are well informed of the resources available to you during your studies.
Make all our online guides and tutorials available to you via Blackboard.
Create a 'Maths and Stats' guide to highlight the general resources available to you and help you develop or refresh your numeracy skills.
Organise workshops and tutorials to help you develop your research skills in collaboration with your tutors.
Develop the #stressless initiative and work even more closely with colleagues from other Departments to offer you spaces and activities in AH over that period.
Find different ways to let you know when our systems are down and to keep you updated on any changes or alternatives in place.
---

We believe that borrowing a book from the library should be simple and stress free.
Here are our plans:
Introduce new self-service machines for borrowing and returning books. Machines that are simpler and quicker to use.
Monitor reservation queues; if there is an item with more than 3 reservations, this will be moved into the high demand 24 hour loan collection so that more people can access it. We will also investigate whether we can order more copies.
Introduce a book fetching service for those who have difficulty accessing the shelves and clarify the steps to take if you need somebody else to borrow books on your behalf.
Explore how we can provide a way for those who have mobility difficulties to return their books on North Holmes Road campus.
---

It doesn't matter if it's a book on the shelf or an e-journal accessed through LibrarySearch, we want to make them as easy to access as possible. This is what we have planned this year:
Streamline our processes so new resources are on the shelf as quickly as possible.
Improve the look and features of LibrarySearch so that you can locate and access all the resources you need.
Continue to work with your lecturers to find suitable resources to develop your learning.
Redesign instructions to help you use the moving shelves.
---

We want to help prepare you for life after University. We plan to:
Design workshops and tutorials to help you develop skills to use when searching for jobs and in the workplace
Help you find and evaluate library resources about the sector and the companies that you may wish to work for.
Create more opportunities for you to volunteer with us.
---

Creating "Our commitment to you" wouldn't be possible without your feedback. Here's how we plan to ensure your opinions are heard:
Schedule more 'Shape Our Library' events.
Create a webpage for you to leave feedback, and for us to continue to monitor any feedback received. Continue to respond so you can see what changes are made as a result of your comments.
Offer all students the opportunity to become Library Champions to provide us with a sounding board and contribute to shaping our services for you.
Update our commitment to you every year.
---
Thank you for taking the time to read our commitment to you.
We look forward to hearing your opinions and feedback at our next feedback event. If you can't attend an event, why not talk to a member of staff or get in touch via email or twitter.