"Open for Climate Justice" is the theme for this year's International Open Access Week (October 24-30).
"Climate Justice is an explicit acknowledgement that the climate crisis has far-reaching effects, and the impacts are "not be[ing] borne equally or fairly, between rich and poor, women and men, and older and younger generations," as the UN notes (United Nations, 2019). These power imbalances also affect communities' abilities to produce, disseminate, and use knowledge around the climate crisis. Openness can create pathways to more equitable knowledge sharing and serve as a means to address the inequities that shape the impacts of climate change and our response to them.
This year's focus on Climate Justice – one of the UN's Sustainable Development Goals – seeks to encourage connection and collaboration among the climate movement and the international open community. Sharing knowledge is a human right, and tackling the climate crisis requires the rapid exchange of knowledge across geographic, economic, and disciplinary boundaries" (SPARC/Open Access Advisory Committee, 2022).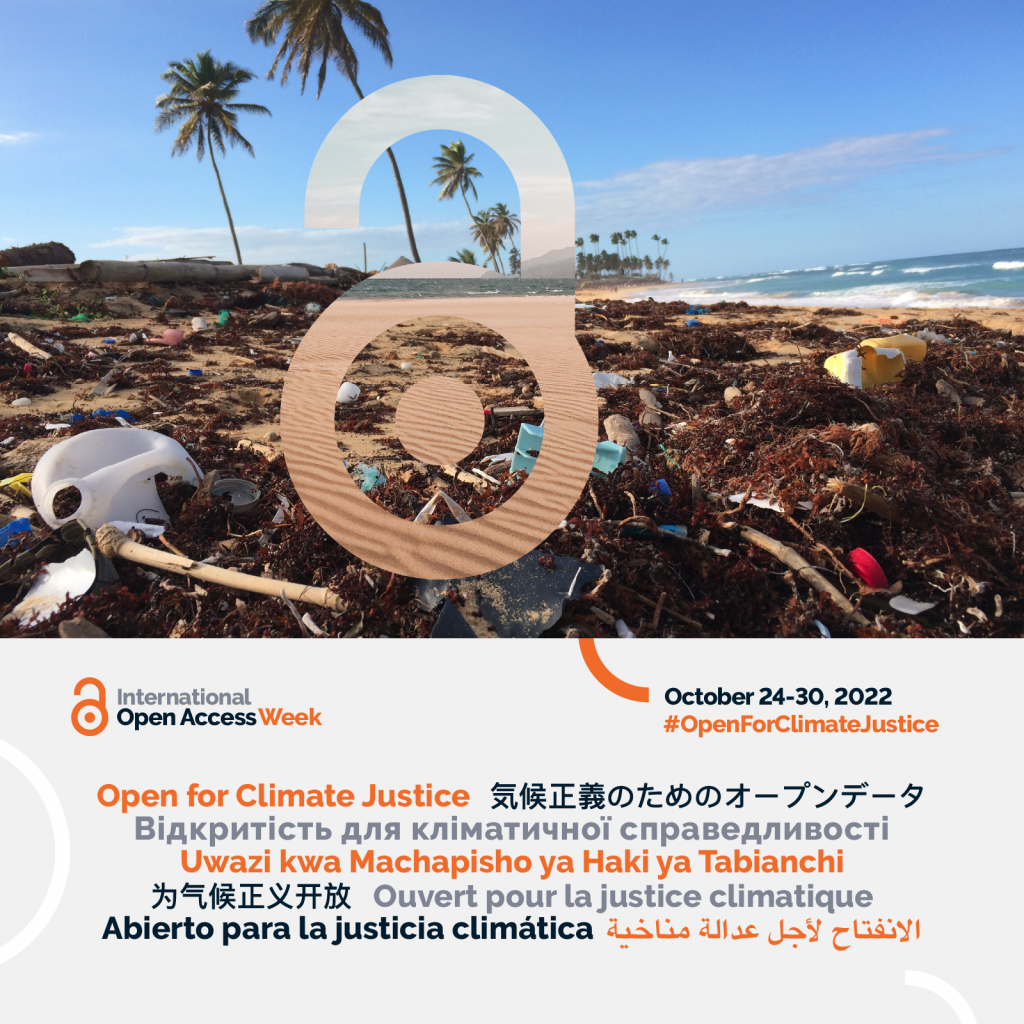 It should not matter where we are in the world, or which institution we belong to or are employed by. Everyone should be able to access the research outputs at the point of need, and whether or not people can access research should not depend on their income or the income of their institution. Within the scholarly publication system itself, we need a focus on non-discrimination, equality and equity in the distribution of costs and benefits, in order to try to create a just and sustainable environment. Yamey (2008), argues that open access publishing is a socially responsive and equitable approach to knowledge dissemination, and subscription fees that exclude the poor from access to scholarly resource are a rights violation. As Willinsky (2006) says:
"the right to know is not solely about having access to knowledge that will prevent harm or reduce suffering, rather [it] is about having fair and equitable access to a public good".
For more information about International Open Access Week, please visit openaccessweek.org. The official Twitter hashtag for the week is #OAWeek.
Bibliography
United Nations (2019) Climate Justice. Available at: https://www.un.org/sustainabledevelopment/blog/2019/05/climate-justice/ (Accessed: 14th October 2022)
SPARC/Open Access Advisory Committee (2022) Theme for Open Access Week 2022: Open for Climate Justice. Available at: https://www.openaccessweek.org/theme/en (Accessed: 14th October 2022). CC-BY
Willinsky, J. (2006) The access principle: the case for open access to research and scholarship. Cambridge, MA: MIT Press.
Yamey, G. (2008) 'Excluding the Poor from Accessing Biomedical Literature: A Rights Violation That Impedes Global Health', Health and Human Rights, 10(1), pp. 21-42.