Nine films available to watch on BoB for free during this Mental Health Awareness Week

The Mental Health Foundation works to prevent mental health problems and is the home of the #MentalHealthAwarenessWeek. This year, they have chosen Kindness as their main focus because:
"One thing that we have seen all over the world is that kindness is prevailing in uncertain times. We have learnt that amid the fear, there is also community, support and hope. The added benefit of helping others is that it is good for our own mental health and wellbeing. It can help reduce stress and improve your emotional wellbeing."
We have decided to join their efforts to spread kindness, by making a playlist of films about kindness on BoB and other ways which you can keep an eye on our social media. You can find it at: https://learningonscreen.ac.uk/ondemand/playlists/262869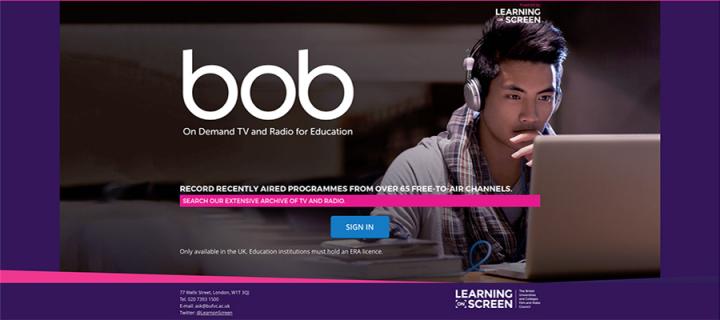 About BoB
BoB stands for Box of Broadcasts and it is provided as a subscription service by the British Universities Film & Video Council (BUFVC) for UK higher and further education institutions in collaboration with Bournemouth University.
Canterbury Christ Church University subscribes to BoB which enables all staff and students to select and record any broadcast programme from over 60 TV and radio channels.
The recorded programmes are kept indefinitely and they are added to a growing media archive with all content shared by users across every subscribing institution.
The system allows staff and students to record and catch-up on missed programmes on and off-campus, schedule recordings in advance, edit programmes into clips, create playlists, embed clips into VLEs, share what they are watching with others and search a growing archive of material. We have also made an online guide to using BoB.
Our Picks
Pay It Forward (2000)
Young Trevor McKinney, troubled by his mother's alcoholism and fears of his abusive but absent father, is caught up by an intriguing assignment from his new social studies teacher, Mr. Simonet. The assignment is to think of something to change the world and put it into action. Trevor conjures the notion of paying a favour not back, but forward – repaying good deeds not with payback, but with new good deeds done to three new people. Trevor's efforts to make good on his idea bring a revolution not only in the lives of himself, his mother and his physically and emotionally scarred teacher, but in those of an ever-widening circle of people completely unknown to him. The film does not have a happy ending, but if you decide to take a chance on it, it might help change you in some ways. (source)
Wonder (2017)
Based on the New York Times bestseller, WONDER tells the story of August Pullman. Born with facial differences that have prevented him from going to a mainstream school, Auggie becomes the most unlikely of heroes when he enters the local fifth grade. As his family, his new classmates, and the larger community all struggle to discover their compassion and acceptance, Auggie's extraordinary journey will unite them all. (source)
Akeelah and the Bee (2006)
Eleven year-old Akeelah Anderson's life is not easy: her father is dead, her mom ignores her, her brother runs towards trouble. She's smart, but her environment threatens to strangle her aspirations. Responding to a threat by her school's principal, Akeelah participates in a spelling bee to avoid detention for her many absences. Her principal asks her to seek coaching from an English professor named Dr. Larabee for the more prestigious regional bee. Akeelah could provide her community with someone to rally around and be proud of but only if she can overcome her insecurities and her distracting home life. She also must get past Dr. Larabee's demons, and a field of more experienced and privileged fellow spellers. The fact that all of the real protagonists in the film are minorities brings an added depth to the film. (source)
Amélie (2001)
Amélie is a story about a girl named Amélie whose childhood was suppressed by her Father's mistaken concerns of a heart defect. With these concerns Amélie gets hardly any real life contact with other people. This leads her to resort to her own fantastical world and dreams of love and beauty. Later on becomes a young woman and moves to the central part of Paris as a waitress. After finding a lost treasure belonging to the former occupant of her apartment, she decides to return it to him. After seeing his reaction and his new found perspective – she decides to devote her life to the people around her. (source)
Kiki's Delivery Service (1989)
Kiki, a witch-in-training, has reached the age of 13. According to tradition, all witches of that age must leave home for one year, so that they can learn how to live on their own. Kiki and her talking cat Jiji fly away to live in the seaside town of Koriko, where kindness of people helps her settle down and start her own delivery service. (source)
The Blind Side (2009)
Michael is a teenager who has no idea who his father is and his mother is a drug addict. He has had little formal education and few skills to help him learn. Leigh Anne and Sean take Michael in as a homeless teenager and Leigh Anne soon takes charge, ensuring that the young man has every opportunity to succeed. When he expresses an interest in football, she goes all out to help him, including giving the coach a few ideas on how best to use Michael's skills. They not only provide him with a loving home, but hire a tutor to help him improve his grades to the point where he would qualify for an NCAA Division I athletic scholarship. (source)
Queen of Katwe (2016) Living in Katwe, a slum in Kampala, Uganda, is a constant struggle for 10-year-old Phiona, her mother Nakku Harriet and younger members of her family. She and her younger brother help their mother sell maize in the market. She also helps care for her baby brother. Her world changes one day when she meets Robert Katende at a missionary program. Katende coaches soccer and teaches children to play chess at a local centre. Curious, Phiona approaches and learns the game. She becomes fascinated with chess and soon becomes a top player. (source)
Trevor Preston – Small Acts of Kindness (2011)
In his late sixties and with his writing career all but dried up, Charlie starts to paint again. Invigorated, he spends his free time supporting his contemporaries who have found themselves alienated and impoverished by modern life. Soon it is not just his desire to paint that is revived. (source)
In Business (2014)
The Business of Kindness – Revisited
Random acts of kindness can help businesses grow in surprising ways. Peter Day talks with a woman who explains how the generosity of others has made all the difference to her company. Henrietta Lovell, the Rare Tea Lady, started her firm just before becoming seriously ill. Through the kindness of strangers she has managed to return to health and run a prosperous company. She is now a great advocate for spreading the idea that kind gestures are an important force in the way we conduct our personal and professional lives. (source)
We hope you will enjoy these and let us know what are your favourite films and programmes about kindness. If you want to participate in the #MentalHealthAwarnessWeek you can:
Reflect on an act of kindness. Share your stories and pictures (with permission) of kindness during the week using #KindnessMatters and #MentalHealthAwarenessWeek
Use Mental Health Foundation resources in your family, school, workplace and community to join with thousands in practising acts of kindness to yourself and others during the week
Share your ideas on how you think we could build a kinder society that would support our mental health using #KindnessMatters and #MentalHealthAwarenessWeek and don't forget to tag @ccculibrary on Twitter – we would love to see your ideas!