A wide variety of businesses these days are exploring various online mediums as a way to provide additional support to their customers and clients. This includes educational establishments such as Canterbury Christ church University, where you can now find help and support with such departments as Library & Learning Resources, IT and the I-Zone. There are so many benefits to using our Live chat system, keep reading to find out more…..
How to find us
Options for live chat can be identified on various Canterbury Christ Church webpages by the appearance of a little blue box in the bottom right hand corner.

These webpages are numerous; so you are never far from the chat button and some help. These include webpages for new, current and graduated students. You can also find the link on many of the webpages that provide students with support and information, especially those that are linked with the Library, IT and the I-zone.
When is Live Chat available?
All three departments strive to provide chat as a support channel every day during staffed hours (this is very rarely reduced i.e. illness, bank holidays). You can find the most up to date hours for the Library here (support from IT and I-zone is provided on a similar timescale).
How to use Live Chat
It's nice and easy! Once you click on the chat with us option, check to see if the chatbot can provide the answer to your query; if not select chat to person at the bottom of the menu. You will then be provided with an option to speak to either the library, i-zone or IT. You will then be asked to enter your name and student ID if you are already a part of CCCU. Don't worry if not, you can still use live chat as a visitor and bypass this question.
Accessing Live Chat is nice and easy
Having the ability to find the answer yourself
Composing the perfect question
The service is designed to provide you with quick assistance
Live chat provides the opportunity to multi-task
Ending the service on a high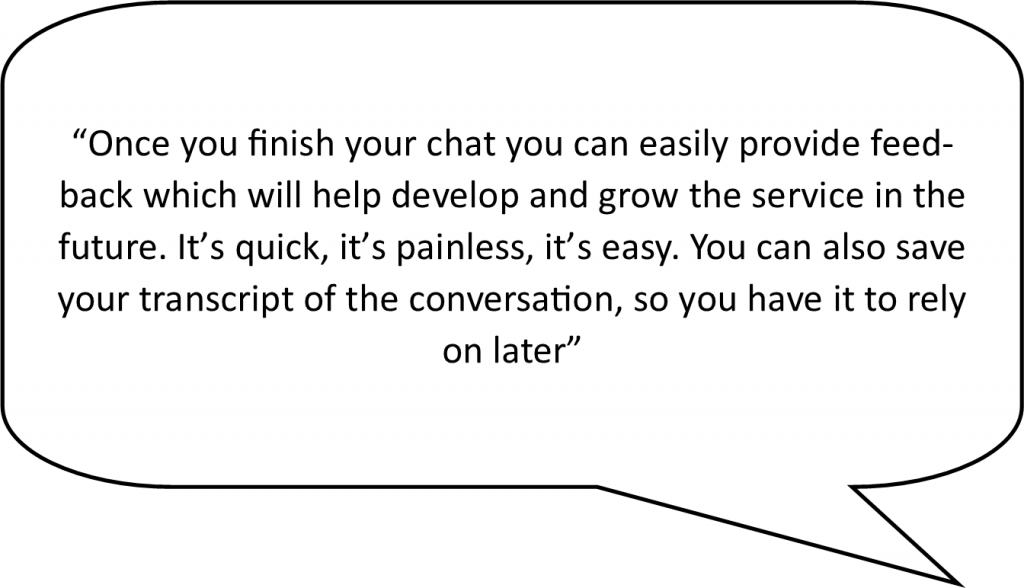 To find further information on the times Live chat is staffed or to locate information on other customer service facilities please check here.
There might be times when you feel a phone call, email or face to face discussion is more appropriate, so please do contact us via one of these means if that is the case. For example your enquiry might include a physical or electronic document which cannot be shared via Live Chat.
We hope that you have found this blog useful and that you feel encouraged to contact us through Live Chat in the future. If you encounter any further advantages to using Live chat and your overall experience of the service, then please let us know, we can add it to the blog to assist future users.