LGBT History Month 2019 Faces – Marsha P Johnson: Drag Queen, 1945 – 1992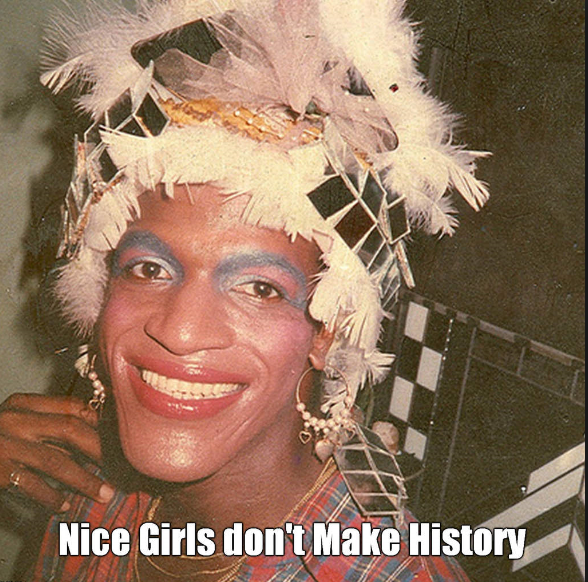 'I WAS NO ONE, NOBODY, FROM NOWHERESVILLE, UNTIL I BECAME A DRAG QUEEN'.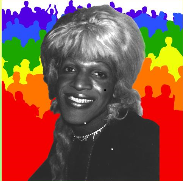 Early years
 Marsha was born Malcolm Michaels Jnr in New Jersey, USA, one of seven children who had a fairly traditional Christian working-class upbringing. Johnson first began to wear dresses when she was five years old but stopped for a while as she was subjected to harassment by local boys and was also sexually assaulted.  After graduating from High School, she left home and lived and worked in Greenwich Village in New York City and, for a while, earned a living by waiting on tables.
Drag days
She decided to use Marsha P Johnson as her drag queen name. When asked what the 'P' stood for, she always said 'Pay it no mind'.  She identified herself in various ways: as gay, as a transvestite and as a drag queen, although she said that her style of drag was low-key.  She was known for putting flowers in her hair and often dressed colourfully which drew attention. Johnson sang and performed with a New York City-based group called the Hot Peaches for over 20 years and during this period was photographed by Andy Warhol as part of his 'Ladies and Gentlemen' series of Polaroids.
Stonewall and Activism
Allegedly, Johnson was one of the first drag queens to go to the Stonewall Inn after women and drag queens were allowed in there. On June 28 1969, the Stonewall uprising happened which comprised two nights of intense rioting followed by a week or so of demos, marches and clashes with police through the gay neighbourhood of Greenwich Village.  The participants were protesting against the Stonewall Inn, which welcomed gay men, being raided by the police; this was a common occurrence in the 1960s.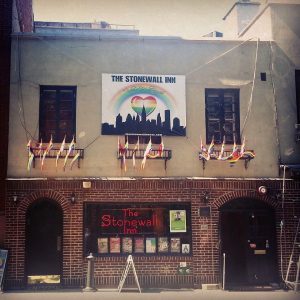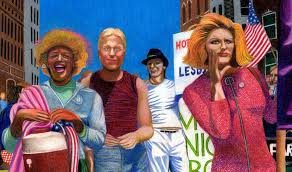 Radical gay politics
There is still some controversy over Johnson's involvement in the start of the riot in the early hours of that morning. Some say she was already there, others say she joined in once the riot was well and truly underway.  However, after the riot, she joined the Gay Liberation Front and participated in the Gay Pride rally on the first anniversary of the Stonewall rebellion in June 1970.  Shortly afterwards, she and her friend Sylvia Rivera founded the 'Street Transvestite Action Revolutionaries' (STAR).  They both became heavily involved with gay liberation and radical gay politics, but in 1973 they were banned from taking part in a gay pride parade by the gay and lesbian committee which felt that drag queens were 'giving them a bad name'.  As a result, Johnson and Rivera marched ahead of the rest of the parade.  The two of them also established STAR House which was a shelter for gay and trans street kids and used the money they earned as sex workers to pay for the rent.  They also provided emotional support for many other drag queens, trans women and gay street kids trying to exist in the Greenwich Village area.
By the 1980s, Johnson had become a respected participant in 'ACT UP', or AIDS Coalition to Unleash Power, an AIDS advocacy organisation which was founded in New York City in 1987 in response to the AIDS crisis. The group's first action, in the spring of 1987, was a march on Wall Street to protest about the high cost and lack of availability of HIV treatments.  There followed several other well-publicised protests.
Dark days
Whilst being praised for her activism and support to those who were in need, Johnson suffered throughout her life from depression and mental health issues. She was arrested about 100 times and reported that she had experienced a breakdown in 1970 and she also had many psychotic episodes that required lengthy hospital treatment. She was fun and warm-hearted as Marsha, but when she reverted back to her Malcolm persona, she could be aggressive and even violent.
Soon after the 1992 Gay Pride parade, her body was found in the Hudson River and it was believed initially that she had committed suicide. However, there were reports of her being chased by a gang of men, one of whom had supposedly bragged about killing 'a drag queen named Marsha'. In 2012, another activist, Mariah Lopez, persuaded the New York police department to reopen the case and to investigate Marsha's possible murder. Her case officially remains open.
Two films have been made about Marsha since her death: a documentary in 2012 entitled 'Pay it no mind: the life and times of Marsha P Johnson' and 'The Death and Life of Marsha P Johnson' in 2017.