LGBT History Month 2019 faces – Robert Graves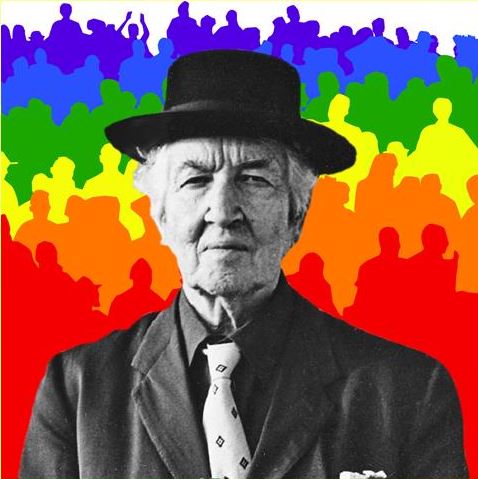 Robert Graves is the Bisexual Face for LGBT History Month 2019. He was a British poet and writer, who also participated in world War 1 as a Fusilier. Much of Graves' work is influenced by his time at war, labelling him as one of the 'War Poets'. His other influence was the relationships he had, throughout his life, with individuals of both sexes.
Robert Von Ranke Graves, more often known as Robert Graves was born on the 24th July 1895 in Surrey, England. He was very shy in his youth, especially with the opposite sex, preferring to spend his time reading and writing poetry.
In his teens he started living at Charterhouse in Surrey, a public boarding school for boys. Graves became a member of the choir group and boxing society, he also, for a short time, was the assistant editor to the Carthusian. However, his primary area of interest and study revolved around poetry.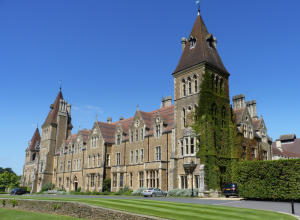 It was during this time that Graves encountered two of his first 'loves';
The first was through the boxing society, where Graves became interested in an older student of three years. In later years Graves's thoughts returned to his boxing days: 'there is a lot of love in boxing – the dual play, the reciprocity, the pain not felt as pain' (Graves,1957, p.44). Unfortunately, due to a disagreement on religious views, things didn't last.
It was around this time Graves wrote a let to fellow writer Edward Carpenter. In this letter he thanked Edward for setting him free from his worries and concerns over sex and sexuality, after reading Carpenter's work.
Around 1913, while singing in the choir, Graves met and instantly fell in love with G.H. Johnstone. They spent much time together even though he was several years younger. This relationship was more sentimental than sexual; however, Graves would verbally stand up for the relationship if anyone referred to it negatively.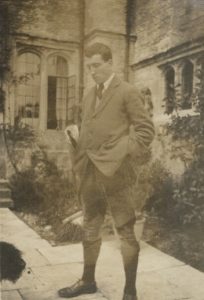 Romance is necessarily homosexual. The opposite sex is despised and treated as something obscene. Many boys never recover from the perversion. For every born homosexual, at least ten permanent pseudo-homosexuals are made by the public school system; nine of those ten as honourably chaste and sentimental as I was. (Graves,1957, p23)
Around the start of the First World War Graves enlisted. It was here that he became known as a war poet and developed close relationships with poets Siegfried Sassoon and Wilfred Owen. He also remained in contact with Johnstone. This relationship came to a sudden end in 1917 when Graves discovered that Johnstone had been convicted of sexual advances towards a fellow soldier. The publicity from this event caused Graves great fear and caused him to totally remove this period from his life.
It was on one particular visit to hospital from injuries that he met a probationer nurse by the name of Marjorie. Graves suddenly found his emotions and love being directed in a totally different direction. He would often visit Marjorie when he was able and continued until the day that Marjorie became engaged.
After the war Graves became a student of literature and poetry and trained as a teacher. It was during this time that Graves met and fell in love with, his first wife, Nancy Nicholson. Nicholson was an artist and was asked if she would illustrate several of his poems. Nicholson was also a feminist and introduced Graves to a different way of viewing the world and society: 'as a follower of Samuel Butler he applauded Nancy's spirited attacks upon convention; and as a romantic Robert wished to adopt Nancy's ideals as his own.' (Graves,1995, p188)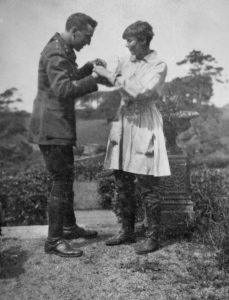 During this time they had four children and lived abroad in Egypt, while Graves took up a post teaching at Cairo University. However, darkness loomed. While studying, Graves had become interested in Laura Riding through her poems. It didn't take long for Graves to invite Riding over to England and work alongside him on various projects. Graves and Nicholson then invited Riding to join them on their move to Egypt. Over time the three became very close, forming more of a relationship than friendship.
They returned to England and a fourth member of the relationship was soon discovered. Geoffrey Phibbs, like Graves, had also begun to communicate with Riding and was soon invited over from Ireland. Over time loyalties moved from one person to another. It was these changes that eventually lead Riding to leap from a four storey window, closely followed by Graves. This was the beginning of the end in many ways. Nicholson divorced from Graves, giving Graves and Riding the opportunity to move to Majorca, before going their separate ways.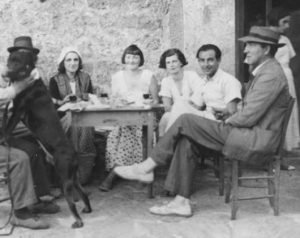 Eventually Graves met his second Wife Beryl, had a family and lived out a very happy life. Much of this time, was focused on his poetry; it is believed these writings were influenced by events and people within his lifetime. Towards the end of Graves's life the BBC produced a short televisual series based around Graves's book 'I Claudius'.
Discovering Robert Graves
As Robert Graves was an Author, I had high hopes that the library would hold some of his work. I began my research by visiting LibrarySearch and performing a simple search using the authors name. I then limited my search criteria by selecting on shelf items only and using the additional filters to select the relevant 'Robert Graves'.
I then had a discussion with the Learning and Research Support Librarian for English Literature and enquired if there were any online resources that would be able to support my work. It was suggested that I take a look at Project Muse, an online database providing full text articles. I located Project Muse by using the Find Databases A-Z link on LibrarySearch. I then found Project Muse under P; side note, don't forget to login to LibrarySearch when accessing online resources.
It's also worth noting, for anyone out there that is interested. The entire 'I Claudius' BBC production is available through Box of Broadcasts (BoB). You can use BoB to watch pre-recorded programmes or schedule recording requests for upcoming shows. You can also create a playlist, such as my 'I Claudius' playlist containing all 12 episodes.
Graves, R. (1957) Goodbye to all that. Middlesex, England: The Penguin Group.
Graves, R. P. (1995) Robert Graves – The Assault Heroic 1895-1926. Great Britain: Weidenfeld & Nicolson.