LGBT History Month 2019 Faces – Marielle Franco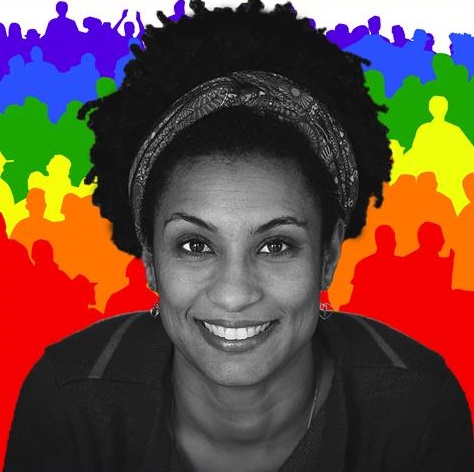 A voice that could not be silenced
Marielle Franco is the Lesbian Face for LGBT History Month 2019. A councillor who grew up in one of Rio de Janeiro's most dangerous favelas, Franco was a human rights activist who campaigned against police corruption and violence, and on behalf of Brazil's most vulnerable. She was a proud member of the LGBT community, and one who fought tooth and nail for its safety and rights. When she was murdered on 14th March last year, the loss of her vital and outspoken voice was felt keenly throughout the country. She was a rising political star who fought with integrity, charisma, and determination, and her death sparked outrage and demonstrations in Brazil and across the globe.
The Favelas' Champion
A mother at 19, Franco raised her daughter single-handedly while working and studying, gaining undergraduate and Master's degrees in social sciences and public administration respectively. Her political career began in 2007 as consultant for state representative Marcelo Freixo. She also coordinated the state legislature's Committee for the Defence of Human Rights and Citizenship, as well as working for multiple civil society organisations.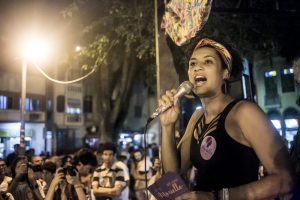 Franco ran for a seat on the Rio de Janeiro city council in the 2016 municipal elections, positioning herself as a representative and defender of poor, black women, and residents of Rio's favelas. She was elected with the fifth highest vote total out of more than 1500 candidates. As a member of the council Franco fought for reproductive rights and against gender violence. She chaired the Women's Defence Commission and formed part of a four-person committee that monitored the federal intervention whereby the army were given control of the state's police forces and prisons. Franco worked with the Rio de Janeiro Lesbian Front and presented a bill to create a day of Lesbian Visibility in Rio in August 2017 but the bill was defeated by a slim margin. Crucially, she used her platform to investigate, denounce, and organise against police violence against the city's poor, black population. Dedicated to addressing injustice, Franco was a truly intersectional activist. Her keen insight into, and understanding of, the imbalances of power at play in Brazilian politics and the importance of identity made her a champion of those she served.
Moving Structures
The nature and focus of Franco's work sadly made her a target for reprisals from those against whom she battled. In the days before her death, she publicly denounced Brazilian police brutality on social media, decrying the recent deaths of a number of poor, young, black men, the latest in a long line of violent killings. Marielle Franco and her driver, Anderson Pedro Gomez, were assassinated by drive-by shooters as they were leaving a round table discussion Franco had attended about the movement and change of power structures by young, black women. While no one has been formally charged with Franco's murder, the bullets used matched a batch bought and used by the Brazilian federal police. Franco's fiancée Monica Benicio has stated that she has no doubt the murder was politically motivated. Heartbreakingly, Benicio has said that she is "waiting for her to come back any time now".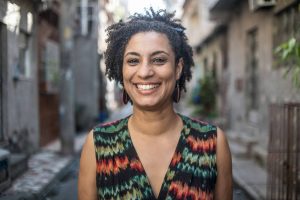 Marielle, Presente!
With the recent election of Brazilian right wing President Jair Bolsonaro, a man who has been labelled 'Brazil's Biggest Homophobe' by LGBT magazine The Advocate, it might feel as though we are on a backwards slide. That the inclusive, celebrative society Franco was reaching for is slipping further away. Indeed, it is difficult to think of two more opposing figures than Franco and Bolsonaro. The latter represents the values, attitudes, and style of governmental rule that the former sought to expunge, and it is frightening to think what a lurch to national conservatism might mean for Brazil's LGBT population. Marielle and Monica, though engaged to be married, had faced many difficulties in being together over the years and often struggled to find acceptance and recognition as a same sex couple. It is very troubling to contemplate that the societal rejection they encountered might be on the rise instead of dissipating with the progression of time. But the public uproar and outpouring of grief following Marielle Franco's murder has demonstrated encouragingly that there are large numbers of people that share her vision, and will continue her fight. It is hard not to imagine what level of national and global influence Franco might have been able to reach, and how much positive change she might have been able to enact had she been given the chance, but it is vital that her efforts and her passion are not forgotten and that the torch that she carried is passed on and kept aflame.
Discovering Marielle
While researching the life and work of Marielle Franco, I found the database LexisLibrary Newspapers UK incredibly helpful. This can be accessed through LibrarySearch under the 'Find Databases A-Z' link on the homepage. It is perhaps sometimes easy to forget that the library collection is so much more than hard-copy books; if you're conducting research on an area or question for which the library doesn't hold much in its physical collection, there is a wealth of online resources to explore.  I conducted a general search on LexisLibrary for all news articles I could find about or that made mention of Marielle Franco but as you can see from the screenshot below you can really narrow your search if you have a more specific research topic in mind.
One article I came across led me to a Guardian documentary about Marielle and Monica, and their activism in Bolsonaro's Brazil, which you can watch below (it can be really quite exciting to follow the journey from one resource to another and so on once you get started).
I was also able to use LibrarySearch to find some relevant journal articles and news excerpts, including a couple of pieces written by Franco herself, by selecting the 'Eresources CCCU' drop down option on the search homepage. If you are having difficulty with searching for resources, or would like some tips on the most effective ways to search, we recommend getting in touch with the Learning and Research Support Librarian for your faculty, who will be more than happy to give you a helping hand. Learning about Marielle Franco through the CCCU library's resources has been a very moving experience, and I am glad to have had the opportunity to share her story with this blog.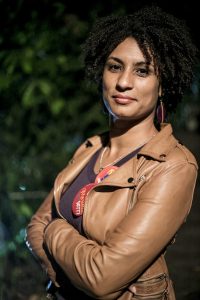 Marielle Franco 1979-2018
Rest in Power.