LGBT History Month 2019 Faces – Magnus Hirschfeld and the first LGBT+ film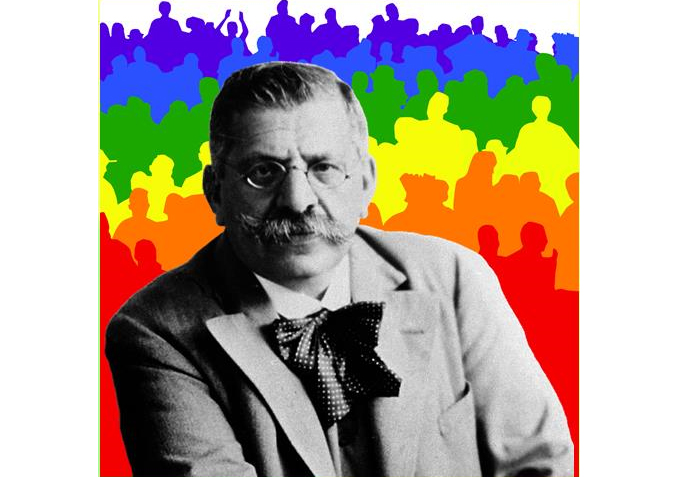 "Love for one's own sex can be just as pure and noble as that for the opposite sex."
– Magnus Hirschfeld – Intertitle from the film Different from the Others.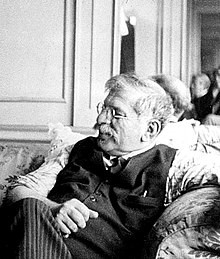 Magnus Hirschfeld is one of the four chosen faces for this year's LGBT History Month campaign. Hirschfeld was born into a Jewish family in Kolberg. He was the son of a Doctor, a highly regarded physician Hermann Hirschfeld. Magnus followed in his father's footsteps and studied medicine eventually earning his doctoral degree in 1892. However a tragic act of suicide changed Hirschfield's path from general medical practice to sexology and forming the Scientific-Humanitarian Committee a group that advocated for homosexual and transgender rights.
The Suicide Letter
Hirschfeld switched from general; medical practice to sexology after "the suicide of a young officer who shot himself on the eve of his marriage, bequeathing Hirschfeld many of his notes and drawings" (Bauer 2017, p.39). In his suicide note, the officer wrote that he "will kill himself as he lacks the "strength" to tell his parents the "truth" and stop a marriage "against which nothing could be said in and of itself". (Bauer 2017, p.40). The soldier ultimately pleads for Hirschfeld to dedicate his life to the homosexual cause "The thought that you [Hirschfeld] could contribute to [a future] when the German fatherland will think of us in more just terms… sweetens my hour of death" (Bauer 2017, p.41). It's hard to imagine the weight those words placed upon Hirschfeld, a responsibility bestowed, the spark to try and bring about change.
Scientific-Humanitarian Committee
Hirschfeld founded the Scientific Humanitarian Committee in Berlin on the 15th May 1897. With an initial focus to force a repeal of paragraph 175, which made homosexual acts between males a crime. Petitions were submitted to Parliament in 1898, 1922 and 1925, with famous signatories including Albert Einstein and Leo Tolstoy. Parliament failed to endorse any changes to the law and it continued to criminalise all male-male sexual acts until 1969. It wasn't entirely removed in West Germany until four years after the fall of the Berlin Wall in 1994.
Committee would go on to campaign for the social recognition of gay, bisexual and transgender men and women, and against their legal persecution by assisting defendants in criminal trials and conducting public lectures.
It is widely regarded as the first LGBT rights organization in history.
Anders als die Andern
'Those who work to educate people about sexual matters not only have the right, but the duty to use film, in addition to the spoken and written word' – Magnus Hirschfeld (Linge, 2018).
Hirschfeld clearly saw potential in the medium of film. A chance to reach a wider audience and a different audience to those who would bury themselves in scientific journals or textbooks.
Anders als die Andern (Different from the Others) was directed by the Austrian film‐maker Richard Oswald, in collaboration with Hirschfeld. The film is said to be the first of its kind to sympathetically portray homosexuality and petition for the decriminalisation of homosexual acts between men (Dyer 1990, p.7)
Hirschfeld made a small cameo in the film playing himself. He appears in a clip that can be seen here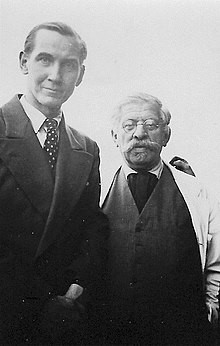 Karl Giese (pictured here with Hirschfeld) also had a small part in the film as the violinist Paul Körner. Giese and Hirschfeld first met after a lecture that Hirschfeld gave in Munich. Giese came to work at Hirschfeld's Institute of Sexual Research. They worked alongside each other, grew close and became lovers. A bond described by Hirschfeld as both physical and mental.
The film was released in 1919 and initially had a successful run at the cinema. Unfortunately conservative religious groups and right wing anti-semitic groups started to protest against the film. In May 1920 a Censorship Commission was setup and its first review was Different from the Others. It was banned from public screening by October 1920. (Steakley , 1999).  Access to the film was limited to medical professionals. To keep the film alive Hirschfeld edited large portions of the movie into an academic sex education film called Laws of Love.
In 1930 Hirschfeld left on a world tour. Giese stayed behind to manage the Institute, and when Hirschfeld opted to not return during the rise of the Nazi regime, Giese left for Paris to join him. In 1933, less than four months after the Nazi party took power, they removed all the volumes from the Hirschfeld Institute Library and burned them. All known complete copies of the film Anders als die Andern were destroyed and the film was believed lost for over 40 years.
Laws of Love however survived and within it 51 minutes of Different from the Others were kept safe. Censorship had meant to silence the film and instead it became its means of salvation from the Nazi regime. These 51 minutes have been restored, clips and excerpts from the film can be readily found on YouTube by searching by either the English or German name of the film. You can watch more about its restoration in the video below.
Hirschfeld passed away in 1935.
Discovering Magnus
As a lover of cinema I was already aware of the incredible story of Different From the Others, so I was glad of the opportunity to find out more about the life of Magnus Hirschfeld.
I quickly found material by typing either Magnus Hirschfeld or Different from the others into the search box of LibrarySearch, the University's online discovery tool.
I found a fascinating e-book I could read online The Hirschfeld Archives: Violence, Death and Modern Queer Culture by Heike Baus. All I had to do was click on the blue "View content" button and then click on the link.
I also found the book Now you see it: studies on lesbian and gay film on the shelves in Augustine House library. The first chapter is all about the film Anders als die Andern.
I used this handy guide on how to find items in the Library to locate it on the shelves.
There were useful online journal articles too. Have a look at the references below to see what resources I found and used to create this blog post.
If you are having difficulty with searching for resources, or would like some tips on the most effective ways to search, we recommend getting in touch with the Learning and Research Support Librarian for your faculty, who will be more than happy to give you a helping hand.
References
Bauer, Heike (2017) The Hirschfeld Archives: Violence, Death and Modern Queer Culture. Philadelphia: Temple University Press.
Dyer (1990) Now you see it: studies on lesbian and gay film. London: Routledge.
Linge, Ina (2018) 'Sexology, Popular Science and Queer History in Anders als die Andern (Different from the Others)', Gender & History, 30(3), pp. 696-703.
Steakley, James D. (1999) 'Cinema and Censorship in the Weimar Republic: The Case of Anders als Die Andern', Film History, 11(2), pp. 181-203