Introducing Click and Study
Our Click and Study service makes a number of bookable computer desks and study spaces in Augustine House available for essential work, research or study to CCCU students.
Study spaces, PCs, Macs and printing facilities are available on all floors of Augustine house. We continue to test our processes, build confidence and look to increase the study space coverage over the coming weeks.
How to book a computer desk or a study space
The study spaces are to be used for individual study and will be 2 metres apart from each other. Social distancing will be in place throughout. Computer desks and study spaces can be booked for 3 hour sessions during the opening times of the building:
8am – 10pm (Monday – Friday)
10am – 5pm (Saturday – Sunday)
You can book multiple sessions in a day. Due to the need to regularly clean study spaces, not all study spaces will be available at all times throughout the day. Visit Introducing Click and Study for details.
You will need to wear a face mask/covering when walking around the building but you may remove it when seated at your study space which will be more than two metres away from another person. Please read the student blog for full details of the University's face mask/covering policy.
Please sanitise your study space, mouse and keyboard with the wipes provided.
Study spaces can be booked up to two weeks in advance. You will require your smartcard to access the building before 9am and after 5pm.
Once we have reached the set amount of users at any one time we cannot admit anyone else.
As a courtesy and to free up the limited spaces available to other users, please cancel your booking if your plans change. When you make a booking, you are sent an e-mail confirmation which includes a cancellation link.
What facilities are available?
You will be able to: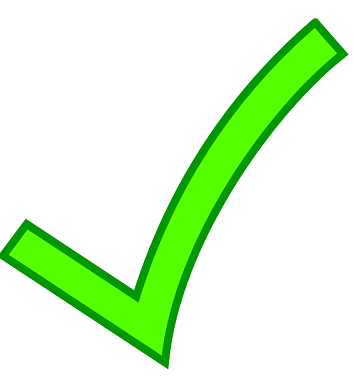 book a study space. We have 145 PCs, 7 Macs and 58 study spaces available.
book a height adjustable desk with a PC or Mac
book a group study room. The Group study rooms have a 2-person occupancy limit; only one of the pair needs to book the room. There are currently 4 available with another 2 available from the 1st September.
book a study pod near the Library Point.
access the shelves for any library items you need and borrow them via the self-service machines.
collect reservations and return items
use the printing, scanning and photocopying facilities. If you require additional printing credits, these can only be purchased online.
connect to the WiFi via the eduroam network.
use the atrium and touchdown cafes which reopen on the 1st September.
use the toilets and hand washing facilities.
use provided disinfectant wipes to clean your study space or the printer before and after use.
use the vending machines.
use the microwave.
make use of the braille room by prior arrangement with the student disability team.
use the baby changing and breastfeeding room
You won't be able to :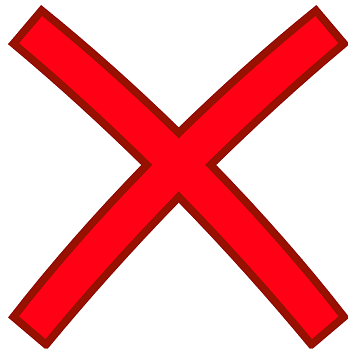 rearrange furniture, this has been laid out with social distancing in mind.
use water dispensers.
use lockers.
use charging lockers.
use i-borrows laptops, but you may bring your own laptop.
use LibrarySearch terminals, please use the LibrarySearch website instead.
use the Faith Space.
Please ensure:
you have received confirmation of your booking before arriving
that you bring your smartcard to enter the building before 9am or after 5pm.
that you wear a face mask/covering where appropriate.
that you sanitise your hands on entry to the library
that you wipe down your keyboard and mouse before and after use.
that you wipe down the printers before and after use
What other services are available in the Library?
The library will also be open by appointment only for:
Browse and Borrow, collect or return books – You can book a slot to access the shelves and borrow the items you need. You can also collect reservations and return items. You do not need to book an additional slot if you are booked for Click and Study.
Scan and Deliver – this new service will enable the ordering of digitised scans of journal articles and book chapters from the Augustine House print collection where copyright rules allow.
I've lost my Smartcard, can I still get access?
A Smartcard is required to access Augustine House before 9am and after 5pm. If you have lost or misplaced your smartcard, you will need to make arrangements for a replacement before you can enter Augustine House. Please contact the i-zone directly who will be able to provide further instructions on payment and delivery of your replacement Smartcard.
What safety and hygiene measures are in place?
The health and safety of our users and staff is our top priority.
The site requirements needed before we can launch these services include:
Certification that the building is safe to reopen for agreed, controlled activity within safe occupancy levels for a small core of staff.
Risk assessment and safety tests sign-off for the proposed activities (including arrangements for social distancing, physical protection including Perspex, cleaning and hygiene regimes, digital infrastructure set-up, and book quarantine measures).
Consultation with required staff about their return to work (to ensure they can travel safely to work premises; have caring arrangements in place for dependants; to take account of shielding arrangements etc.)
We are working closely with the University Health and Safety Officers to ensure we are providing a safe space.
These will include a number of health and social distancing measures, including:
regular cleaning protocols, with all surfaces, including the self-service borrowing and returning facilities, thoroughly and regularly cleaned.
providing hand sanitising stations.
providing sanitising wipes at study spaces and printers
hand soap in toilets, with posters showing how to wash hands thoroughly.
social distancing measures with signage indicating safe spacing in queues.
all returned items stored away for 72 hours until the risk of virus transmission has been mitigated. We have green boxes situated at library exits to place books you have used but do not want to borrow.
face masks or coverings are to be worn where appropriate. Read the University's guidance on face coverings on the student blog.
make QR codes available for use with the NHS COVID-19 contact-tracing app. Read contact-tracing in our libraries for details.
To prevent the spread of COVID-19 and reduce the potential risk of exposure to the virus, consider the following questions:
Have you returned from any overseas country within the last 14 days that would require you to self-isolate?
Have you had close contact with or cared for someone diagnosed with COVID-19 within the last 14 days?
Have you been in close contact with anyone who has travelled within the last 14 days to any overseas country that would require you to self-isolate?
Have you experienced any cold or flu-like symptoms in the last 14 days (to include fever, anosmia, cough, sore throat, respiratory illness, difficulty breathing?
If you answer yes to any of the above questions, then please do not leave home. Please ensure you follow the gov.uk guidance on self-isolation.
What if I need support when I am in the library?
You can contact the Library team by:
Visit the Library Point between 8:30 – 17:30 (Monday – Friday) or 11:00 – 16:00 (Saturday and Sunday)
Phone: 01227 922352
For more information see Need help?… Just ASK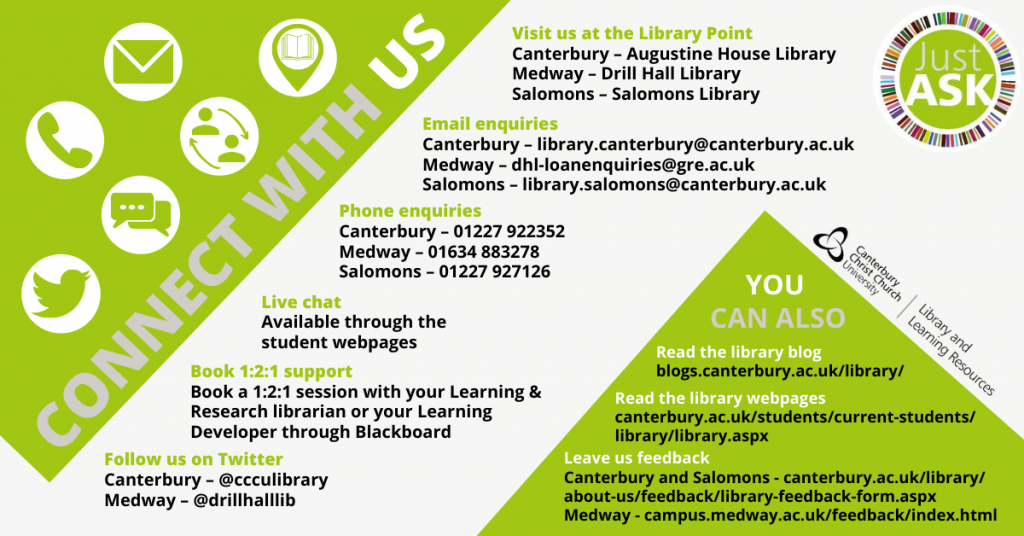 Can I come in a group?
Yes, you can visit in a group but each member of the group will need to pre-book individually and while inside the Library, you will need to maintain social distancing.
If you are in a pair, you can book a Group study room, which has a two-person maximum occupancy limit. To book the Group study room, only one of you needs to make the booking. Please respect other users working in the area and keep noise to a minimum.
Can I use the printer/photocopier/scanner?
Yes, printing, scanning and photocopying is available. Please wipe clean the printer before and after use with the wipes provided.