It's very important to us that our services are based on the needs and motivations of our users. So we spend a lot of time designing and tweaking them with you in mind. To do this effectively, it's really important that we try to see the library from your perspective. To hear your voice. We want to find out how exactly you use the library, and what you think works well or less so. That's why we regularly ask for your feedback and carry out user experience research (UX).
Your feedback helps us to help you; to create comfortable and accessible study spaces, develop our collections and give you easy access to them. It helps us to design new ways to give support, and generally help you to get the best from the support, resources and facilities available to you.
How do we give you opportunities to make your voice heard?
Well, in a variety of ways, we use the vital feedback we receive from the annual student surveys to shape and improve our services. Those surveys are the:
NSS (National Student Survey) open to third year undergraduates;
PTES (Postgraduate Taught Experience Survey);
PRES (Postgraduate Research Experience Survey).
There's also our very popular (and swathed in sugary treats) Valentine's day 'Love or Let Down' letters event, where you can let us know anonymously what you think and feel about the library. In fact, we'll usually ask for your feedback on and via any regular library event or activity that takes place, like Stressless, for example.
We have regular, informal 'Shape Our Library' feedback events. You can drop by, meet the team, and tell us whatever is on your mind. You can talk to us about anything; whether it's library resources, borrowing, support, or spaces and facilities. Our next Shape our Library event is being held on Thursday 4 November, so please stop by between 12:00 – 2:00 and let us hear your voice.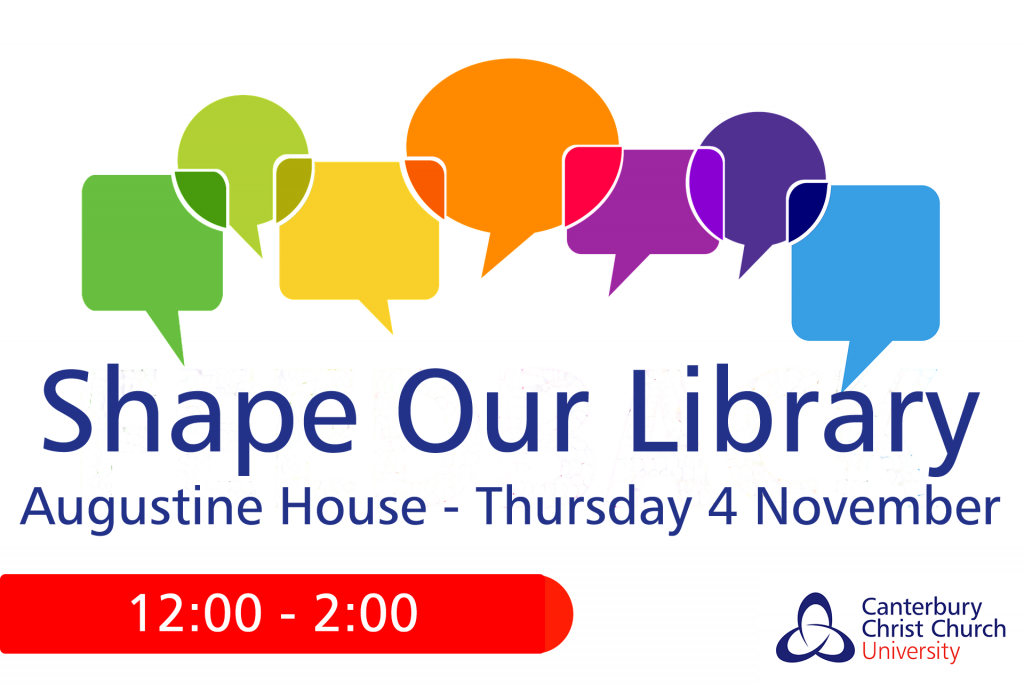 We've also added an online feedback form on our website. You can also leave us feedback on LibrarySearch and the Learning Skills Hub via the links on those pages.
Library Champions
We also give students the chance to volunteer as Library Champions, to help shape the future of library services. You'll act as a sounding board, take part in research and gather feedback. As a bonus you'll develop skills employers like, along the way. You can find out more here:
We liaise with student reps to help us understand your needs, and you can also just chat with a member of staff or contact us by email on library.canterbury@canterbury.ac.uk or Twitter. We really want to hear your views; you can tell us about any aspect of the library service, the important thing is that we get to hear your voice. Rest assured we really value your opinions and more importantly we act on them. They really make a difference.
Carrying out user experience (UX) research
We do a lot of UX research to try and see various aspects of present and future library services through your eyes. UX is a set of usually qualitative (and sometimes quantitative) research techniques that tell us about your experience of library services. We then look to improve them in the light of what we find. It's loosely based on the practices of ethnography and web design, but tailored to a library context. Other feedback methods tell us a lot, but UX techniques like, for example, 'field work' observation perhaps give a more complex user-focused picture of people's needs. As Andy Priestner says:
These are often hidden needs that our users do not articulate, find it difficult to describe, are unwilling to disclose, or don't even know that they have – which special ethnographic approaches are perfect for drawing out

(2015, cited in Potter, 2020).
And so, you might very well see us out and about in the library speaking to students, asking very lucky people to carry out tasks, or just hanging around stealthily with a clipboard observing this or that. You may have come across our requests for participation in research via social media, or indeed taken part (thank you if you have, by the way). If you take part in UX research you are really helping library staff to understand your needs and how things need to develop in library services. It's often also quite fun and a learning experience for all involved.
Why not follow Batman?
During 2019's Halloween feedback event ('Scarily Good or Frighteningly Bad?'), we had an intriguing participant…. the 'caped crusader' himself! Our vespertilian visitor to Augustine House was certainly much admired, and mysterious. Although he said very little, he did make his voice heard in written form, and for that we thank him. And so, why not follow Batman? Not necessarily by dressing up as a well-known character (although we don't discourage it), but by making your voice heard and helping to shape the future of the library for the better!
---
References:
Potter, N. (2020) UX in libraries resource list: a structured introduction to UX and ethnography. Available at: https://www.ned-potter.com/ux-in-libraries-resource-list (Accessed: 20 July 2020).
Written by Anthony Irwin, Library and Information Adviser