How are we responding to your feedback – Study space
"The library facilities, in particular, their extended opening times, have enabled me to reach deadlines for assignments and have offered me a comfortable, quiet space to reach them in. The team at the library have always been helpful and friendly. "
That's what one of the 5971 respondents said about the Library spaces in last year's student surveys. There are three main surveys depending on what type of student you are:
NSS (National Student Survey) open to third year undergraduates
PTES (Postgraduate Taught Experience Survey)
PRES (Postgraduate Research Experience Survey)
The feedback from all of them is a vital way that we shape and improve our services over the coming year and create our commitment to you.
Another student said
"The library has been a great place to do work for my 3 years"
but it wasn't all praise and we'd like to share how we've been working to improve things:
We have updated the Augustine House Library Code of Conduct which provides emphasis on the learning environment to enable you to study, research and develop as individuals. Areas of focus include respecting others, adaptable learning spaces, support & assistance and making sure we work/learn within a clean and safe environment.
The Code of conduct also explores the importance of us working together, both staff & students, to create an environment that we can all be proud of and that will benefit, all who use it.
The Code of conduct can be found on the library webpages;
https://www.canterbury.ac.uk/library/regulations-and-policies/regulations-and-policies.aspx
Three digital screens have been installed by the entrance to Augustine House. These allow you to view important information at a glance, much of which goes towards assisting with your studies and development.
• Events Screen – Find out what's going on in Augustine house and the wider university complex.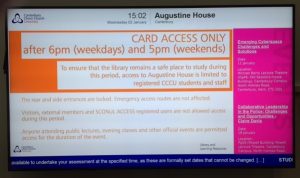 • Computer availability screen – Gives you an up to date information of how many computers are available in Augustine House and roughly where these can be found i.e. floor/wing. This information is live and updated regularly.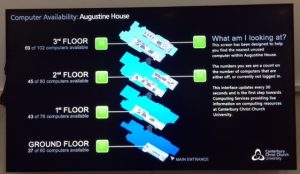 • Augustine House opening times – Lets you know when the building will be open and closed, while also providing information for the availability of support services.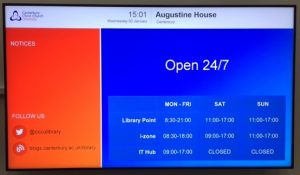 "I don't like that there is only one Silent Zone."

The second floor west wing, that was previously home to Curriculum resources, has now been setup as an additional Silent Study Zone. Curriculum Resources has been relocated to the east wing of the second floor and can be found on the moving shelving, situated at the back.
This second Silent Study Zone has also become the home for our print periodical and journal subscriptions.
"Would like group areas that you don't need to book in advance"

We understand that everyone has a preferred way of working; so to make this more evenly felt throughout Augustine House, we have re-zoned the first floor. The first floor Quiet Zone is now a Group Study Zone, containing furniture that reflects this change.
The Group Study Zone on the ground floor has also been updated to provide a range of different areas for study, as well as equipment to support student day to day life.
Four study pods
Docking stations
A charging locker
Additional desk areas with computers
"Have mac computers where we can do group work. Some of us need to edit things as group projects"
We have also incorporated several Mac computers into the Group Study Zone on the ground floor for students to use individually or for a group project.
"laptops that are on offer are very shoddy. In this aspect, it does not feel that we were getting good value for money"
The IT department worked really hard over the summer to update and improve a whole range of IT based facilities. This has included work to improve the performance and speed of all i-borrows within Augustine House and the replacement of 400 PCs. Many of these PCs are now dual screened, with touch screen capabilities.
"Muslim students would like to have a praying room"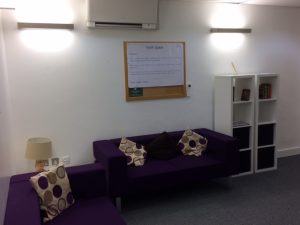 A faith space has now been created within Augustine House to give all students and staff an area where they can pray, meditate and reflect.
The entrance to the faith space can be found just after the library barriers by the side doors; near to Augustine Hall. The area includes two useable faith spaces, along with toilet and shower facilities. For further information, including how to book, please follow the link provided.
https://www.canterbury.ac.uk/library/campus-libraries/canterbury/faith-space.aspx
"Anti-bacterial wipes accessible to students to prevent spread of germs and viruses"
You might have seen the tubs of anti-bacterial wipes scattered around the library. These are for anyone who feels their keyboard, mouse or desk might need a wipe before starting work.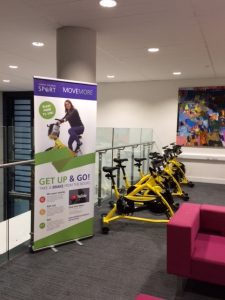 Finally, due to the popularity of the exercise bikes during the stressless campaigns, we have now created a 'Get Up & Go Area' located at the back of the atrium on the first floor. The area includes four exercise bikes for students and staff to use. Whether you take five minutes away from your desk or make it a regular evening visit you will feel healthier and stress free.
So if you're a third year Undergraduate why not fill out the NSS? There are great incentives and it's your chance to help us make a difference for the next generation of Christ Church students. Find out more at the students blog.